Looking for dark academia books to read? I'm obsessing over these 14 dark academia books (and you will too!)
Tweed blazers, oxfords and classic literature. The dark academia aesthetic exploded in popularity on TikTok. Classic literature-inspired this aesthetic. And if you're anything like me, then the dark academia aesthetic has you wanting to wear plaid, read books and explore libraries. So, I've compiled the best dark academia books you absolutely need to read.
In the name of full transparency, please note that this post contains affiliate links and any purchase made through such links will award me a small commission at no extra cost to you. If you choose to purchase anything through my links, thank you for supporting my blog.
This post is all about the absolute best dark academia books to read
14 insanely good dark academia books you're guaranteed to love
What is the Dark Academia Aesthetic?
Dark academia is a subculture with a heavy emphasis on reading, writing and learning. It's the romanticization of learning.
I've heard it described as vintage with a gothic edge.
Think tweed, oxfords and plaid skirts but also dark photos and brooding poetry.
There have been some criticisms of Dark Academia. One important criticism is the lack of diversity in Dark Academia. Many people have commented on how eurocentric and white-dominated this aesthetic is because it's linked to old universities such as Oxford. I think it's really important we change that stereotype of academia. Below I've linked some wonderful posts and creators you can look at:
Dark Academia Reading List for Black People/Allies (Including Queer Black Authors) by Persephone Anasi
How to dress Dark Academia and POC Book Recs
R C Waldrun – Incredible Youtuber who posts about Dark Academia
Golden Lanni – Has many Dark Academic related videos
YA Dark Academia Books
Raven Boys by Maggie Stiefvater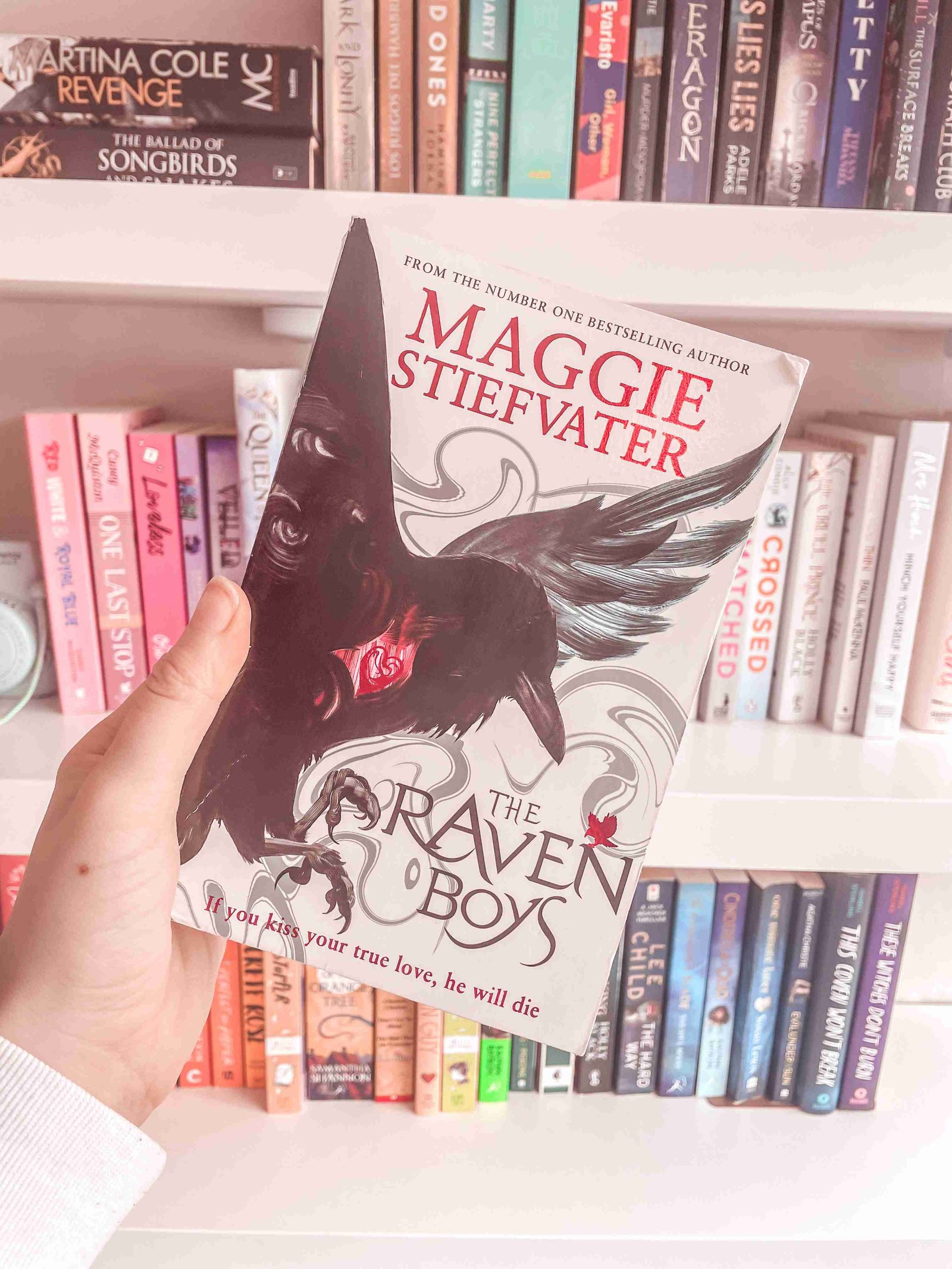 If you're into YA Fantasy and magic
If you are into the paranormal, magic, unforgettable characters and a great plot then this series is definitely for you. The friendships in this book are also some of the best in the Young adult genre.
Each year in the churchyard, Blue watches her psychic mother see those who are going to die that year. Blue never actually sees them herself. Until this year. When she speaks directly to a boy.
His name is Gansey. And he's a student at Aglionby school. The locals refer to the students as the Raven Boys.
I had so many recommendations to read this and for good reason. The characters and the relationships are what make this book so special. It has lots of scenes set in a school. Also a lot of the book is about unraveling a mystery. And this gives it undeniable dark academia vibes.
If you like anything fantastical and the found family trope
Ms Peregrine's home for Peculiar Children follows Jacob. His grandfather escaped the Holocaust and grew up at an orphanage for children with strange powers. He even has photographic evidence.
As he grows up, he stops believing the stories. But one day a horrible tragedy occurs. And Jacob starts to wonder – could it have been real?
The story is really gripping. It also has very dark and mysterious elements to it. And I love the way antique photographs were woven into the plot. The photographs and the imagery gives it real academia vibes.
The book also uses the gound family trope – one of my favourites. And Ransom Riggs executes is really well.. And it what makes this book so enjoyable.
If you're looking for a murder mystery with a queer romance
The good girls is a fairly recent read. I received this in a rainbow crate book box. And I instantly loved it. It's a murder mystery story following 4 girls. It features a bi protagonist and a wlw couple.
Everyone in high school has a label. Emma Baines was known as a good girl. She is murdered and three of her classmates become suspects. But appearances are never what they seem.
The characters and opening hooked me in really quickly. And I really loved the premise. The pace and plot were very suspenseful. But the mood of the book is the reason I enjoyed it so much. It's set in a school which is what reminded me of dark academia. It also has a lot of autumnal imagery. It would make an excellent cosy read on a rainy day.
If you're looking for a book with dark academia vibes and enemies to lovers romance
We Set The Dark On Fire follows Daniela Vargas. She lives in a dystopian world. where each man is entitled to 2 husbands – a Primera and a Segunda in the capital. The Primera is intelligent, calm and analytical. While the Segunda is the mother figure.
Outside of the wall, people suffer. Dani started life outside of the wall. And she must use her wits to survive illegally while married to one of the most powerful men in the kingdom.
The premise was intriguing and the main character was instantly likeable. The descriptions of food were mouth-watering and made me starving hungry.
The novel starts in a school. And then it moves to a home and the world building is filled with rich and dark imagery. It features an intriguing dystopian premise and a likeable, strong-minded main character.
Classic dark academia books
Rebecca by Daphne du Maurier
If you're a fan of Jane Eyre
Rebecca is raved about by its fans. It sold 2.8 million copies between 1938 and 1965. And it has never gone out of print. Also in 2017, English bookworms voted it their favourite book of the past 225 years.
The novel opens in Monte Carlo. The young protagonist is a companion for an American woman Mrs Van Hoppers. She meets Maxim De Winter who completely sweeps her off her feet. And he proposes.
But when they arrive at Manderley country estate she realises how large a shadow his late wife will cast over their lives.
Rebecca truly deserves to be a classic. The complex characters, slow build tension and gothic atmosphere really hook you in. I would particularly recommend this for fans of Jane Eyre.
Buy Rebecca on Book Depository
If you're looking for a murder mystery or an easy to read classic
Sherlock Holmes instantly reminds me of that pursuit of knowledge associated with dark academia. Sherlock Holmes is a consulting detective. And he is also rather eccentric. He uses logic and reasoning to solve a series of murders.
The stories are told from the perspective of Dr. John Watson. Dr. Watson is his friend and helps to solve many of the murders.
I really love this collection of short stories about Sherlock Holmes. They were originally published in The Strand magazine. Consequently, they are very satisfying and easy to read. I highly recommend them if you're new to classics or in a reading slump. They can easily be read in one sitting.
Sherlock is just classic autumn reading fodder for me and if you love murder mysteries you need to read this one!
Dracula by Bram Stoker
If you're looking for a classic horror story
Dracula is a classic horror story. It's also a great starting point if you want to read more gothic literature.
Jonathon Harker is a young English lawyer. He travels to Castle Dracula in Transylvania to conclude a real estate deal with Count Dracula. But, the local peasants warn him about evil.
I first read this at University for a module on gothic literature. I quickly became enthralled. And I've even visited Bran Castle in Romania which inspired Castle Dracula.
It's a really dark and gothic read. So if that's what you're after then you should pick this one up. It's a timeless horror story and set the tone for vampire fiction.
If you're looking for a unique book about an eerie premonition.
Many of Gabriel García Marquéz's works remind me of Dark Academia. But Chronicle of a Death Foretold is a really incredible story.
In Chronicle of A Death Foretold, A man returns to the town where a murder took place twenty seven years before. Just hours after marrying, Bayardo San Roman returned his bride in disgrace. Her distraught family forced her to name her first lover. And her twin brothers announced their intention of murdering her twin brother.
This is another book I read at University that has stayed with me. It's a fascinating read with some really dark themes. This is told 30 years after the events, and it gave the book a very eerie feel.
If you're looking for a gripping revenge plot
The plot of the Count of Monte Cristo is incredibly gripping. And it made me want to enact revenge on people.
It follows Edmond Dantes. Dantes is thrown in prison for a crime he did not commit. He is confined to a grim fortress.
In the fortress, he learns of a great treasure on the Isle of Monte Cristo. And he becomes determined to escape and unearth the treasure.
He will use it to destroy the men who wrongly imprisoned him.
I'm a huge fan of Alexander Dumas and this book is an absolute gem.
Dark academia fiction books
If you're looking for a book about university or elite young scholars.
Whenever you read about dark academia – A Secret History is constantly mentioned. But, I can absolutely see why.
Under the influence of their charismatic classics professor, a group of clever, eccentric misfits at an elite New England college discover a way of thinking. But when they go beyond the boundaries of normal morality. They slip gradually from obsession to corruption and betrayal. And into evil.
This book made me want to study at university again. Or be an intellectual who is part of an elitist group of young scholars.
If you're looking for a mystery with a unique premise
I read this book on a beach holiday in Croatia. And I don't know why this isn't recommended more often.
It follows Aiden Bishop who has to solve the murder of Evelyn Hardcastle. Evelyn Hardcastle will die every day until he can identify her killer. But ever time the day begins again, Aiden wakes up in the body of a different guest. Each character has slightly different information he needs to solve the murder,
The plot is really gripping and the premise is very unique. The twists were also excellent. The plot was sufficiently dark. And I was transported to a world free of technology.
If we were villains by M.I. Rio
If you're looking for a dark, gripping read
Could you not see the most perfectly dark, gothic book cover?
Oliver Marks has just served ten years in jail – for a murder he may or may not have committed. On the day he's released, he's greeted by the man who put him in prison. Detective Colborne is retiring, but before he does, he wants to know what really happened a decade ago.r.
The relationships between the tight-knit friendship group drew me in instantly. And their obsession with Shakespeare instantly reminds me of dark academia.
This book will take you on an emotional rollercoaster. And your heart will definitely feel like it's been run over.
If you're looking for a dark, gripping emotional read then you should absolutely read it.
Vicious by V.E. Schwab
If you're looking for a villains, betrayals, jealousy and super powers
Vicious is a dark and twisted tale of jealousy, betrayal and superpowers. It's set in a near-future world and follows two college boys.
Victor and Eli started out as college roommates. They have an intriguing hypothesis that under the right conditions someone would develop extraordinary abilities.
Everyone in this book is messed up. And that's why I love it. The writing style keeps you hooked throughout.
If you're looking for a dark read featuring sociopaths and superpowers – then Vicious is perfect for you.
If you're looking for a revenge plot and a dark thriller
Kanae Minato won the 2015 Alex award for Confessions.
Yuko Moriguchi had nothing to live for except her only child. This book follows her revenge-filled final lecture after her child is murdered at the school.
It's a very simple idea but an intricate, dark and twisted plot. This book is really thought-provoking and it's completely unlike anything else I've read.
If you're looking for a dark thriller then you should pick this up.
Those were my dark academia books to read…
Whether you're a fan of the dark academia aesthetic, gothic literature or are just looking for some new books to read.
I really hope you enjoyed my recommendations for the best dark academia books. Let me know your recommendations in the comments below.
This post was all about dark academia books
Other posts you might like