The fantasy fiction genre can be overwhelming. These fantasy books for beginners will help you read more fantasy books.
This post contains affiliate links. That said, I won't ever recommend a book I haven't read and loved myself
I absolutely love fantasy books. You can't beat the pure escapism that a good fantasy book series offers. But as a beginner, it can be pretty intimidating seeing books with 100+ pages. Add to that, the complex world building. And it's easy to see why the fantasy genre is intimidating to some. So I've compiled a collection of easy to read fantasy books for beginners.
I've included a description, readers ratings and a summary of my personal thoughts (positives and negatives) for each book on this list.
This post isn't meant to be an exhaustive list of every single fantasy book I've read. It's a guide to the absolute best fantasy books for beginners. This post does contain affiliate links. That said, I won't ever recommend a book I haven't read and loved myself. You can rest assured every book has passed my scrutiny.
This post is all about fantasy books for beginners
What are the best fantasy books for beginners?
There are so many incredible fantasy books to read. But not all of them are easy to read for beginners. These are the fantasy books I really recommend if you're new to the fantasy genre. Many of these fantasy books are what got me into reading fantasy books. They are easy to read and make a great introduction to the fantasy genre.
1. A Court of Thorns and Roses by Sarah J Maas
If you like retellings, the found family trope and enemies to lovers romance
This series got so many people into fantasy books. If you're looking to get back into reading I would highly recommend reading A Court of Thorns and Roses. While Sarah J Maas has lots of books, this is a trilogy. So just three books makes it more manageable to finish.
A Court of Thorns and Roses is a Beauty and the Beast retelling. It follows Feyre. She is really poor and lives with her father and two sisters. She has to hunt to care for the family.
One day she sees a deer and can't resist killing it to sell. But it was actually a faerie she murdered. And the owner comes to kidnap her to live at the castle as punishment.
It is a little slow to start. Sarah J Maas does dump a lot of information about the fantasy world on you. But stay with it – I promise you it gets so much better. The second book is definitely the best in the series where many of my favourite characters are introduced.
Good Reads rating: 4.19
2. A Curse so Dark and Lonely by Brigid Kemmerer
If you're looking for a YA Fantasy enemies to lovers books with disability representation
A Curse so Dark and Lonely has many elements that I think make it perfect for beginners. It combines retelling, romance and urban fantasy elements. It also has a bad-ass. disabled main character.
A Curse So Dark And Lonely is a retelling of Beauty and the Beast. Prince Rhen is the Heir of Emberfall.
Emberfall is under a curse and the kingdom is enchanted into an everlasting winter. Prince Rhen needs to make a girl fall in love with him to break the curse.
Harper has cerebral palsy. And she struggles to look after her dying mother. She tries to save a stranger and is pulled into the world of Emberfall.
A Curse so Dark and Lonely is an excellent retelling. It puts a modern spin on the original fairytale. Despite Harper's disability – she's not a character in need of sympathy. She's the perfect fantasy heroine – strong and with a good head on her shoulders. But also flawed enough to feel realistic.
This is the perfect pick for beginners. While the series includes multiple books - you can easily read this as a standalone novel. The writing is also really easy to read and follow.
Good Reads rating: 4.19
3. Legendborn by Tracy Deonn
A modern King Arthur retelling featuring a Black main character, magic and secret societies
If you're looking for fantasy books for beginners - then I highly recommend urban fantasy books. Often the world-building makes it difficult for people to get into fantasy. But it's often much easier in a modernn, more familiar setting. Legendborn is an urban fantasy set at a college campus.
It follows Bree Mathews. After the death of her mother, she wants to avoid family memories. So, she joins a residential program for gifted high school students.
But then she witnesses a magical attack on her first night. A flying demon feeding on human energy. A Mage tries to wipe her memory. But he fails. And instead Bree unlocks new memories of her mother's death.
Legendborn is a brilliant debut novel. It was a fast-paced story full of twists and turns. And it kept me absolutely hooked. In fact, I stayed up to about 2am finishing it.
The characters are well developed and there is plenty of character development. It's perfect if you love strong, badass heroines or brooding morally grey characters.
Tracy Deonn also included commentary on racism and slavery. They were woven perfectly into the storyline. If you're looking for fantasy books for beginners, then you should definitely pick this up.
Good Reads rating: 4.43
4. The Chronicles of Narnia: The Lion, The Witch and The Wardrobe by C.S Lewis
If you're looking for a magical and classic children's story
The Lion, the Witch and the Wardrobe is an absolute classic. But because it's aimed at children - the writing is easy to read (as long as you can put up with the word jolly!).
The Chronicles of Narnia follows four children who are evacuated to a country house. They find a magical kingdom called Narnia at the back of a wardrobe.
But Narnia has been enchanted by a White Witch. And it is frozen in an eternal winter.
The Lion, The Witch and The wardrobe has one of the most magical concepts behind it. The concept is also familiar to everyone and makes it easy to follow.
While there are multiple books in the Chronicles of Narnia - you can easily read The Lion, the Witch and The Wardrobe as a standalone.
This is a childhood classic. And it's a really nostalgic read. The concept behind the book is magical and the imagery is really cosy. And it also has one of the best fantasy worlds.
Good Reads rating: 4.22
5. The Cruel Prince by Holly Black
If you're looking for a fantasy book with a strong female lead and lots of twists
The Folk of Air series is another series that got many people hooked on the fantasy genre. It has a captivating romance but many list it as their favourite bookish romance.
The Cruel Prince follows Jude who is a human. As a child, she gets kidnapped with her two sisters and is taken to live with the fae in the woods. She grows up wanting to be like the wicked fae she lives with.
This series is incredible and there is so much to love. Jude is an incredibly strong female lead and an absolute badass. The court intrigue is executed perfectly.
There are also only 3 books in the series. And none of them are too long. So it makes the series more manageable for beginners. If you've read ACOTAR ( A Court of Thorns and roses) and are looking for something to read next - this is the series I would recommend.
Good reads rating: 4.09
6. Six of Crows/Crooked Kingdom by Leigh Bardugo
If you love a magical heist, the found family trope and a twisty plot
Six of Crows is insanely popular among both fantasy fans, non fantasy fans and even those not normally into reading. And for good reason!
It six teenagers living in Ketterdam. Kaz Brekker, a criminal prodigy, is one of the teens. He is offered a deadly heist for a huge payout.
But it's an impossible heist. And Kaz will need all the help he can get to pull it off. So he assembles five other teens to help him.
Six of Crows is like a fantasy version of Oceans Eleven. If you're looking for sassy banter or a book that makes you laugh then you should read this. It contains one of the best bookish friendship groups.
Magic is incorporated throughout and it's developed very well. I really enjoyed reading about the unique magic system.
The cast is also really diverse which I really appreciated. And Jesper is an excellent example of a bisexual character. You can get this conveniently on Amazon- you can buy it here.
Good reads rating: 4.47
7. The Raven Cycle by Maggie Stiefvater
If you're looking for a paranormal fantasy with unforgettable characters
The Raven Cycle is another fantasy book that takes place in an urban setting. This and the writing style make it an easy to read and unputdownable fantasy book.
Each year in the churchyard, Blue watches her psychic mother see those who are going to die that year. Blue never actually sees them herself. Until this year. When she speaks directly to a boy.
He is called Gansey and is a student at Aglionby school. The students there are known locally as Raven Boys.
I had so many recommendations to read this and for good reason. The characters and the relationships are what make this one of the best fantasy books.
Again, these books are not too long. There are also only 4 books in the series. And this makes it much less intimidating compared to other fantasy series.
Good reads rating: 4.04
8. Mooncakes by Wendy Xu and Suzanne Walker
An LGBTQ+ Graphic novel about a witch and a non-binary werewolf
If you're ever in a reading slump or struggle to get into a genre - I will always recommend a graphic novel. The artwork in graphic novels make them much easier to read and the imagery helps you envision the world.
Mooncakes is a light-hearted romance about a witch and a non-binary werewolf.
It follows teen witch Nova. She works at her Nana's magical bookshop. And she helps them loan out spell books. But she also investigates supernatural occurrences in her local town.
One day, she is tasked to investigate reports of a white wolf in a nearby forest. She then discovers her childhood best friend, Tam, fighting a demon werewolf. Together they investigate the demon and rekindle their feelings towards each other.
This is such a comfort read. The artwork is insanely beautiful. I really loved the illustrations of the magic and magical creatures living in the forest. The romance is also really adorable.
The story is such a quick, cute and light-hearted read that I think it's a perfect fantasy book for beginners. It also deals with serious topics like loss and difficult family relationships really well.
Good reads rating: 3.85
9. Percy Jackson by Rick Riordan
If you're looking for a popular book series merging Greek mythology with the modern world
Growing up I was a huge fan of the Percy Jackson series. And it's still one of my all time favourites. This was a fantasy book series that made so many people fall in love with reading (myself included!)
The concept is that the Greek Gods are real. And they occasionally fall in love with mortals. They have children who become demigods.
The book follows Percy Jackson. He is having trouble focusing on his schoolwork. When one day his maths teacher turns into a monster.
And so mum decides it's time to tell him the truth. His father is a Greek God. And she sends him to camp Halfblood – a summer camp for demigods.
Greek Mythology is woven seamlessly into this book. And I love how it balances Greek mythology with the real world. There are quite a few books in the Percy Jackson series. But the writing style is so easy to follow and the world is so engaging you'll be happy that there is plenty for you to get stuck into.
Good reads rating: 4.28
10. The Original by Brandon Sanderson, narrated by Julia Whelan
If you're looking for a short audiobook with a unique sci-fi concept
While planning this post, I had a look at what fantasy books others recommended for beginners. And Brandon Sanderson was a name that kept coming up. I've chosen an audiobook because if you're struggling with fantasy books, audiobooks are often more immersive. And can be put on in the background while you do other things.
The Origina; audiobook is super short ( only 3 hours I believe) and would be easy to binge in one or two sittings. This makes it perfect for beginners.
While it's more sci-fi, the concept is super original. It follows a clone. Her original has committed a horrific crime and she is tasked with killing her. If she succeeds – she will continue living instead of her original.
This audiobook was really immersive and engaging. It's full of sound effects and a cast of narrators. The concept is so unique that you have to keep listening. The short length means it's super satisfying and can be binged pretty quickly.
Good reads rating: 3.84
11. The Hobbit by J.R.R Tolkein
A charming adventure story with cottagecore vibes
The Hobbit is another absolute classic. If you're looking to read more adult fantasy books then this is a great place to start. I recommend this as a great starting point over the Lord of the Rings. It's a fantasy standalone novel with a simple but engaging storyline. And a well paced plot.
The Hobbit follows Bilbo Baggins. He is A Hobbit who lives in The Shire. One day he meets Gandalf and goes on an adventure.
The Hobbit the most charming adventure story. Also, the imagery in the hobbit – particularly around food is lovely. I want to be able to eat seven meals a day much like a hobbit.
The Hobbit is such a cosy, comforting book. It's not as long and drawn out as Lord of the Rings. And it's a really light-hearted read.
Good reads rating: 4.28
12.Eragorn by Christopher Paolini
If you're looking for a YA adventure story with elves and dragons.
Eragorn has so much that I love about it – it has both elves, dragons and magic. And I honestly don't see this book hyped up enough online. The writing is fast-paced and easy to read. A great fantasy book for beginners.
It follows Eragorn. He discovers a dragon egg in the forest. And it unhatched to reveal a dragon. The first to unhatch in many years.
Please don't let the terrible movie adaptation put you off! It's an excellent YA Fantasy book – the plot is gripping. And I found the writing style very easy to read.
The series features a prominent character who is an elf. The elves felt very Tolkein-esque to me – strong, battle hardy. This book is very much a YA Fantasy and features many of the typical YA Fantasy tropes/cliché's – a poor orphan, ancient swords and a quest. Personally, I loved this. But if you're not normally a YA Fantasy fan you might not enjoy this.
Good reads rating: 3.92
13. Under the whispering door by T.J. Klune
A cute romance that also deals with grief, death and the afterlife.
If you're new to fantasy then I highly recommend T.J Klune's work. The writing is easy-to-read and while it includes fantasy elements, this book reads as more of a YA Contemporary.
It follows Wallace Price. A reaper comes to collect him from his own funeral. But instead of taking him directly to the afterlife, leads him to a tea shop in a small village.
Hugo runs the teashop but is also the ferryman to souls who need to cross over. But Wallace isn't ready to abandon the life he barely lived.
This book deals with so many heavy topics such as death, grief and loss. But despite such heavy topics this is such a light-hearted, comforting read. T.J. Klune uses laughter, emotions and romance to it.
If you're looking for fantasy books for beginners, you should definitely pick up some of T.J Klune's work. His writing is fantastic - easy to follow and simplistic with no purple prose.
Good reads rating: 4.26
Those were my picks for the fantasy books for beginners
Whether you're looking for ya fantasy or adult fantasy books for beginners - I hope you found a book to read. And I hope this helps you start to love the fantasy genre.
What fantasy books would you recommend for beginners? Let me know in the comments below.
This post was all about fantasy books for beginners
OTHER POSTS YOU MIGHT LIKE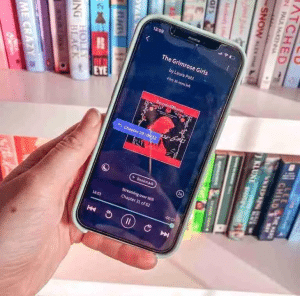 Escape Reality with These 32 Fall Fantasy Books