Looking for ya fantasy retellings? Fill your bookshelves with these enchanting, atmospheric ya fantasy retellings.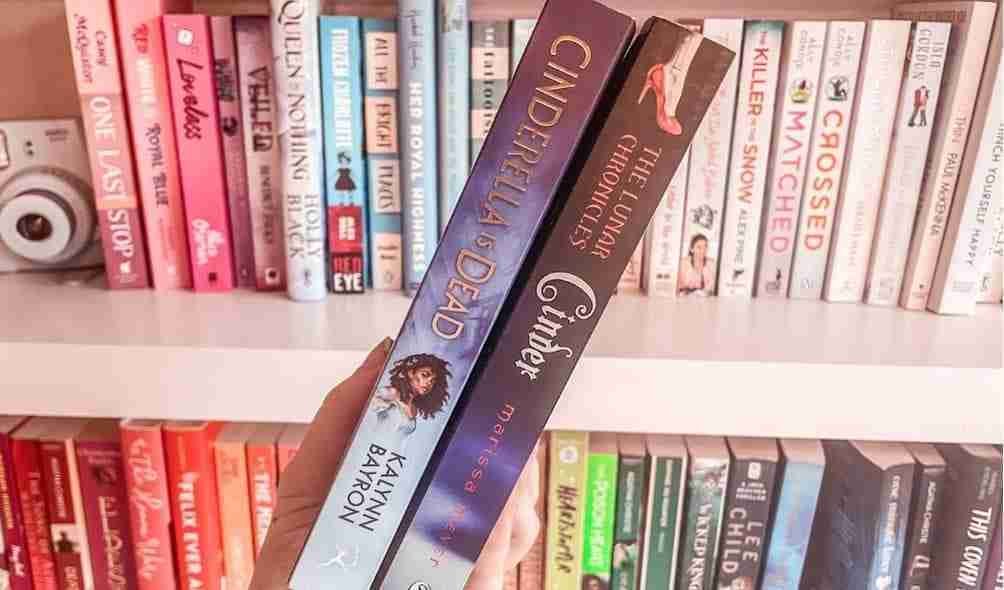 Who doesn't love a good YA Fantasy retelling? Whether it's a YA Fairytale retelling or a ya modern retelling – they are guaranteed to transport you to another world. I find YA retellings are a great introduction to fantasy because they're easy to read and you're already somewhat familiar with the storyline. So I've decided to compile the absolute best ya Fantasy retellings. Whether you're searching for a Cinderella or a Sleeping Beauty retelling hopefully this post will help you out.
This post isn't meant to be an exhaustive list of every single ya romance book I've read. It's a guide to the absolute best romance books for young adults. This post does contain affiliate links. That said, I won't ever recommend a book I haven't read and loved myself. You can rest assured every book has passed my scrutiny.
What are the best YA Fantasy retellings?
YA Fairytale retellings
1. A Court of Thorns and Roses by Sarah J. Maas
If you like retellings, the found family trope and enemies to lovers romance
This series has one of the best enemies to lovers romances. If you love the friendship group in Six of Crows then you should read this series. The found family trope is executed particularly well in this series.
A Court of Thorns and Roses is a Beauty and the Beast retelling. It follows Feyre. She is really poor and lives with her father and two sisters. She has to hunt to care for the family.
One day she sees a deer and can't resist killing it to sell. But it was actually a faerie she murdered. And the owner comes to kidnap her to live at the castle as punishment.
It is a bit slow. Sarah J Maas does dump a lot of information about the fantasy world on you. But stay with it – I promise you it gets so much better. The second book is definitely the best in the series where many of my favourite characters are introduced. And conveniently you can buy it on Book Depository with free shipping worldwide – get a Court of Thorns and Roses here.
2. Malice by Heather Walter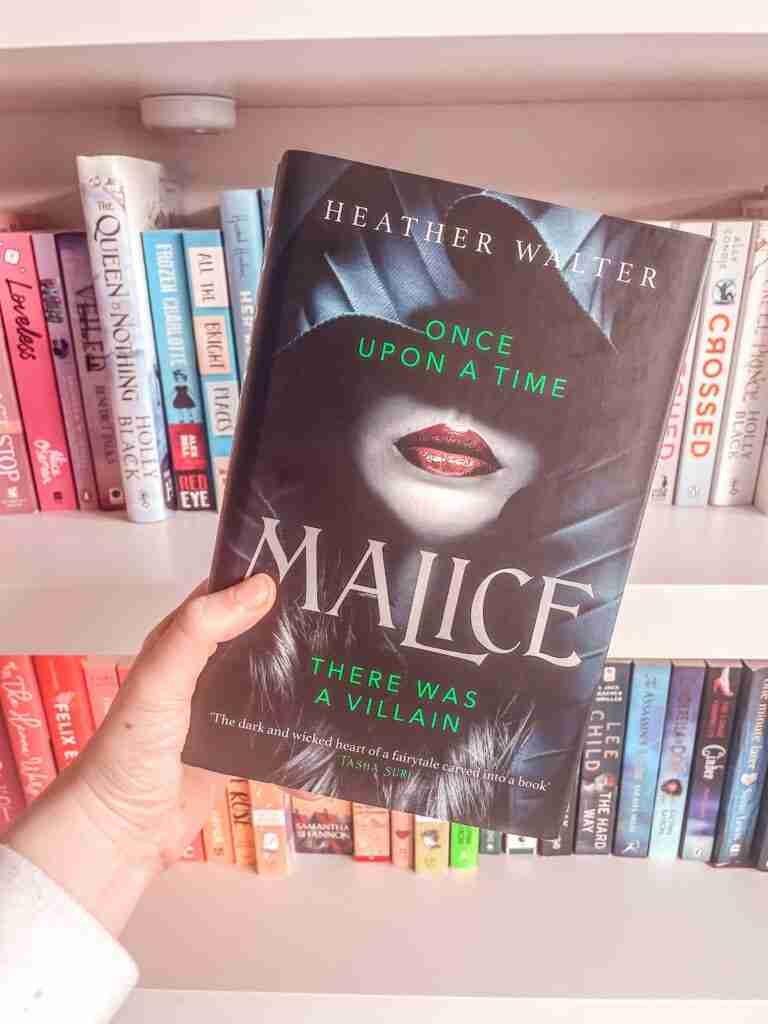 If you're looking for a dystopian re-telling with an anti-villain protagonist
Malice is one of the best books I've read this year. I absolutely adored this book from start to finish. And if you're a fan of re-tellings, dystopian books or books with fae then you need to read this book!
Malice is a maleficent retelling. The book is set in a Kingdom called Briar. Once upon a time, a wicked fairy cursed a line of princesses to die. Only true love's kiss can break the curse.
The book follows Alyce – the dark grace. She was left abandoned in Briar from a dark kingdom. The dark magic that runs in her veins abhors residents in Briar.
Except for Princess Aurora who accepts her. And she encourages Alyce to accept herself.
This book is almost a cross between Wicked and The Hunger Games. But with fae. The world-building is darkly magical. And the residents of Briar reminded me of the residents of the Capitol. It critiques greed and consumerism quite a lot throughout the book. Alyce's character was also really well developed. And she gets a lot of growth throughout the novel.
3. A Curse so Dark and Lonely by Brigid Kemmerer
If you're looking for a YA Fantasy enemies to lovers books with disability representation
If you're looking for books with bad-ass, disabled characters then you should read a curse so Dark and Lonely. It includes an adorable enemies-to-lovers romance with a badass main character and a cursed prince.
A Curse So Dark And Lonely is a retelling of Beauty and the Beast. Prince Rhen is the Heir of Emberfall.
Emberfall is under a curse and the kingdom is enchanted into an everlasting winter. Prince Rhen needs to make a girl fall in love with him to break the curse.
Harper has cerebral palsy. And she struggles to look after her dying mother. She tries to save a stranger and is pulled into the world of Emberfall.
A Curse so Dark and Lonely is an excellent retelling. It puts a modern spin on the original fairytale. Despite Harper's disability – she's not a character in need of sympathy. She's the perfect fantasy heroine – strong and with a good head on her shoulders. But also flawed enough to feel realistic.
This is the perfect slow burn romance. It takes Harper time to trust Prince Rhen. Rhen has enough inner conflicts to make him a fully developed character. And not just a love interest for Harper.
4. The Iron King by Julie Kagawa
If you're looking for a coming of age tale with fae
The Iron King is an incredible YA Fantasy book with fae, enemies to lovers romance and a strong female lead.
The Iron King follows 16-year-old Meghan Chase. Her father disappeared mysteriously when she was six years old. And ever since, something has been off.
But things start to change drastically. And Meghan will have to learn just how far she'll go to save someone she truly cares about.
The Iron King is a book that will divide readers. Some will really not like it. But personally, I really enjoyed it. The setting is beautifully described. And Meghan is a great heroine. She's not perfect but a very realistic 16-year-old.
This book takes many characters from classic literature and myths (such as a Midsommer Night's Dreame) and retells them in a YA context. It talks about how technology affects the fae. And I thought this was a really interesting take on faerie. The enemies to lovers romance was also excellent. It's not as slow-burn compared to others on this list. But it's still a compelling romance.
But if you love YA Fantasy books with fae then you should definitely read this one. You can also read this on Scribd – they offer a free trial for 30 days.
Cinderella retellings ya
5. Cinderella is Dead by Kalynn Bayron
If you're looking for a Sapphic cinderella retelling with a dystopian twist
A Cinderella retelling with a sapphic romance. This is another twist on the classic story that features BIPOC characters and a wlw romance.
The premise is that teen girls are now required to appear at an annual ball where men select wives. But Sophia wants to marry her childhood best friend Erin. And isn't a fan of the whole parade in front of suitors thing.
She decides to flee and decided to take down the king once and for all.
The premise in this book is so unique. And I loved the dystopian twist on the classic Cinderella story. The romance is also adorable. It is a bit insta-lovey but it's developed so well that I was really engaged.
The plot really kept me hooked. And I really enjoyed the concept of women overthrowing a dystopian patriarchy. There is also much cottagey and woodland imagery. And I think this is something Kalynn Bayron writes exceptionally well. And it made me want to live in the forest.
If you're looking for LGBTQ+ books or fantasy romance books – then I highly recommend Cinderella is Dead.
6. Ash by Malinda Lo
If you're looking for an LGBTQ+ Cinderella retelling
Ash is a book I'm always torn about. But I had to include it because I love the cottagey world-building in this Sapphic retelling.
Ash is a lesbian Cinderella retelling. It follows Ash who is dealing with the grief of losing her parents. She falls in love with the king's huntress.
I loved the descriptions of the world such as the woods and the fae. And I instantly really loved the King's Huntress. But, I wish that the romance had been a little better developed.
However, I love that it focuses on Ash recovering from grief. Mental health is a strong theme throughout and the romance feels secondary. This is a really cosy read and offers great escapism. It's pretty short and you could easily read this in one sitting.
7. Cinder by Marissa Meyer
If you're looking for a retelling with a sci-fi twist
The main character Cinder is an android. She had an accident when she was younger. And she now has a cyborg hand and ankle. But the world she lives in shuns androids.
There is also a deadly plague that is affecting the world (sound familiar…heh).
She meets and falls in love with the Prince. But she can't tell him that she's an android.
The pace was perfect and I couldn't put this one down. It opens straight away. And you gradually learn more about the world..
The world building was really unique. The modern setting and sci-fi elements work perfectly. There were also so many intriguing elements at the start that I kept reading to see what would happen.
This is one of the most unique retellings I've ever read. If you're a fan of retellings like A Court of Thorns and Roses, The Cruel Prince or a Curse so Dark and Lonely – then you need to read this one
8. Throne of Glass by Sarah J Maas
If you're looking for a long series with fae, assassins and enemies-to-lovers romance.
Throne of Glass follows Celaena Sardothien who is imprisoned in a horrific prison called Endovier. She is an assassin. And one day she is summoned by the Prince to fight in a competition. The winner will become the king's personal assassin.
I love Celaena. Some reviews describe her as arrogant. But I find her confidence refreshing. It's really nice to read a female lead who knows how incredible she is.
The first book has an amazing love triangle with great enemies to lovers romance. But later in the series is the most perfect, slow burn enemies to lovers romance. I personally think Sarah J Maas is really good at writing a captivating slow burn 'hate at first sight' romance.
The other characters in the series are also amazing. I particularly love Nehemia as she's so intelligent.
It opens with a punch and hooks you in instantly. The concept of an assassin competition is excellent. Reading about the different rounds kept me hooked.
But there is also a long term plot that develops slowly throughout the course of the series. If you haven't read this series – I highly recommend it. There are 16 books in the series – so plenty to get stuck into it. And you can pick them up from Amazon – check it out here.
YA Fantasy retellings
9. Six Crimson Cranes by Elizabeth Lim
If you're looking for a fantasy with magic, curses and shape-shifting dragons.
Six Crimson Cranes isn't necessarily the most obvious choice for a winter book. But the winter imagery later in the book is really beautiful.
It follows Shiori. She is the only princess in Kiata. Shiori lives in a land where magic is banned. And demons are locked away inside a mountain. But forbidden magic runs through her veins.
Shiori normally conceals it. But on the morning of her betrothal ceremony, she loses control. And she attracts the attention of her stepmother Raikama.
Raikama possesses dark magic. She banishes the young princess. And turns her brothers into cranes. Shiori must speak of it to no one. For with every word that escapes her lips, one of her brothers will die.
The worldbuilding in this book is exquisite. Especially when Shiori is in Iro. The images of snow-capped mountains and eating hot buns in the snow is beautiful.
10. A Sky Without Stars by Jessica Brody and Joanne Rendell
If you love Les Miserables…
A Sky Without Stars is a dystopian science fiction book and a Les miserable retelling. It features an enemies-to-lovers romance and a love triangle.
It's set in a dystopian world called Laterre. When the Last Days came, the planet of Laterre promised hope. But now an elite class reigns. A rebel group is resurfacing.
It follows three characters Chatine, Alouette and Marcellus. And they all play a role in the revolution.
I definitely think the authors are Eponine fans. Chatine gets the most development out of the three main characters. She is a bit 'not like other girls'. But I rooted for her because of her tragic backstory.
I Listened to the audiobook version of this. It uses 3 different voices for each of the main characters. This makes it really easy to follow the different points of view.
Buy Sky Without Stars on Book Depository with free shipping
11. Legendborn by Tracy Deonn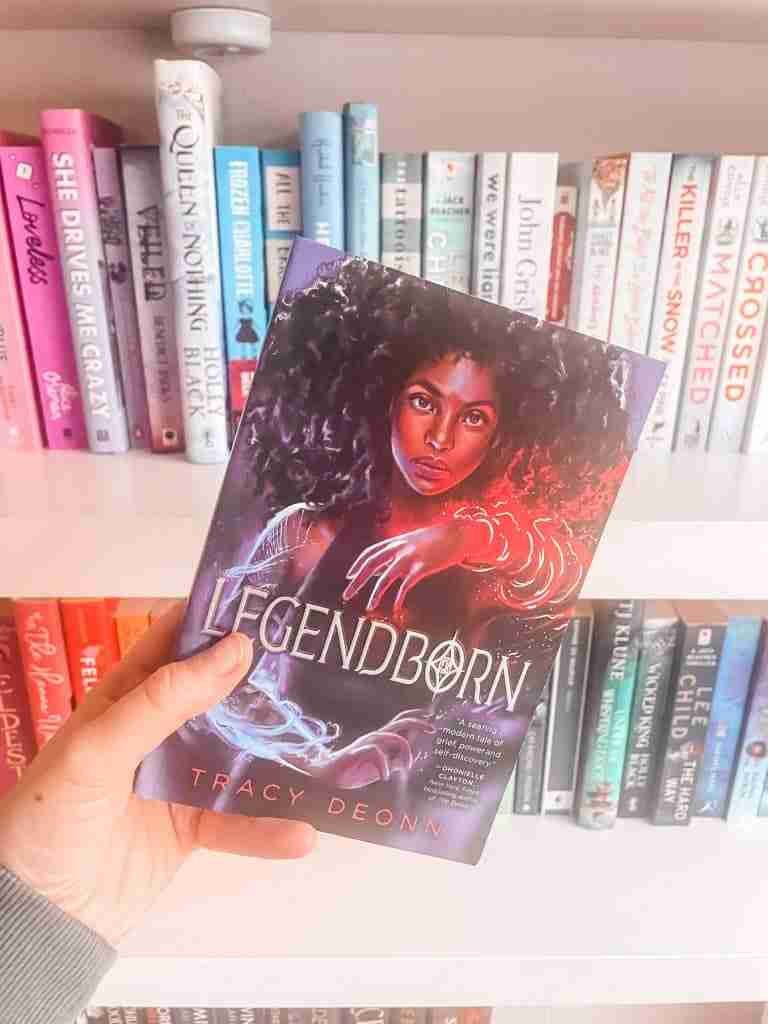 A modern King Arthur retelling featuring a Black main character, magic and secret societies
Legendborn follows Bree Mathews. After the death of her mother, she wants to avoid family memories. So, she joins a residential program for gifted high school students.
But then she witnesses a magical attack on her first night. A flying demon feeding on human energy. A Mage tries to wipe her memory. But he fails. And instead Bree unlocks new memories of her mother's death.
Legendborn is a brilliant debut novel. It was a fast-paced story full of twists and turns. And it kept me absolutely hooked. In fact, I stayed up to about 2am finishing it.
The characters are well developed and there is plenty of character development. It's perfect if you love strong, badass heroines or brooding morally grey characters.
Tracy Deonn also included commentary on racism and slavery. They were woven perfectly into the storyline. If you like A Court of Thorns and Roses, then you should definitely read this book.
12. The Grimrose Girls by Laura Pohl
A queer YA retelling with dark academia vibes and a mystery to solve
The Grimrose Girls is a modern take on classic fairytales such as The Little Mermaid, Cinderella and Sleeping Beauty.
The heroines of the stories are re-imagined as friends attending an elite boarding school. After their friend dies, the police rule the death as suicide. But they decide to investigate to find out what really happened.
Grimrose Girls is a unique concept and fantasy retelling. The mystery was really gripping and well-paced. And the story kept mentioning tantalizing details that kept me engaged.
The story also uses the darker versions of the fairytales. And this added to the dark academia, mysterious tone of the book.
The book is also full of queer characters including lesbian, bi and transgender representation in the book. If you're looking for a fantasy retelling or love the dark academia aesthetic then you should definitely pick this one up.
Those were my picks for the best ya fantasy retellings
Whether you're looking for a Cinderella or Beauty and The Beast retelling – I hope you found some books for your tbr list.
What ya fantasy retellings have you read? Let me know your recommendations in the comments section below.
This post was all about ya fantasy retellings
Other posts you might like…