Stuck on what to post on bookstagram? Here are 20+ easy bookstagram ideas when you don't know what to post
Post regularly and keep to a schedule. That was one of the first pieces of advice I got as a new bookstagrammer. But if you're anything like me ( and if you're reading this then I'm guessing you are) then knowing what to post can be incredibly difficult. Over the last year, I've discovered some quick and easy bookstagram post ideas that I thought I'd share with you. Here are 15 bookstagram ideas for when you are stuck on what to post.
This post is all about quick and easy bookstagram ideas
15 Quick and easy bookstagram ideas when you don't know what to post
Canva quotes
Please get a Canva account. A basic account is completely free. It's an online graphic design platform.
It has tons of adorable graphics and stock photos you can choose from. There are also templates you can choose from (pre-sized for Instagram). You can create adorable graphics in minutes.
I use this all the time to create quotes to share on my bookstagram. You to copy a previous design and just change the text.
I bulk create quotes in advance to share on my bookstagram account.
Book recommendations
I also create these using Canva. Again, once you've found a template you like it's really easy to create these within minutes.
You can do theme these– e.g. YA Fantasy books you love, LGBTQIA+ book recommendations or new releases.
You see these shared all the time on stories. And I often save them – they're very useful to return to when you're buying books.
Currently reading
Share what you're currently reading! You probably joined bookstagram to talk about books right? Well sharing what your latest read is a great start!
Bring it to a café, try a flatlay or reading it curled up on the sofa. Bonus points if there is a hot drink involved.

Book Stack
Everyone loves a book stack! There are so many different variations.  Here are a few ideas for book stacks:
Book haul – share your latest buys
Themed Stack – choose a theme for your stack – YA Fantasy books, favourite bookish couples
Colour stack – This can be one colour, a few colours or even an ombre stack.
TBR List – What are you planning on reading this month? Share your to be read list.
Monthly wrap up – show off the different books you read. Especially good when combined with mini-reviews
Library haul – Save that money! A wrap up of what you rented from the library.
Shelfie/Shelf tour
Share a cute photo of your bookshelves. You could also use IGTV or reels to do a cute bookshelf tour. I'm really nosy and I love watching these.
Shelfie photos are very easy to take. And they require very little set up.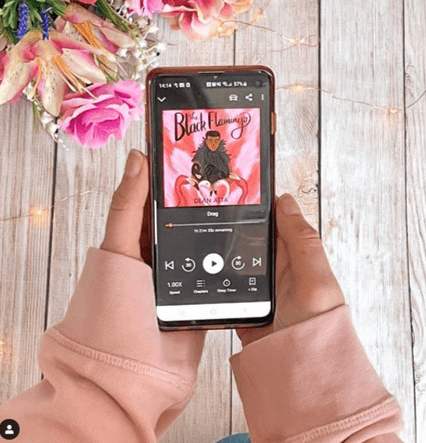 Audiobooks
What audiobooks do you enjoy? What are you currently listening to?  With people's busy lifestyles, audiobooks are super practical.
I always put these on while I'm working, travelling or cleaning.
Share your audiobook recommendations. I love taking photos when I'm holding the phone. Also with a physical book in the background works well.
Meet the bookstagrammer.
Let your audience get to know you a bit more. You could do a meet the bookstagrammer tag.
Take the time to introduce yourself, share your favourite books and some fun facts.
Get cosy – candles, tea, blankets
Bookworms love to get cosy. Who doesn't love to wrap up in a warm blanket with a hot drink?
Cosy photos are super cute. Share a photo of you wrapped up in a blanket with a steaming hot drink.
Book merch
Bookstagram makes you want to shop. Fact!
Show off your bookmark collection, funko pops or cute bookish candles.
I love looking at merch for my favourite books. I also love to find new small businesses selling book merch.
Books as outfits
 Match an outfit to your favourite book!
This trend is super fun!  And I love seeing how people imagine the different outfits in various books.
A great way to share your love for your favourite book character.
Pets
I don't actually have any pets. And it makes me very sad.
But everybody loves cute pet photos!
Any photo of a book and adorable animals will always make my heart happy.
If you have a cute pet – why not share a cute photo of them?
Book review
Yes – ok this one is fairly obvious. But I couldn't talk about bookstagram posts without mentioning book reviews.
One of the main reasons I joined bookstagram was to share reviews of books. And also to get new book recommendations.
Take your time finding your book review style. Many book reviews include a star rating and an overall review.
Photo challenge
Photo challenges are an excellent way to participate in the book community.
They are also a great choice if you are stuck for post ideas.
They can also help you connect with new bookstagrammers. Great for beginners.
Little Miss Star does a great bookstagram photo challenge.
Behind the scenes
This is also a great one to share on reels or stories.
Share a behind the scenes of you taking a bookstagram photo.
Your followers will love seeing your creative process.
If you want more tips on posting to Instagram stories Bookbookowl has a fantastic post all about Instagram stories. In fact, the whole bookstagram tips series is incredibly helpful.
Conclusion
Those were my recommendations for bookstagram post ideas. I really hope these were useful to you! Let me know if your favourite post ideas!
If you liked this post on bookstagram ideas you might also like
This post with bookstagram photo props
Some bookstagram photography tips
20 incredible book influencers to follow
A few bookstagram accounts to follow
Some Insanely good  book blogs you need to follow
20 insanely easy book photography ideas