Picking out gifts can be a daunting task. Here are the 20 dark academia gifts you'll want to keep
This post may contain affiliate links, which means I'll receive a commission if you purchase through my link, at no extra cost to you.
Finding the perfect gift for a loved one can seem difficult at first. I have a few people in my life who are really into the dark academia aesthetic. And honestly, there is something very cosy and romantic about all the plaid, cloth-bound books and leather journals. But if you're not into the dark academia aesthetic it can be difficult to keep up. No worries though, I've found the best dark academia gifts to give this year.
In the name of full transparency, please note that this post contains affiliate links and any purchase made through such links will award me a small commission at no extra cost to you. If you choose to purchase anything through my links, thank you for supporting my blog.
This post is all about dark academia gifts
What is the Dark Academia Aesthetic?
Dark academia is social media aesthetic that romanticises learning. It places a heavy emphasis on reading, writing and learning. It's the romanticization of learning. It's often associated with classic literature, Latin, tweed and brooding poetry.
Disclaimer – Why is Dark Academia problematic?
There have been some criticisms of Dark Academia. One important criticism is the lack of diversity in Dark Academia.
Many people have commented on how eurocentric and white-dominated this aesthetic is because it's linked to old universities such as Oxford.
I think it's really important we change that stereotype of academia. Below I've linked some wonderful posts and creators you can look at:
Dark Academia Reading List for Black People/Allies (Including Queer Black Authors) by Persephone Anasi
How to dress Dark Academia and POC Book Recs
R C Waldrun – Incredible Youtuber who posts about Dark Academia
Golden Lanni – Has many Dark Academic related videos
What are the best dark academia gifts?
1. Letter Seal Stamp kit
Letter Seal Stamp Kits make excellent dark academia gifts. The dark academia aesthetic romanticises learning, writing and journaling. These ornate metal stamps come with different initials. Perfect for writing dark academia style letters.
They look so much more expensive than they actually are. This Seal Stamp kit will take pride of place on any dark academia fan's desk. You can also pick these up conveniently from Amazon – check it out here.
2. Blind date with a book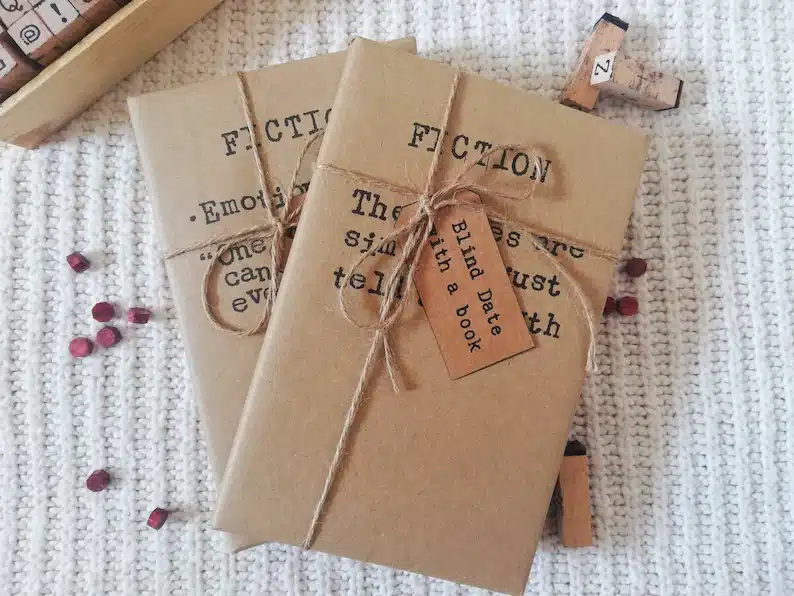 A blind date with a book is a mystery book. They're wrapped up in brown paper, tagged with clues and delivered to your doorstep. This is a really fun idea for a gift and adds a bit of mystery.
Often book lovers struggle to choose a book. A blind date with a book is a fun surprise. It also means they might read a book they wouldn't have picked up otherwise. The Blind Dater with a book picture is a mystery option. And you can get it on Etsy for under £10.
3. Bust Statue Pen Pot
I've seen so many aesthetic dark academia rooms and desks with bust statues used as plant pots or pen pots. They are a practical way to store anything from pens or plants. They also instantly make any space look more moody and romantic.
They're another budget-friendly gift. And they're also a practical item that is bound to get used quite a lot. Particularly if they write a lot.
Buy the Bust statue pen pot from Amazon
4. Beautiful clothbound books
Special collectable editions of books are an excellent choice. Any dark academia will be proud to display a beautiful edition of their favourite classic on their shelves. Barnes and Noble, Penguin, Puffin and MinaLima all do beautiful clothbound editions of classics.
You can find special editions of many books online. A stunning edition of their favourite book is sure to make any bookworm happy. The edition featured is a stunning Wordsworth edition of Jane Eyre. You can buy these on Amazon – check them out here.
5. Scented Candle
Who doesn't love a scented candle? Etsy is full of candles perfect for dark academia fans. They're another really good value gift as they're often very reasonably priced. Plus, it's an excellent way to combine a love of dark academia with a cosy night in.
There was something so romantic sounding about the name 'castle library'. I also love the dark label. The 'castle library' candle is a soy candle with notes of amber and dark honey.
6. Statue Candle
I know this is another candle. But seriously – everyone loves candles! And they are perfect gifts because they're good value for money, practical and a crowd-pleaser.
Statues, classic literature and Greek mythology are all commonly associated with the dark academia aesthetic. So this Venus statue Candle is perfect.
7. Leather Journal
Journaling has definitely increased in popularity recently. And I can see why. It's a creative hobby away from social media. It's also great for mental health. Plus it can help improve your writing.
Beautiful leatherbound journals are an excellent gift for dark academia fans. Especially when given with a beautiful fountain pen or quill and ink set.
8. Quill and ink set
If you're getting a seal stamp kit or leather journal – a quill and ink set also makes an excellent choice. They look really beautiful displayed on any desk.
A quill and ink set is perfect for anyone into journalling as it really helps practise calligraphy. It also forces you to take your time writing. Making it a much more mindful activity.
9. Bookmarks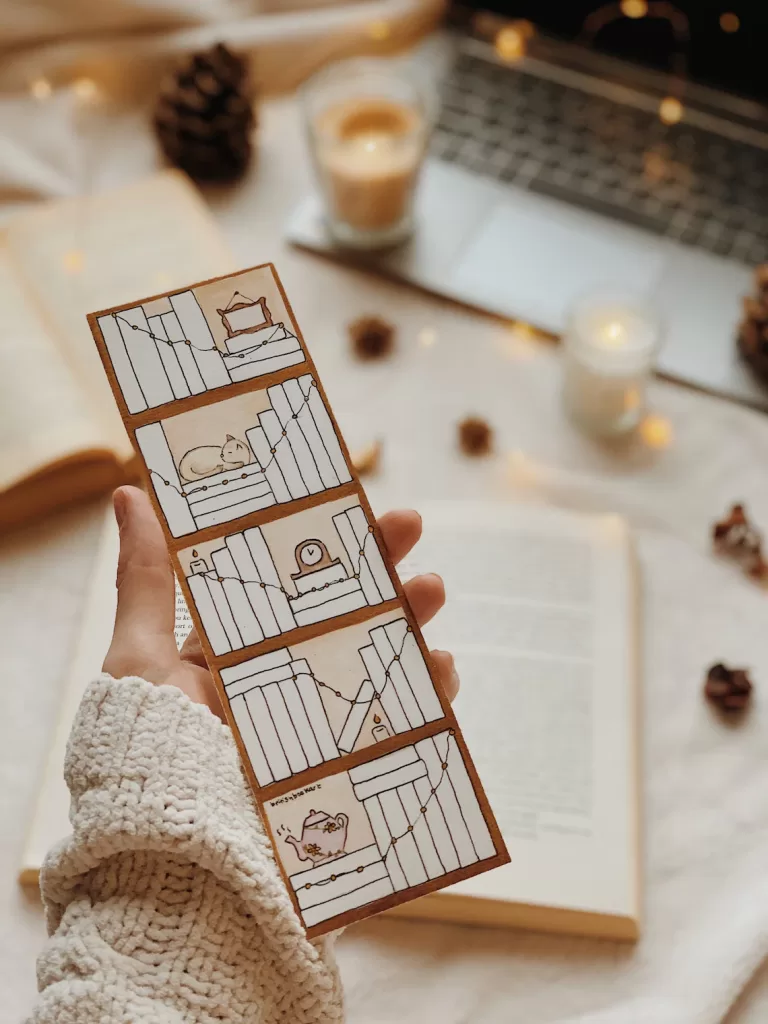 Bookmarks are a great budget gift idea or an excellent stocking filler. There are lots of cute bookmarks online.
I always love getting cute bookmarks. Especially as I tend to lose mine! There are lots of really unique bookmarks online. Including metal, magnetic and wood designs. And you can even get bookmarks for their favourite books. There are some great options from small businesses on Etsy and they tend to be under £5. The bookmark pictured allows you to track what books you've read – you can get it here.
10. Gramophone record player
This is probably the most expensive item on this list. But just look at this gramophone record player! How gorgeous would this look in any dark academia inspired room?
This gramophone record player is able to play records but can also stream songs via Bluetooth. So it's perfect for streaming both classic music and modern favourites.
11. Cavallini and Co posters
I first saw these beautiful posters on Ruby Granger's Youtube channel. And I was instantly obsessed! The vintage inspired style make them perfect for dark academia inspired rooms.
They have so many beautiful posters I could recommend – including dinosaurs, mineral rocks and maps. But the colours on this astronomy print are insanely beautiful.
12. Cavallini and Co Postcards
I couldn't 't resist including another gorgeous item from Cavallini and Co. Vintage postcards are an excellent way to decorate walls. And most dark academia rooms have a montage with gorgeous postcards.
Cavallini and Co make beautiful vintage educational postcards in gorgeous little tins. They're another budget-friendly gift that is sure to impress any dark academia fan.
13. Tote Bags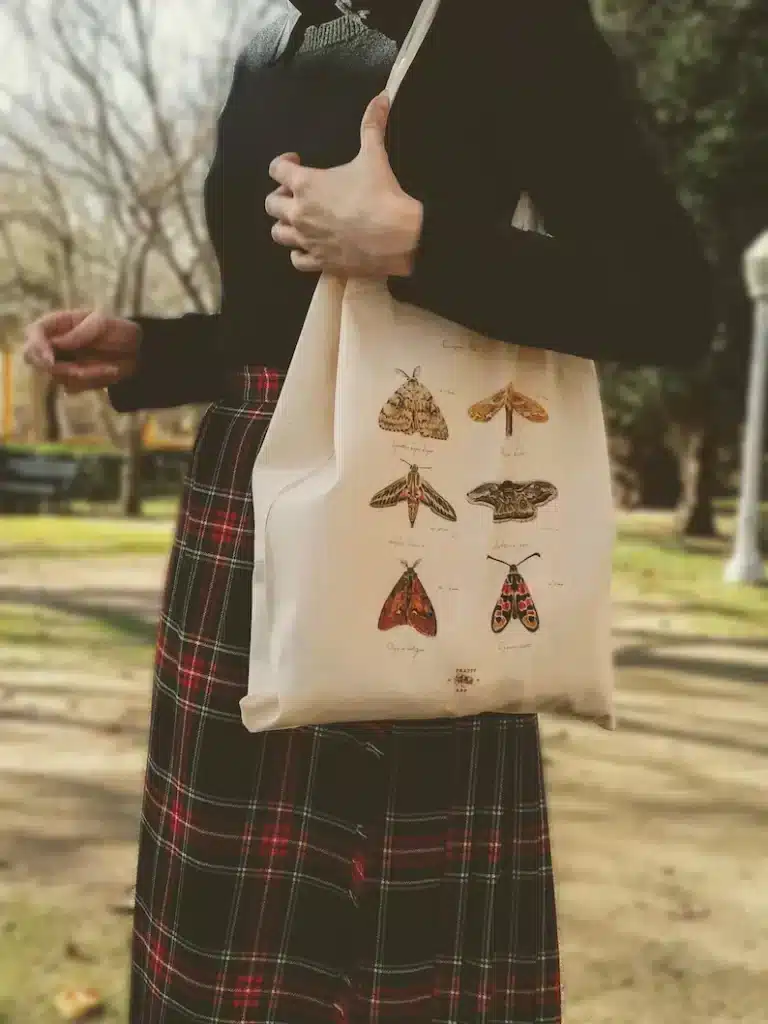 Tote bags are super practical. They're a great way to carry around books, shopping or other items. They can be used as a main handbag or folded up into a bag for your shopping.
There are some really great options online. And it can also be a great way to share your support for bookshops or different causes. I'm not surprised to see that they've been gaining popularity recently. This European Moths bag is handmade using recycled fabric. It's available on Etsy and the seller also sells beautiful postcards, bookmarks and prints.
14. Cosy sweater
You can never have enough cosy sweaters! Jumpers are a great way to share your love for books, art or knowledge And it's a great gift option.
Whether this is worn out and about or to keep warm at home. There are some seriously adorable dark academia jumper options. And there are thousands of different options online. This jumper has 'in books freedom' written in Latin. You can't get much more academia than that!
15. Skeleton T-shirt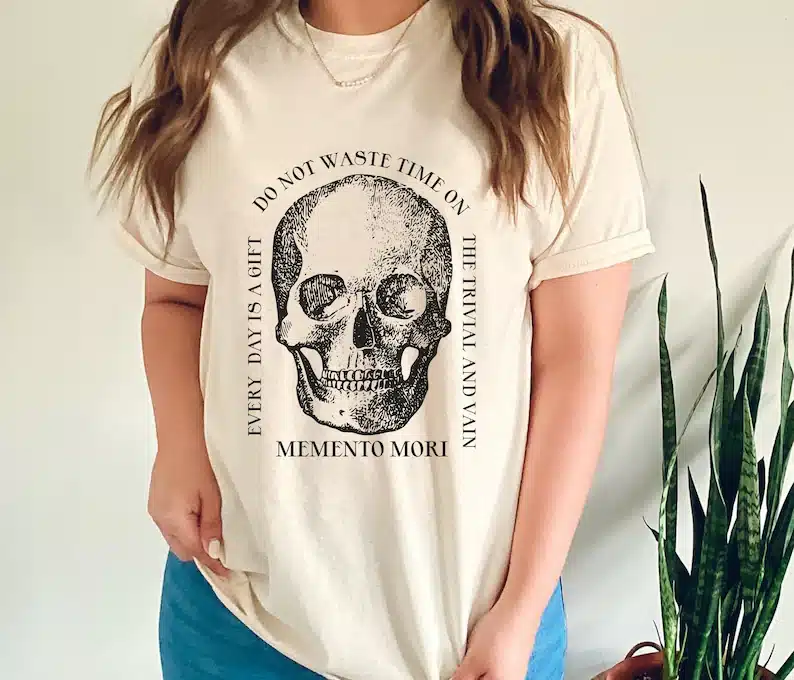 Whether this is worn out and about or as a cute PJ top. There are some seriously adorable dark academia inspired t-shirt options.
There are thousands of different options online. So there is something for everyone. The t-shirt pictured is from Nerdcakes and Company. You can get it in white, orange or natural. Check out their Etsy shop here.
16. Chess set
If you want to buy a gift that will be used – a chess set could be a really good option. There are some truly beautiful chess sets to fit every budget on Etsy. Handmade, vintage and even magnetic.
This chess set has a Walnut and mother of pearl inlay on the playing surface. The top is hinged so chess pieces can be stored inside. It's a really luxurious gift and a great option for chess fans.
17. Book binding kit
There are so many dark academia hobbies – from chess to writing and journaling. Find out if there are any hobbies or crafts they're interested in learning.
This bookbinding kit is the ideal starter kit for anyone interesting in learning the craft. It contains 23 items with all the basics you need to start bookbinding. It's the perfect choice for beginners.
18. Penhaligon's Perfume
Perfume is a classic Christmas gift. It's something you might not buy for yourself but everyone will enjoy receiving it. To an extent, perfume is a really personal choice. And you need to know the person.
But if you're looking for dark academia inspired perfumes – I recommend Penhaligon's. The bottles are very luxurious. And definitely give off dark academia vibes.
19. Fountain pen
There is something about a really nice quality pen that makes you feel so classy. A beautiful pen is really useful to keep with you. And if you need to sign something you can feel grown up and sophisticated.
This faber-castell pen features a beautiful pearwood with a fairly modern design. If they're into journaling or letter writing, this would be a really thoughtful gift.
20. Adult Painting by Numbers
Many dark academics are into more creative pursuits. I really enjoy painting but I'm not the most talented artist. So adult painting by numbers is a great way to feel artistic as a beginner.
There are so many different designs online. I've picked this version with the sunflowers because it looks more beginner friendly. You can pick it up on Amazon.
Those were my picks for the best dark academia gifts
Whether you're shopping for a friend who loves dark academia or treating yourself – I hope you found the right gift
What do you think are some great dark academia gifts?
This post was all about the best dark academia gifts
Other posts you might like: