Looking for wlw enemies to lovers books? Here are 12 must-read wlw enemies to lovers books
This post may contain affiliate links, which means I'll receive a commission if you purchase through my link, at no extra cost to you.
I don't know about you but I am obsessed with the enemies to lovers trope. The storyline of two people going from hate at first sight to falling in love makes a gripping story. If you're also looking to add more wlw books to your bookshelves then you're in luck. There are a ton of insanely good wlw enemies to lovers books.
But which ones are actually worth adding to your tbr list? From slow burn romance to fake dating, these are my absolute favourite wlw enemies to lovers books (plus get my FREE printable LGBTQ+ bookmarks and quiz to help you decide what sapphic book to read next!)
What are the best wlw enemies to lovers books?
These are the best wlw enemies to lovers books that I really recommend.
The following list includes books that you NEED to read 🙂
1. A Dark and Hollow Star by Ashley Shuttleworth
If you're a fan of Crescent City
If you're a fan of Crescent City you definitely need to read a Dark and Hollow Star. This is one of my top books in 2021! A Dark and Hollow Star is an urban fantasy, with fae, queer main characters and a wlw romance.
A series of gruesome murders threatens to expose the faerie world to humans. Four queer teens – Nausicaä, Arlo, Vehan, and Aurelian – each hold a piece of the truth. And they must track down the mysterious killer.
There are not one but two romances in this book. And the characters are what make them so perfect. I personally love Arlo and Nausicaä. Nausicaä is a grumpy, chaotic and sarcastic lesbian. Arlo and Nausicaä have a perfect grumpy/sunshine slow-burn vibe.
The other pairing is Vehan and Aurelian. Vehan is the perfect cinnamon roll character ( a character who is super sweet but faces more hardship than they deserve). He is Prince of Seelie court and just wants to protect others. Aurelian is his incredibly grumpy and stoic protector
I listened to the audiobook version which you can find on audible. It features a full cast of narrators which made it really engrossing. The voices of Vehan and Nausicaä are so spot on! And you can listen to it on Audible with a free trial. Or you can buy a physical copy on Amazon – you can buy it here.
Representation: mlm romance, wlw romance, non-binary, gender fluid characters
2. Hani and Ishu's Guide to Fake Dating by Adiba Jaigirdar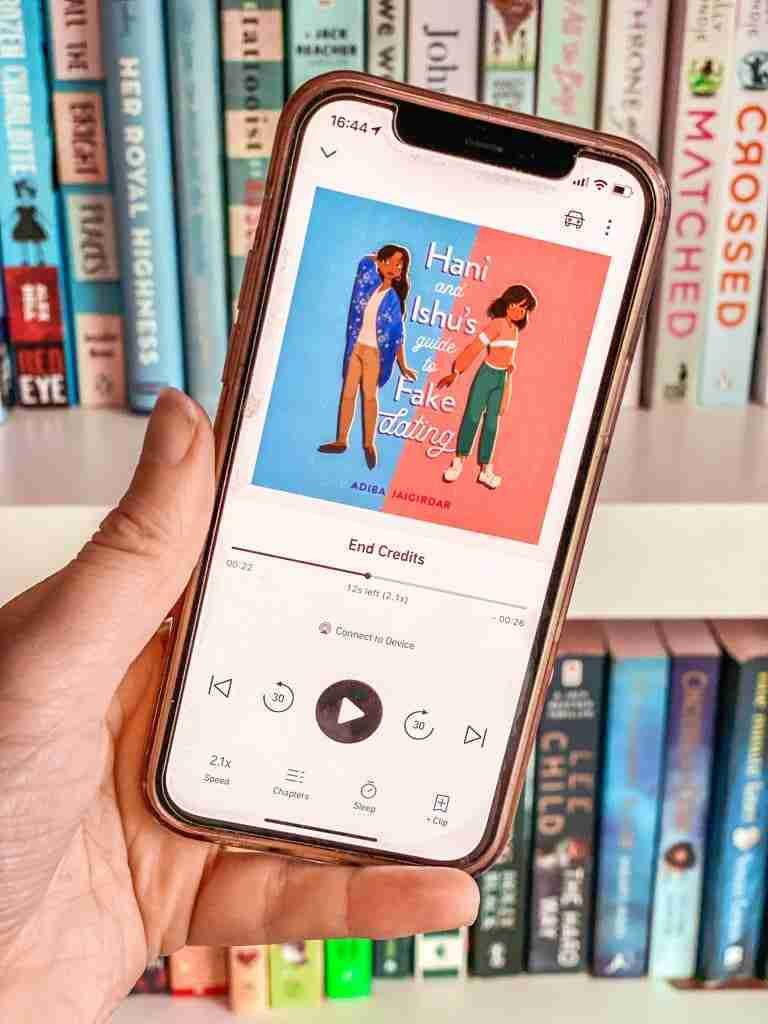 For Fans of the Fake Dating and Grumpy/Sunshine tropes
If you enjoy the fake dating trope – I guarantee you will love Hani and Ishu's Guide to Fake Dating!
Hani is bisexual but she is having trouble getting her friends to believe her. Ishu wants to be Head Girl. They decide to fake date so that Hani's friends believe she is bisexual. And to help Ishu in her Head girl campaign.
This book had me laughing out loud so many times. It has the perfect combination of a grumpy and sunshine main character.
The fake dating trope is executed perfectly – it leads to so many funny moments. And both characters learn from each other.
Representation: lesbian, bisexual, Bengali, Muslim
3. The Henna Wars by Adiba Jaigirdar
If you're looking for a wlw enemies to lovers with a school competition
The Henna Wars is incredible! It's an own voices, YA Contemporary book featuring a Muslim, Bangladeshi, lesbian main character
The Henna Wars follows Nishat as she comes out to her parents as a lesbian. They're happy for her to be whoever she wants to be. As long as she isn't herself – because Muslim girls aren't lesbians.
Her life becomes harder when she is reacquainted with a childhood friend – Flavia. Especially when in a school competition they both decide to start their own henna business.
Adiba Jaigirdar wrote The Henna Wars. She's a Bangladeshi, Irish writer who has been living in Dublin, Ireland from the age of 10.
This book includes a lovely queer f/f romance. But it's also so much more than a romance
It navigates homophobia, bullying, racism and cultural appropriation. It also includes one of the best main characters in Nishat. Nishat bravely deals with so many things being thrown at her.
But it still manages to remain a cute, funny and romantic debut novel. Please pick it up and read it!
Representation: lesbian, bisexual, Bengali, Muslim
4. Her Royal Highness by Rachel Hawkins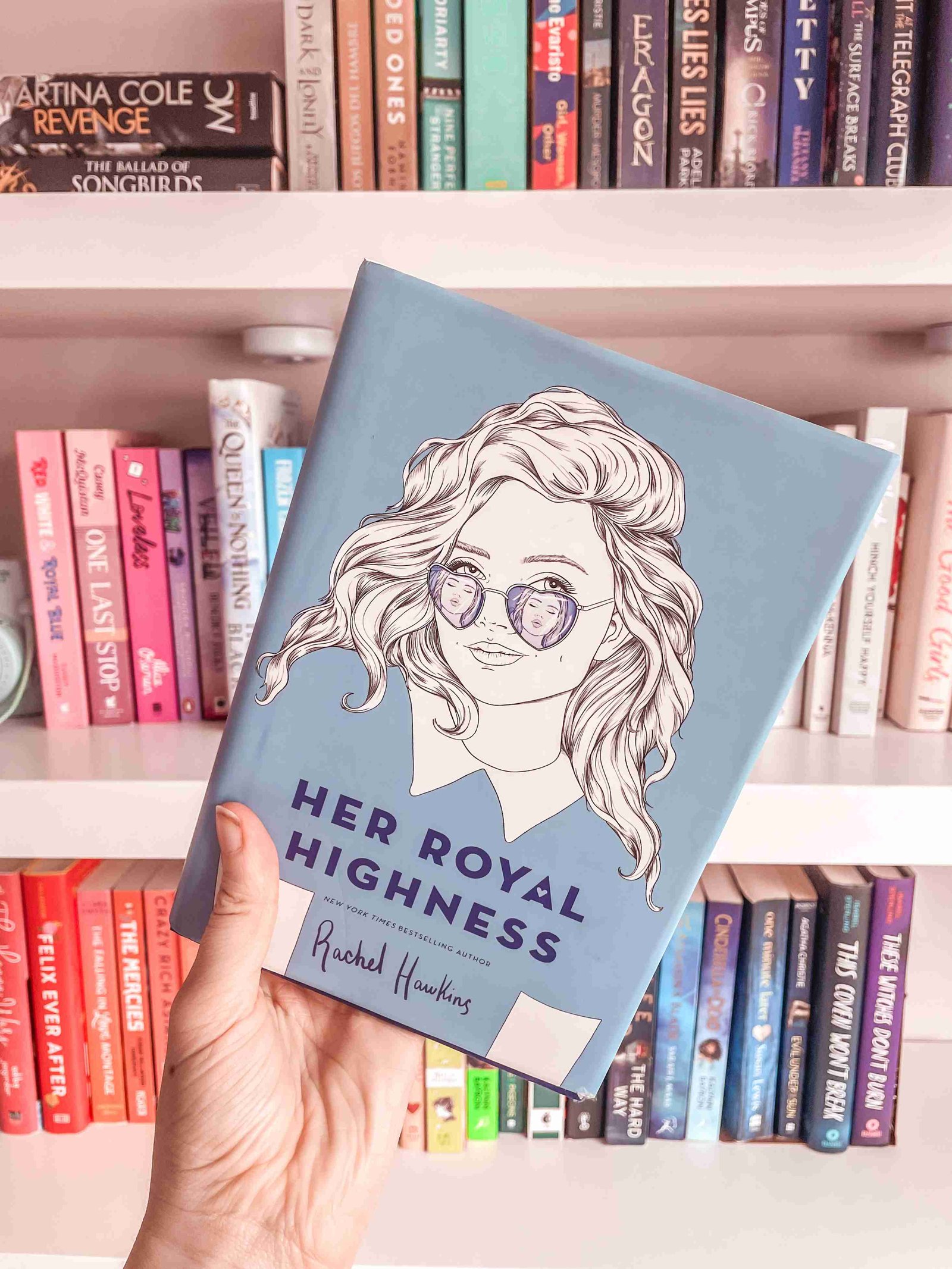 If you love the enemies-to-lovers, royalty and room-mates trope
Her Royal Highness has some serious Red, White and Royal Blue Vibes.
Not only does it include the enemies-to-lovers trope. But it also features the room-mates trope, royalty, an ex-girlfriend and a posh boarding school.
Oh, and did I mention it's all set in stunning Scottish highlands.
The book follows Millie who is heartbroken when she discovers that her kinda girlfriend has been kissing someone else. After getting into a super elusive boarding school, she moves to Scotland. And this is where she meets Princess Flora.
It's a sweet, lighthearted and irresistibly charming book. You can easily binge-read it in one sitting. If you haven't read it you absolutely need to.
Representation: lesbian, bisexual, wlw romance
5. We set the dark on fire by Tehlor Kay Mejia
If you're looking for Latine representation
This book features one of the best wlw enemies to lovers romances that I've read!
We Set The Dark On Fire follows Daniela Vargas. She lives in a dystopian world where each man is entitled to 2 wives. A Primera and a Segunda. The Primera is intelligent, calm and analytical. The Segunda is the mother figure.
Outside the wall, the people go hungry. Dani started life outside of the wall. And she must use her wits to survive illegally in the capital. She is also married to one of the most powerful men in the kingdom.
The premise was intriguing. And the main character was instantly likeable. She also grows a lot through the book. But the romance is what makes this so perfect. Two badass women who are married to a Straight man but fall in love with each other.
The world-building is also excellent. And the book has such dark academia vibes. It opens in a prep school for girls. But it discusses so many important issues such as immigration politics and forced marriage.
We set the Dark on Fire features an intriguing dystopian premise and a likeable, strong-minded main character. This YA LGBTQ+ Dystopian book explores immigration politics, toxic masculinity and feminism.
Representation: Latine, Queer characters, wlw romance
6. Crier's War by Nina Varela
If you're looking for mystery, revenge and enemies to lovers wlw romance
Crier's War is an epic urban fantasy novel with a f/f romance. It's set in the Kingdom of Rabu and follows Ayla.
A War has ravaged the kingdom of Rabu. The Automae took over the estates of their owners and bent the human race to their will.
Ayla is a human servant who is rising the ranks at the House of Soverign. She dreams of avenging the death of her family… by killing the Sovereign's daughter – the beautiful Lady Crier.
Now, Ayla, a human servant rising the ranks at the House of the Sovereign, dreams of avenging the death of her family… by killing the Sovereign's daughter, Lady Crier. Crier, who was Made to be beautiful, to be flawless. And to take over the work of her father.
Crier was Made to be beautiful, flawless, and to carry on her father's legacy. But that was before her betrothal to the enigmatic Scyre Kinok, before she discovered her father isn't the benevolent king she once admired, and most importantly before she met Ayla.
Representation: Lesbian protagonist, bisexual protagonist, wlw romance
7. The Dark Tide by Alicia Jasinska
If you're looking for a curse, witches and a doomed romance
The Dark Tide is a really underrated book. It features a wlw romance, witches and a curse on a town.
It follows Lina. She lives on a small island where the dark tide could cause it to sink. So, every year the Witch Queen lures a boy back to her palace and sacrifices her on the full moon. And so keeps the island city from sinking.
Lina is convinced her brother is going to be taken. She asks Thomas Lin to help. Thomas is the only person to survive the sacrifice. But they draw the Queen's attention. And instead, Thomas is taken.
Lina offers herself instead of Thomas. But the queen is nothing like Eva expected. And they must choose between saving the island or themselves.
This is such an angsty slow burn romance. Lina and Eva had an amazing grumpy/sunshine dynamic. The setup made this story so tragically romantic. It's also beautifully written with atmospheric worldbuilding that gave it a dark tone.
Representation: wlw romance
8. These Witches Don't Burn by Isabel Sterling
If you are looking for autumnal reads with witches set in Salem
I was sold on this book as soon as I heard Sapphic witches! It's a YA Fantasy book about witches featuring a f/f romance and set in Urban Salem.
These Witches Don't Burn follows Hannah. She is a witch living in Salem. A dark blood ritual interrupts her end of school bonfire. And she investigates with her ex-girlfriend Veronica. She also meets Morgan. But trying to date in the middle of a supernatural crisis is not easy and will test Hannah's limits.
This is one of my favourite duologies! I love all the magical, fantastical elements and I really enjoyed the modern setting in Salem. The representation is absolutely fantastic. And the pacing of the plot really kept me hooked.
Representation: bisexua characters, wlw romance
9. Girls of Paper and Fire by Natasha Ngan
If you're looking for a wlw fantasy book
I've seen Girls of Paper and Fire everywhere online! Firstly, the cover is absolutely stunning and I'm a little bit in love.
It follows Lei. She is a member of the Paper Caste. And the people of Ikhara persecute her. She sees the royal guards take her mother. Afterwards, Lei suffers with trauma. They return and try to take Lei.
She has to learn skills fitting of a King's Consort. But she falls in love. An excellent fantasy book. The plot is quite dark but it also features a f/f romance.
Representation: wlw romance, Asian main and side characters
10. Not Your Sidekick by C.B. Lee
If you're looking for a book with superheroes and a sapphic romance
Not Your Sidekick is a superhero-themed novel featuring a bisexual Chinese-Vietnamese protagonist, a trans character and a f/f romance. And it's written by an own voices author.
It follows Jessica Tran, a bisexual high school student who is resigned to a life without superpowers and decides to start an internship to improve her college applications. However, she quickly discovers it's for a supervillain with her crush Abby.
Not Your Sidekick is another light, fluffy and fun read. It takes superhero tropes and gives a really refreshing take on a superhero story. I love how the superheroes and supervillians storyline is woven into modern, everyday life.
It also manages to tackle a lot of issues while still staying fun. There is a whole series of these and I've already added Not Your Villain to my TBR list as I really loved Bells in Not Your Sidekick.
Representation: transgender character, bisexual main character, wlw romance
11. Love Frankie by Jacqueline Wilson
If you were a fan of Jacqueline Wilson growing up
Jacqueline Wilson wrote a lesbian romance novel!
Jacqueline Wilson was my childhood! I read recently that she has written over 100 books and is the most borrowed author from libraries.
If you were a British teen in the 90s and bookworm you will definitely have read some of her work.
If you're familiar with Jacqueline Wilson's work, you will find this super comforting to read. Jacqueline Wilson's distinctive writing style very easy to read.
It follows Frankie who is struggling to cope with her mum's MS diagnosis when she meets Sally. Problem is Sally is perfect when it's just them. But she ignores her at school
Wilson has never been one to avoid controversial topics. And Love Frankie is no different. It explores mental health and coming out in teens.
Representation: lesbian, wlw romance
The Mercies by Kiran Millwood Hargrave
For fans of historical fiction and The Handmaid's Tale
The Mercies is about 17th Century Norweigen Sapphics. It's set in a small Norwegian Coastal village in the 1600s. A storm kills off all the islands men.
Two women struggle to survive against both the natural forces. And the men who have been sent to rid the community of alleged witchcraft.
The world-building in this book is incredible. And it makes it such a treat to read. You can see all the research that has gone into this book as the details are incredible.
It was quite dark and a very emotional read. If you're looking for a more historically accurate take on witches then this is the book for you.
Representation: wlw romance
Those were my picks for wlw enemies to lovers books
There are so many incredible wlw enemies to lovers books to read. And this post really is just the tip of the iceberg.
Everyone should have LGBTQ+ Books on their bookshelves. Diversity makes books better.
What are your favourite LGBTQ+ books?
This post was all about wlw books to read
Other posts you might like
This post with cottagecore books to read in spring
The best LGBTQ+ YA Fantasy books to read
These recommendations for LGBTQ+ book blogs to follow
A guide to the best LGBTQ YA Books
Must-Read Bisexual books
This post on books like red, White and Royal Blue
The 16 best books like heartstopper
The absolute best books with lesbian characters
If you liked this post please download my free LGBTQ+ bookmarks. They include designs inspired by popular LGBTQ+ books