Looking for books like Six of Crows? I'm obsessing over these 15 books (and you will too!)
No mourners, no funerals. Six of Crows is an epic fantasy heist book that combines a daring heist, shocking twists and unforgettable friendships. Leigh Bardugo is a #1 best selling fantasy author and the Grishaverse is now a Netflix original series. I read Six of Crows recently. And I can see why so many people love this book. But it gave me such a reading slump. And got me searching for books like Six of Crows to read. So, I've compiled the absolute best books I've read similar to Six of Crows.
In the name of full transparency, please note that this post contains affiliate links and any purchase made through such links will award me a small commission at no extra cost to you. If you choose to purchase anything through my links, thank you for supporting my blog.
Here are 15 books like Six of Crows.
Books like Six of Crows with Criminal Masterminds
1. Artemis Fowl by Eoin Colfer
If you're looking for a book with a genius criminal mastermind and a daring plot
Artemis Fowl is very different from Six of Crows as it's aimed at middle grade. But it's similar in so many other ways that I absolutely had to include it.
It follows Artemis Fowl who is a child genius, millionaire and criminal mastermind. He kidnaps a fairy – Captain Holly Short. But these aren't the fairies of bedtime stories – they're dangerous.
This book has so much in common with Six of Crows – a daring heist, magic, and plenty of plot twists. But the main character is my reason for including it. Artemis is an absolutely fantastic character. Cunning and a genius. If you loved Kaz's criminal genius then you should definitely pick up this unforgettable fantasy book.
2. Spellhacker by M.K. England
If you're looking for a fantasy heist with witty banter and a memorable friendship group
Spellhacker is one of the most similar books to Six of Crows that I've read. It has so many of the elements that make Six of Crows great – a diverse cast of characters, a high stakes heist, criminal mastermind main character and plenty of banter. The characters were also really diverse – including non-binary, queer and POC characters.
It's set in a world where magic ( known as maz) was once freely available. But an earthquake unleashed a deadly plague. And now maz is a tightly controlled and expensive commodity.
We follow Diz who runs an illegal maz siphoning business with her three best friends. They get offered one last massive heist that could change everything.
This was a well written standalone. The book opened with a bang and it was fairly fast-paced throughout. It felt like a cross between Ready, Player One and Six of Crows. The world-building around the magic was also really excellent.
Books with morally grey characters
3. A Dark and Hollow Star by Ashley Shuttleworth
If you're a fan of Crescent City and are looking for a morally grey, grumpy main character
A Dark and Hollow Star is one of my top books in 2021! It'ss an urban fantasy, with fae, queer main characters and a wlw romance.
A series of gruesome murders threatens to expose the faerie world to humans. Four queer teens – Nausicaä, Arlo, Vehan, and Aurelian – each hold a piece of the truth. And they must track down the mysterious killer.
The characters are what makes this book. Nausicaä is a very grumpy, sarcastic and chaotic lesbian. I loved her instantly If you loved the angsty romance between Kaz and Inej then you should read this one
I listened to the audiobook version which you can find on audible. It features a full cast of narrators which made it really engrossing. And you can listen to it on Audible with a free trial. Or you can buy a physical copy on Book Depository where they conveniently have free shipping worldwide – you can buy it here.
4. Throne of Glass by Sarah J Maas
If you're looking for a fantasy book series with a badass, morally grey assassin.
Throne of Glass features one of the best morally grey characters.
Throne of Glass is a fantasy book series. It follows Celaena. She is an assassin who has been imprisoned. She is summoned to take part in a contest to become the King's assassin.
This is a long fantasy book series to get stuck into with so many YA tropes to love such as enemies to lovers romance, morally grey characters and love triangles.
It also includes fae characters and magic. Later books also include some amazing Crochen witches. If you love YA Fantasy books you should definitely read this one.
Books with revenge plots
5. Lore by Alexandra Bracken
For Fans of Percy Jackon or Greek Mythology
Greek Mythology meets The Hunger games. Lore features Greek mythology, an urban setting and a strong female lead.
Every seven years Greek Gods are hunted by descendants of ancient bloodlines. If the hunters succeed they seize their immortality. It follows Lore Perseus who has turned her back on this world. But as the next hunt dawns, two participants seek out her help.
The plot of Lore is quite complex but it's executed perfectly. Bracken did a great job of building the concept. I was intrigued and hooked from the first chapter.
It has a really great revenge storyline. So if you liked the revenge elements in Six of Crows then this is a great book to read.
6. Children of Blood and Bone by Tomi Adeyemi
For those who want really magical world-building
Children of Blood and Bone follows Zelie. Zelie is magical but lives in a world where magic is gone
The ruthless king kills all the Maji. Including Zelie's mother.
Consequently, this book has such a fantastic revenge-fuelled storyline.
Zelie is incredible and very strong-willed. The world-building in this book is also enchanting. It's one of the elements that made me fall in love with the series.
Tomi Adeyemi wrote this YA Fantasy Book. She is s a bestselling Nigerian-American novelist and creative writing coach.
The West African world building is incredible and it's different to any other YA fantasy book I've read. If you're looking for a revenge plot then you should read this book.
Books with angsty Romance
7. Shatter Me by Tahereh Mafi
For fans of super powers, dystopian fiction and angsty romance
Shatter me opens with the main character locked up for murder. She is unable to touch anyone. And she falls in love with the first person she is able to touch.
The writing style in Shatter me is unlike anything else I've ever read. It's very prose heavy. And consequently, it seems to be a book people either love or hate. I love it.
It's set in a dystopian, post-apocalyptic world. But it's definitely more of a romance. And an ansgty one at that. There was a definite 'will they, won't they vibe. Similar to Kaz and Inej for me.
Juliette is an excellent main character. She has been dealt an awful hand in life. And yet she still perseveres and looks for the best in everyone.
The plot behind the series is excellent. And it particularly picks up towards the end. Trust me when I say – you will instantly want to read the next book.
8. We set the dark on fire by Tahlor Kay Mejia
If you're looking for Latinx representation
We Set The Dark On Fire follows Daniela Vargas. She lives in a dystopian world where each man is entitled to 2 wives. A Primera and a Segunda. The Primera is intelligent, calm and analytical. The Segunda is the mother figure.
Outside the wall, the people go hungry. Dani started life outside of the wall. And she must use her wits to survive illegally in the capital. She is also married to one of the most powerful men in the kingdom.
The premise was intriguing. And the main character was instantly likeable. It also features one of the best enemies-to-lovers f/f romances that I've read. Full of angst and tension throughout the book.
We set the Dark on Fire features an intriguing dystopian premise and a likeable, strong-minded main character. This YA LGBTQ+ Dystopian book explores immigration politics, toxic masculinity and feminism.
Books like Six of Crows: Found Family
9. The Raven Boys by Maggie Stiefvater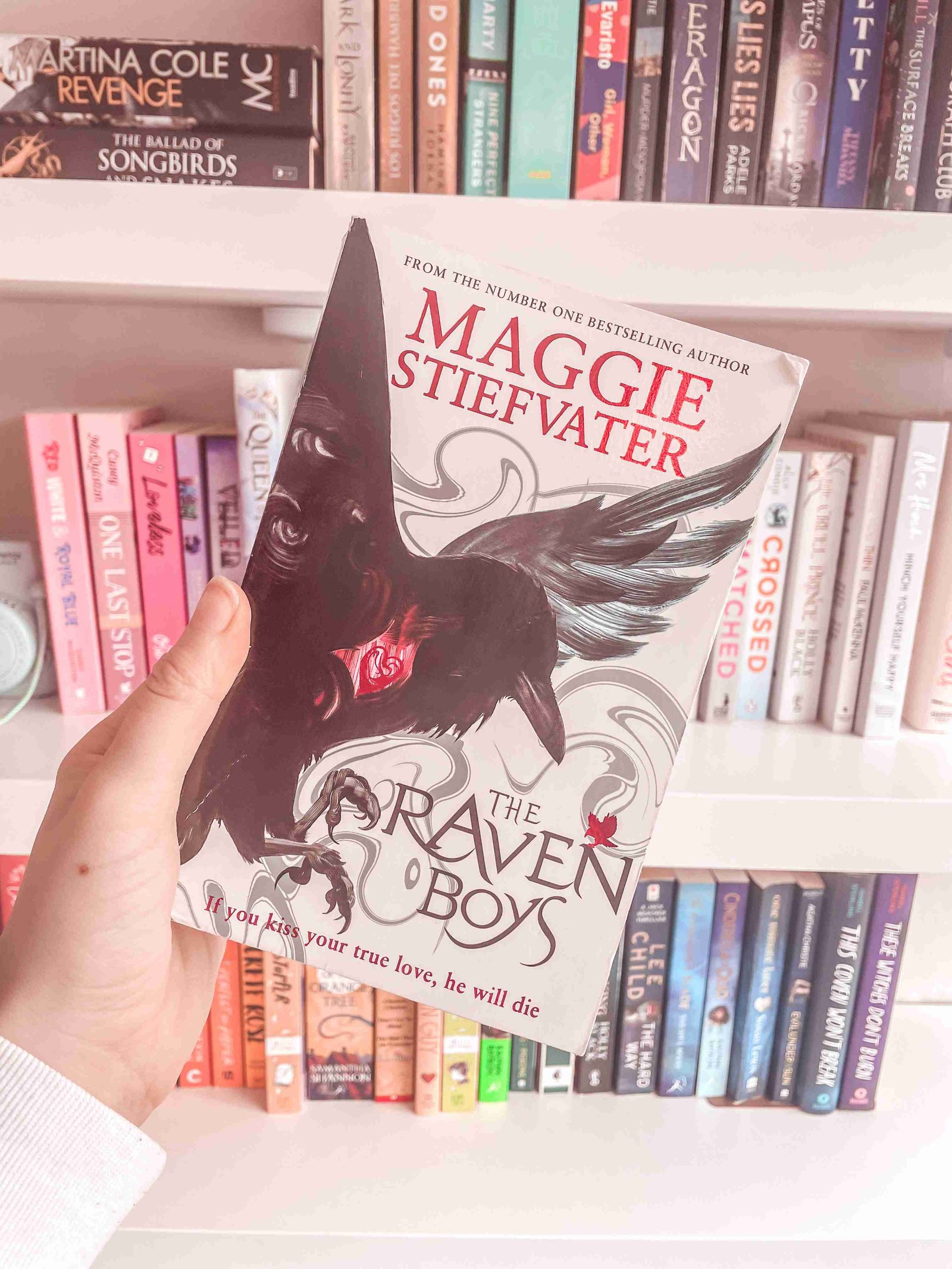 If you're looking for a paranormal fantasy with unforgettable characters
Each year in the churchyard, Blue watches her psychic mother see those who are going to die that year. Blue never actually sees them herself. Until this year. When she speaks directly to a boy.
He is called Gansey and is a student at Aglionby school. The students there are known locally as Raven Boys.
I had so many recommendations to read this and for good reason. The characters and the relationships are what make this one of the best fantasy books. If you loved the friendship group and witty banter in Six of Crows – then I highly, highly recommend Raven boys. You can also conveniently buy this on BooK Depository with free shipping worldwide- you can get it here.
10. A Court of Thorns and Roses by Sarah J. Maas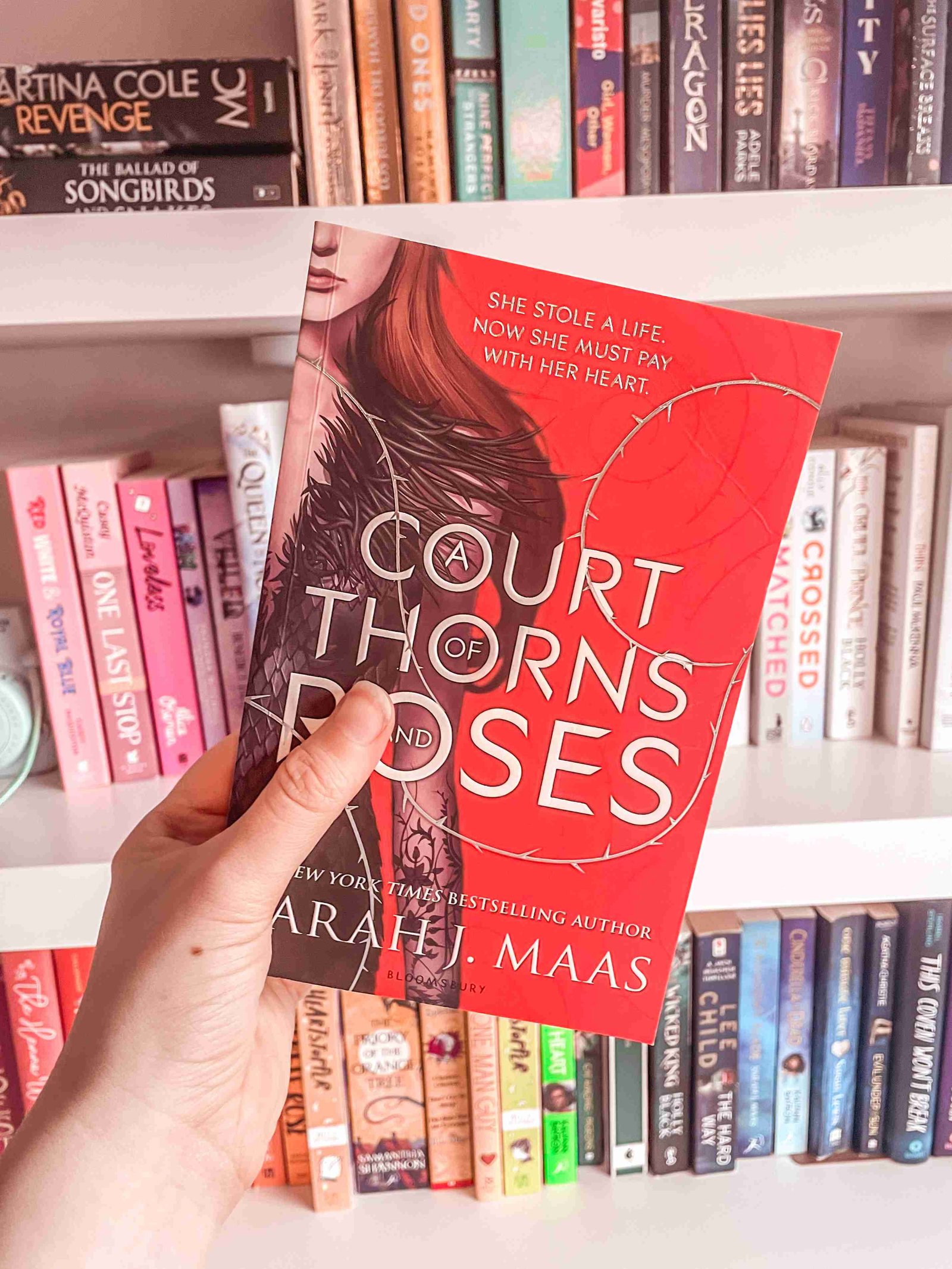 If you like retellings, the found family trope and enemies to lovers romance
This series has one of the best enemies to lovers romances. If you love the friendship group in Six of Crows then you should read this series. The found family trope is executed particularly well in this series.
A Court of Thorns and Roses is a Beauty and the Beast retelling. It follows Feyre. She is really poor and lives with her father and two sisters. She has to hunt to care for the family.
One day she sees a deer and can't resist killing it to sell. But it was actually a faerie she murdered. And the owner comes to kidnap her to live at the castle as punishment.
It is a bit slow. Sarah J Maas does dump a lot of information about the fantasy world on you. But stay with it – I promise you it gets so much better. The second book is definitely the best in the series where many of my favourite characters are introduced. And conveniently you can buy it on Book Depository with free shipping worldwide – get a Court of Thorns and Roses here.
Books like Six of Crows Characters
Kaz Brekker
11. The Cruel Prince by Holly Black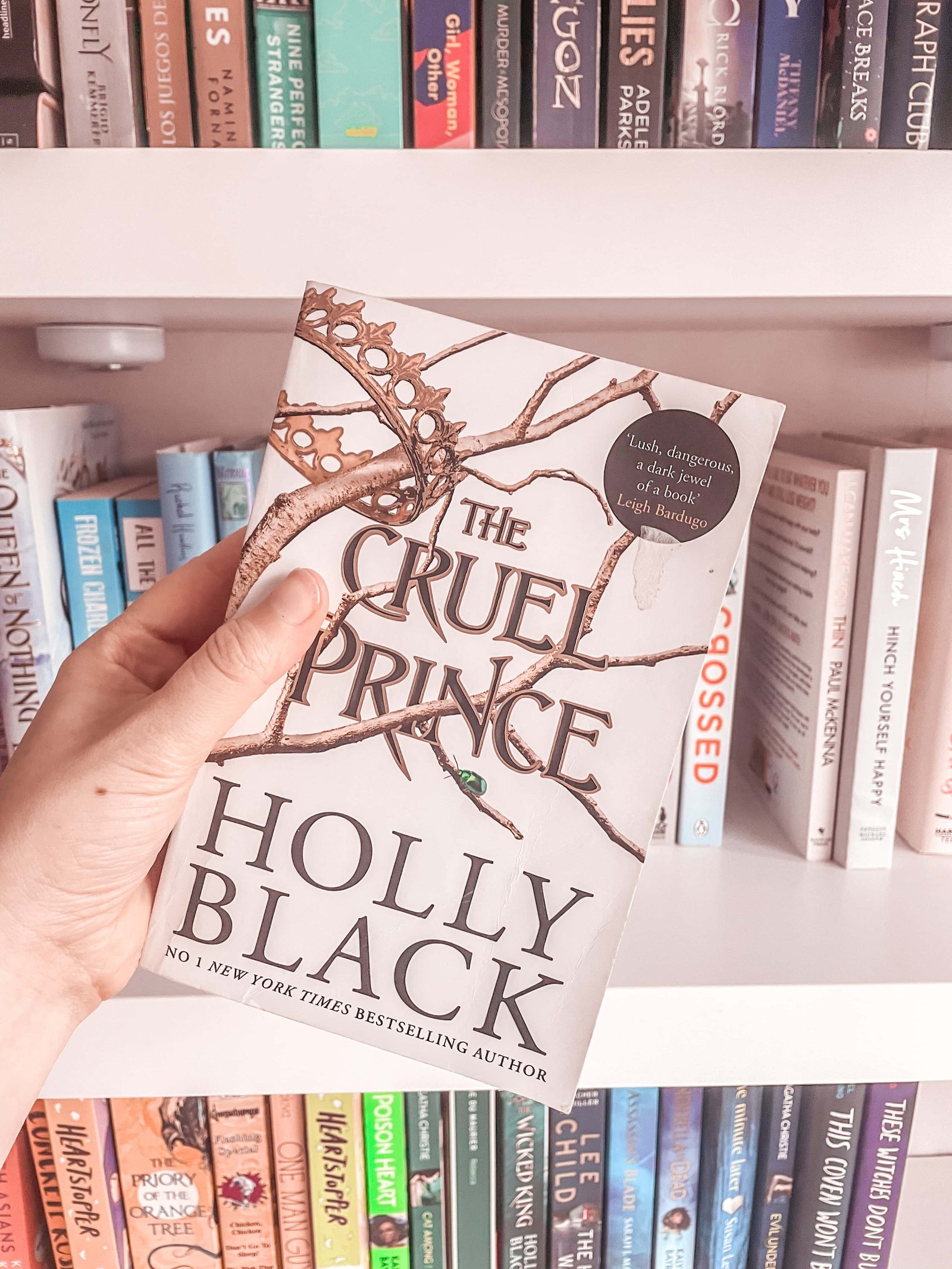 If you're looking for a fantasy book with a strong female lead and lots of twists.
If you're looking for a main character like Kaz you should pick this one up. It features an excellent enemies-to-lovers romance with a dark, brooding Prince.
It follows Jude who is a human. As a child, she gets kidnapped with her two sisters and taken to live with the fae in the woods. She grows up wanting to be like the wicked fae she lives with.
There are a few elements that make this series so incredible. Jude is an incredibly strong female lead and an absolute badass. The enemies to lovers romance is excellent! Many list the couple from this series as their favourite bookish couple. The Wicked King is definitely the best book in the series and is an absolute rollercoaster with lots of twists and turns.
12. A Curse so Dark and Lonely by Brigid Kemmerer
If you're looking for a YA Fantasy with disability representation
I've recommended this book for a very specific reason. In the acknowledgements to Six of Crows Leigh Bardugo talks about suffering from osteonecrosis or bone death. She sometimes walks with a cane. And consequently created a character with similar conditions.
If you're looking for books with bad-ass, disabled characters then you should read a curse so Dark and Lonely.
A Curse So Dark And Lonely is a retelling of Beauty and the Beast. Prince Rhen, Heir of Emberfall, needs to make a girl fall in love with him to break the curse.
Harper has cerebral palsy. And she struggles to look after her dying mother. She tries to save a stranger and is pulled into the world of Emberfall.
A Curse so Dark and Lonely includes an adorable romance. And it's an excellent retelling that puts a modern spin on the original fairytale.
Jasper Fahey
13. Red, White and Royal Blue by Casey Mcquiston
If you're looking for saracastic banter and bisexual representation.
When I think of Jasper Fahey, I instantly think about his sarcastic, witty banter. If you're looking for books with sarcastic main characters then Red, White and Blue is a great choice.
Red, White and Royal Blue follows Prince Henry and Alex Claremont Diaz. They cause a scandal in the press and have to pretend to be friends.
It made the New York Times Bestseller list and won a Good Reads Choice award. Also over 30,000 people have reviewed it on Good Reads
The relationships between the characters in the book are what makes this for me. It's an empowering queer romance story. It takes place in a parallel universe where a woman with mixed-race children is president.
It's an incredible book. And this book is one of the best for bisexual representation.
14. Hitch hiker's guide to the galaxy by Douglas Adams
If you're looking for an easy-to-read classic
If you want funny, easy to read books – then The Hitch-hiker's Guide to The Galaxy is for you. While it might not have one sarcastic main character – it is incredibly funny with a very distinctive sense of humour.
Seconds before Earth is demolished to make way for a galactic freeway, Arthur Dent is plucked off the planet by his friend Ford Prefect, a researcher for the revised edition of The Hitchhiker's Guide to the Galaxy.
This book is definitely one you either love or hate. The humour is quite absurd but also equally dry and sarcastic in places.
15. The illuminae Files by Amie Kaufman and Jay Kristoff
If you're looking for sarcasm, banter and an immersive audiobook
This is another book with some really sarcastic banter. Ezra is hilarious and his witty, sarcasm carried this book for me.
Illuminae Files opens with Kady. It opens with Kady. She thought breaking up with Ezra was the hardest thing she'd have to do. But then her planet is invaded. A terrifying plague breaks out. And it's clear the only person who can help is her ex-boyfriend.
Illuminae files has a very unique format as it's an epistolary book. The story is told through a dossier of documents such as emails and interviews. Consequently, it's not going to be for everyone. And some will find it quite difficult to read.
I listen to the audiobook version. I see it mentioned everyone online and honestly, it's for a good reason. The audiobook contains a full-cast and sound effects which make it super immersive. It feels like you're listening to a Netflix movie rather than an audiobook.
16. Serpent and Dove by Shelby Mahurin
If you're looking for a slow burn romance
Serpent and Dove is an excellent pick for anyone looking for books similar to Six of Crows. It features a slow burn enemies to lovers romance between a witch and a witch hunter. 
Serpent and Dove follows Louise – a witch. She lives in Cesarine where witches are hunted and burned. Reid is a witch hunter who has always lived by the same principle – thou shalt not suffer a witch to live.
But Lou pulls a stunt and it forces them into an impossible scenario – holy matrimony.
This has so many tropes that I enjoy – enemies to lovers, marriage of convenience and morally grey characters. And it's topped off with an well developed magic system and easy to read writing.
This is the perfect books to read in fall. The witchy imagery and gritty city setting are excellent.
17. The Prison Healer by Lynette Noni
An underrated fantasy book set in a prison
This book is so underrated. I had zero expectations going into this but I absolutely loved this! And it deserves so much more hype! It's perfect if you're looking for books like A Court of Thorns and Roses. And it even features an endorsement from Sarah J Maas.
Apart from an endorsement from Sarah J Maas, it also has a strong female main character, plot twists and the found family trope.
The Prison Healer is set in a ruthless death prison called Zalindov. It follows Kiva who is a prisoner there. As Prison healer, she is charged with keeping the seriously ill Rebel Queen alive long enough to go through the Trial by Ordeal.
Trial by Ordeal is a series of challenges against the torments of air, fire water and earth. It's assigned to only the most dangerous criminals. But then a coded message arrives containing a single order: "Don't let her die. We are coming." But the trials will kill the sickly queen.
The setting of this book is so simple but executed perfectly. And it really lets the plot and character growth shine. The writing style reminds me of Sarah J Maas  and in particular Crescent City. It contains an intriguing mystery and excellent plot twists.
18. Daughter of Smoke and Bone by Laini Taylor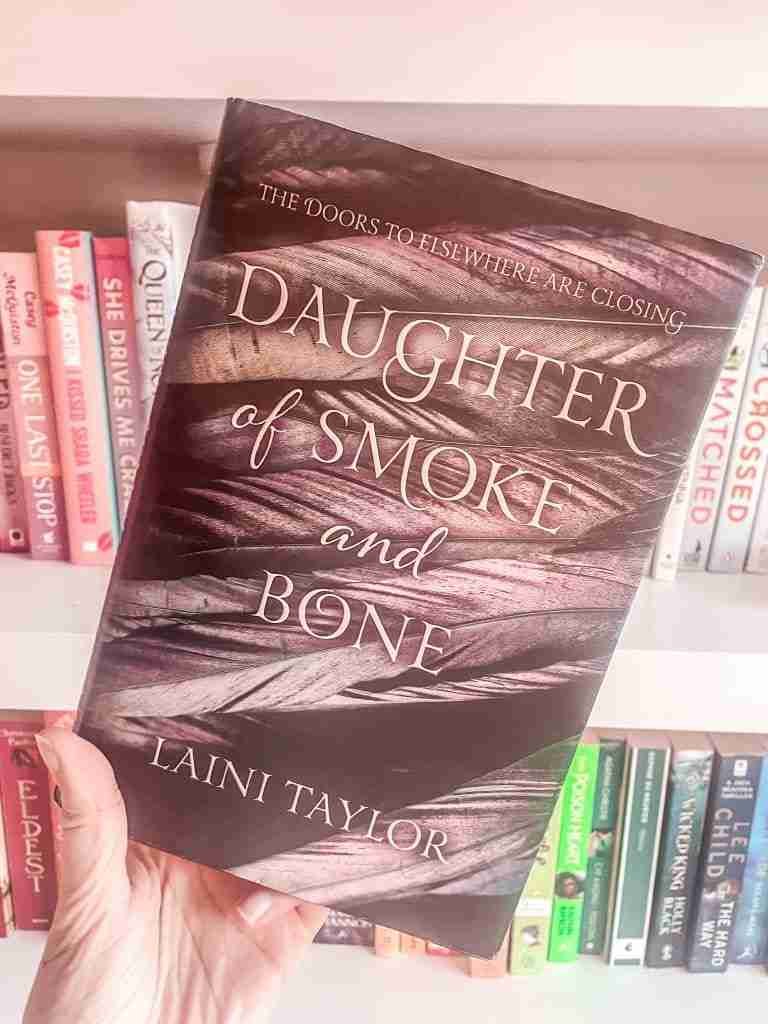 If you're searching for books with morally grey protagonists
Daughter of Smoke and Bone was a recent read for me. I picked this up second hand after hearing positive reviews online. And I think fans of Crescent City will love this YA Fantasy book.
Daughter of Smoke and Bone follows Karou. She has 2 lives which she has always managed to keep balanced. On one hand, she's a seventeen year old art student living in Prague. On the other hand, she runs errands for a monster.
But then black hand prints start appearing on doorways. Scorched there by winged creatures. And Karou must choose between the safety of her human life or war.
If you're looking for books like Six of Crows then this is a great choice. Particularly if you're looking for books with angels. This book features angels and an urban setting.  It also has slightly darker tone for a fantasy novel. 
19. Little Thieves by Margaret Owen
If you're after a fantasy heist novel
If you search for books like Six of Crows on TikTok, Little Thieves is highly recommended. And it's no surprise that this reminds so many readers of Six of Crows. It has a heist, found family and it's full of plot twists.
Little Thieves is a Goose Girl retelling. It follows Vanja Schmidt. She knows that no gift is freely given. Not even a mother's love–and she's on the hook for one hell of a debt.
Vanja is the adopted goddaughter of Death and Fortune. And she was Princess Gisele's dutiful servant up until a year ago. That was when Vanja's otherworldly mothers demanded a terrible price for their care.
And Vanja decided to steal her future back… by stealing Gisele's life for herself.
The real Gisele is left a penniless nobody. Meanwhile Vanja uses an enchanted string of pearls to take her place. Now, Vanja leads a lonely but lucrative double life as princess and jewel thief. She charms nobility while emptying their coffers to fund her great escape.
Then, one heist away from freedom, Vanja crosses the wrong god and is cursed to an untimely end: turning into jewels, stone by stone, for her greed.
Vanja has just two weeks to figure out how to break her curse and make her getaway.
The pace in this book is a little slow. However, once you get into it, this is an increadible read. And it's perfect if you're after books like Six of Crows.
20. Gilded Wolves by Roshani Chokshi
One part Six of Crows, One part Dan Brown
If you're after adventure, an unlikely group of friends, mystery and magic. All set in beautiful Paris. Then you'll love this book. It features a diverse cast hunting a magical artifact.
It's 1889. The city is on the cusp of industry and power, and the Exposition Universelle has breathed new life into the streets and dredged up ancient secrets. Here, no one keeps tabs on dark truths better than treasure-hunter and wealthy hotelier Séverin Montagnet-Alarie. When the elite, ever-powerful Order of Babel coerces him to help them on a mission, Séverin is offered a treasure that he never imagined: his true inheritance.
To hunt down the ancient artifact the Order seeks, Séverin calls upon a band of unlikely experts: An engineer with a debt to pay. A historian banished from his home. A dancer with a sinister past. And a brother in arms if not blood.
Together, they will join Séverin as he explores the dark, glittering heart of Paris. What they find might change the course of history–but only if they can stay alive.
Those were my picks for the best books like six of crows
Whether you're looking for a heist book, morally grey characters or an unforgettable friendship group – I hope you found a book to read.
What books have you read like six of crows? Let me know in the comments section below.
This post was all about books like six of crows
Other posts you might like