Are you A Court of Thorns and Roses fan? I've compiled the 20 absolute best books similar to a Court of Thorns and Roses.
Confession time – I am Sarah J Maas trash. I'm sitting here after rereading the Court of Thorns and Roses series for the umpteenth time. And I started thinking – what are some books similar to A Court of Thorns and roses? Booklovers gush about this wildly popular series online for its intricate worldbuilding, twisty plot and enemies to lovers romance. So, I did a little research and I've compiled the best books I've read with similar tropes, themes or writing style to A Court of Thorns and Roses. Let's have a look at the best books similar to A Court of Thorns and Roses
In the name of full transparency, please note that this post contains affiliate links and any purchase made through such links will award me a small commission at no extra cost to you. If you choose to purchase anything through my links, thank you for supporting my blog
What are the best books similar to A Court of Thorns and Roses?
1. Crescent City by Sarah J Maas
If you're looking for an urban fantasy with shocking twists
I decided to start with the most obvious recommendations. If you haven't read Sarah J Maas' other books – then I highly recommend them.
Crescent city is an urban fantasy that features a range of mythological creatures such as mermaids, fae and werewolves.
It follows Bryce who is half-fae, half-human. And she is tasked with investigating a series of crimes with Hunt Athalar – a fallen angel. But they discover some dark powers at work.
Let me tell you – I was on the edge of my chair reading this. Sarah J Maas poses a number of mysteries at the start. And this hooked me in. The book was also full of unexpected plot twists.
There is some info-dumping at the start. But the world-building is exquisite and the urban fantasy setting is developed very well. Sarah J Maas writes strong sassy female leads very well. And Bryce is an incredible main character. But all the side characters were very well developed. And you can get it on Book Depository with free worldwide shipping.
2. Throne of Glass by Sarah J Maas
If you're looking for a long series with fae, assassins and enemies-to-lovers romance.
Throne of Glass follows Celaena Sardothien who is imprisoned in a horrific prison called Endovier. She is an assassin. And one day she is summoned by the Prince to fight in a competition. The winner will become the king's personal assassin.
I love Celaena. Some reviews describe her as arrogant. But I find her confidence refreshing. It's really nice to read a female lead who knows how incredible she is.
The other characters in the series are also amazing. I particularly love Nehemia as she's so intelligent.
It opens with a punch and hooks you in instantly. The concept of an assassin competition is excellent. Reading about the different rounds kept me hooked.
But there is also a long term plot that develops slowly throughout the course of the series. If you haven't read this series – I highly recommend it. There are 16 books in the series – so plenty to get stuck into it. And you can pick them up from Amazon – check it out here.
3. The Cruel Prince by Holly Black
If you're looking for a fantasy book with a strong female lead and lots of twists
Holly Black is the queen of fae books! The Folk of Air series (The Cruel Prince, Wicked King and Queen of Nothing) has so many similarities to A Court of Thorns and Roses – fae, a strong female lead and an enemies to lovers romance.
It follows Jude who is a human. As a child, she gets kidnapped with her two sisters and taken to live with the fae in the woods. She grows up wanting to be like the wicked fae she lives with.
This series is incredible and there is so much to love. Jude is an incredibly strong female lead and an absolute badass. The court intrigue is executed perfectly.
The enemies to lovers romance is excellent! Many list the couple from this series as their favourite bookish couple. The Wicked King is definitely the best book in the series and is an absolute rollercoaster with lots of twists and turns.
4. A Dark and Hollow Star by Ashley Shuttleworth
If you're a fan of Crescent City
If you're a fan of Crescent City you definitely need to read a Dark and Hollow Star. This is one of my top books in 2021! A Dark and Hollow Star is an urban fantasy, with fae, queer main characters and a wlw romance.
A series of gruesome murders threatens to expose the faerie world to humans. Four queer teens – Nausicaä, Arlo, Vehan, and Aurelian – each hold a piece of the truth. And they must track down the mysterious killer.
The characters are what makes this book. Nausicaä is a very grumpy, sarcastic and chaotic lesbian. There are multiple POVs but it's still fairly easy to follow.
I listened to the audiobook version which you can find on audible. It features a full cast of narrators which made it really engrossing. And you can listen to it on Audible with a free trial. Or you can buy a physical copy on Amazon – you can buy it here.
5. Six of Crows by Leigh Bardugo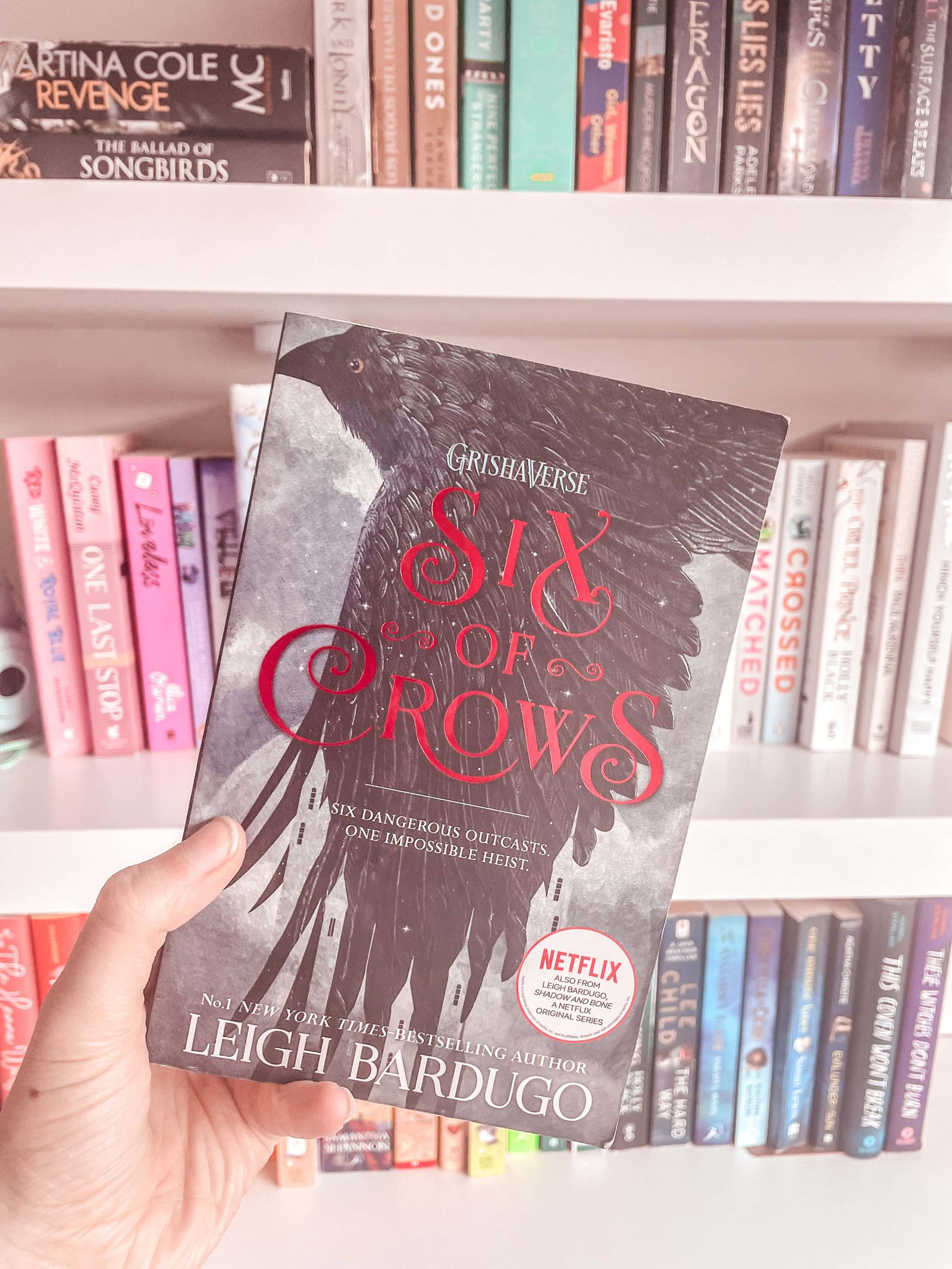 If you love a magical heist, the found family trope and a twisty plot
Six of Crows has many similar elements to A Court of Thorns and Roses: the found family trope, magic and sassy banter.
It six teenagers living in Ketterdam. Kaz Brekker, a criminal prodigy, is one of the teens. He is offered a deadly heist for a huge payout.
But it's an impossible heist. And Kaz will need all the help he can get to pull it off. So he assembles five other teens to help him.
Six of Crows is like a fantasy version of Oceans Eleven. If you're a fan of the friendship group in A Court of Mist and Fury you should read this. There was plenty of banter between the friendship group.
The angsty, slow-burn romance is executed really well. There is a definite 'will they, won't they' vibe And Kaz is a dark, brooding figure who definitely reminds me of Rhysand.
Magic is incorporated throughout and it's developed very well. I really enjoyed reading about the unique magic system.
The cast is also really diverse which I really appreciated. And Jesper is an excellent example of a bisexual character. You can get this conveniently on Amazon- you can buy it here.
6. The Raven Boys by Maggie Stiefvater
If you are into friendship, magic and unforgettable characters
The Raven Boys follows Blue. Each year in the churchyard, Blue watches her psychic mother see those who are going to die that year. Blue never actually sees them herself. Until this year. When she speaks directly to a boy.
He is called Gansey and is a student at Aglionby school. The students there are known locally as Raven Boys.
So many people recommended this book to me. And I'm glad it lived up to the hype! It has a lot of paranormal elements woven into the plot. And that makes it a really autumnal read.
It also has dark academia vibes. It's set in a local private school. Gansey is also obsessed with researching Welsh mythology. And it even references Latin.
The characters are what make this book. On the surface, it seems like a quirky loner meeting rich boys. But it's so much more than that! The characters are all fully developed with fleshed-out (and tragic) backstories. The relationships between them are some of the best I've read in YA Fiction.
7. An Enchantment of Ravens by Margaret Rogerson
If you love fantasy books with cottagecore vibes
An Enchantment of Ravens follows Isobel who creates stunning portraits for the dangerous fair folk. One day she creates a portrait of the Autumn Prince. But she makes a deadly mistake. And paints humanity in his eyes.
I loved the imagery in this. And the focus on art and crafts in the book. I instantly really loved Isobel. She's down to earth, practical and incredibly kind. The world is also incredibly beautifully described with whimsical forest imagery.
If you love the romance in A Court of Thorns and Roses – I think you'll enjoy this one. It has an enemies-to-lovers romance. And I also love how ruthless the fae are.
8. The Iron King by Julie Kagawa
If you're looking for a coming of age tale with fae
The Iron King is an incredible YA Fantasy book with fae, enemies to lovers romance and a strong female lead.
The Iron King follows 16-year-old Meghan Chase. Her father disappeared mysteriously when she was six years old. And ever since, something has been off.
But things start to change drastically. And Meghan will have to learn just how far she'll go to save someone she truly cares about.
The Iron King is a book that will divide readers. Some will really not like it. But personally, I really enjoyed it. The setting is beautifully described. And Meghan is a great heroine. She's not perfect but a very realistic 16-year-old.
This book takes many characters from classic literature and myths (such as a Midsommer Night's Dreame) and retells them in a YA context. It talks about how technology affects the fae. And I thought this was a really interesting take on faerie.
But if you love YA Fantasy books with fae then you should definitely read this one. You can also read this on Scribd – they offer a free trial for 30 days.
9. Bitter Frost by Kalin Gow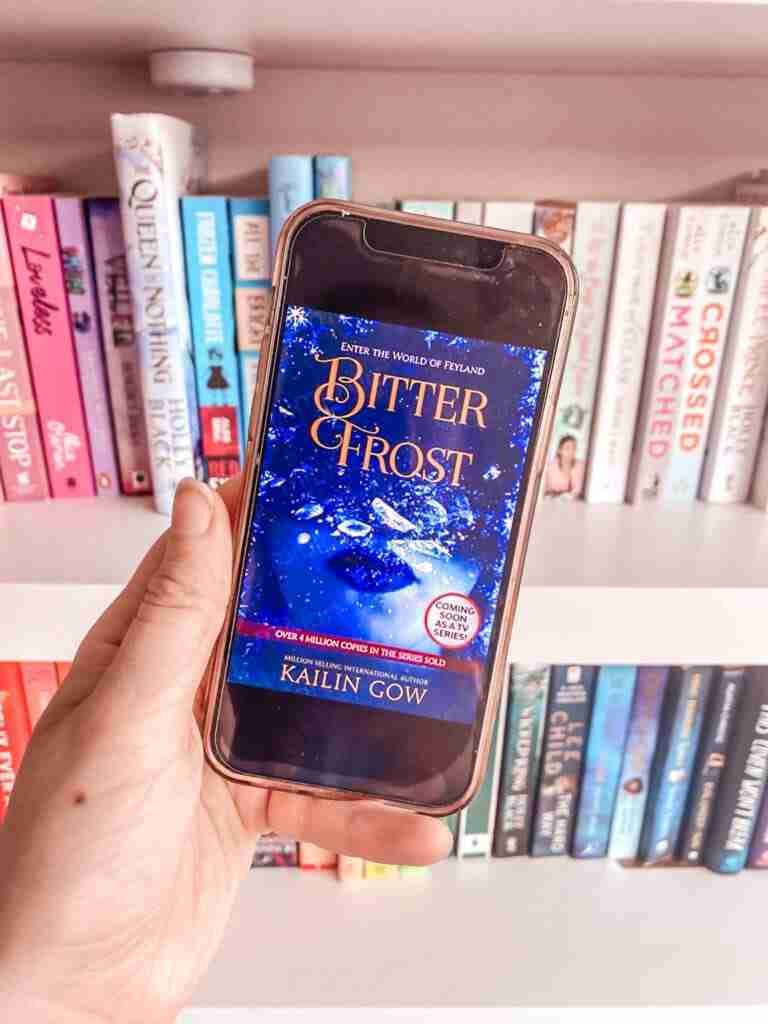 If you love an enemies to Lovers romance
Bitter Frost is an amazing book featuring memory loss, beautiful forest imagery and of course Fae. It follows Breena. She has always dreamed of fairies as though she lived among them.
In her dreams, there was always a handsome but dangerous Prince named Kian. But when she turns sixteen she starts seeing strange creatures. And her best friend Logan becomes very protective.
There were a few elements I didn't like about this – Breena seemed a bit 'not like other girls'. There were a few comments on other 'popular girls' appearances that I didn't appreciate and weren't necessary.
But, it's a really captivating fae book. The twists are incredible and the pacing is perfect It was hugely successful – winning awards and selling over 4 million copies.
If you're a fan of A Court of Thorns and Roses you should definitely read this as it references Summer and Winter courts. You can read an ebook version of this on Scribd – they also offer a free 30-day trial. If you prefer a physical book you can also get this conveniently from Amazon.
10. The Wild Hunt by Ron C. Nieto
If you're looking for a faerie book about the relationship between a grandmother and her grand daughter
Please don't let that cover put you off! The book cover really doesn't do this book justice! The Wild Hunt is different to many other fae books I've read. The central theme was about the love a granddaughter can have for her grandmother. Whereas many books with fae seem to focus on romance.
The Wild Hunt follows Lily Boyd. It starts as a simple story. A girl visiting her grandmother. But her grandmother starts acting strangely. And Lily discovers her grandmother is a faerie doctor. And there is a lot more to her than Lily realised.
The writing style isn't the best. There are a few issues with the editing. And that might put some readers off. But it's an engaging story and the plot is excellent. You can buy The Wild Hunt on Book Depository and they have free worldwide shipping – buy it here. It's also available on Scribd and they have a free 30-day trial.
11. Children of Blood and Bone by Tomi Adeyemi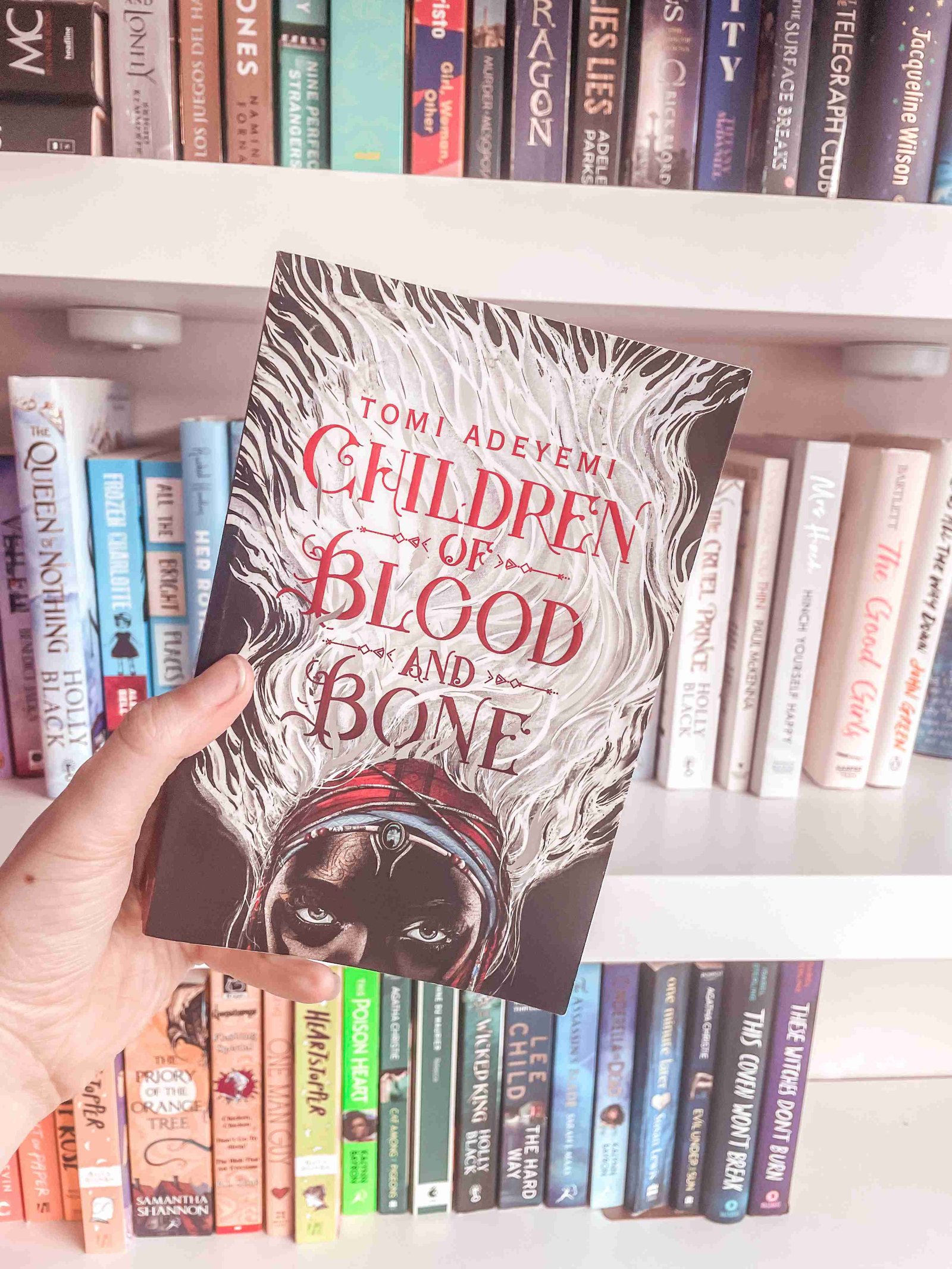 If you're looking for magical world building, princesses and a quest
Children of Blood and Bone combines a fast-paced, action-packed plot with magical West Africa inspired world-building.
There used to be magic in Orïsha. Zélie remembers how powerful her reaper mother was. But one-night magic disappears and Zelie is left without hope.
She now has to bring back the magic with the help of a runaway princess. Orïsha is full of danger everywhere. But Zeéie's greatest danger is herself.
Children of Blook and Bone has much in common with A Court of Thorns and Roses – A strong female lead and a quest. I loved Zélie instantly and the world building is enchanting.
But Children of Blood and Bone also explores much darker themes such as racially charged violence. And that makes it a really powerful read.
12. Cinder by Marissa Meyer
If you're looking for a retelling with a sci-fi twist
The main character Cinder is an android. She had an accident when she was younger. And she now has a cyborg hand and ankle. But the world she lives in shuns androids.
There is also a deadly plague that is affecting the world (sound familiar…heh).
She meets and falls in love with the Prince. But she can't tell him that she's an android.
The pace was perfect and I couldn't put this one down. It opens straight away. And you gradually learn more about the world.
This is such a unique retelling. If you liked the retelling aspect of A Court of Thorns and Roses you should read it. It's one of the best retellings I've read.
There were so many intriguing elements at the start that I kept reading to see what would happen.
13. Cinderella is Dead by Kalynn Bayron
If you're looking for a Sapphic cinderella retelling with a dystopian twist
A Cinderella retelling with a sapphic romance. This is another twist on the classic story that features BIPOC characters and a wlw romance.
The premise is that teen girls are now required to appear at an annual ball where men select wives. But Sophia wants to marry her childhood best friend Erin. And isn't a fan of the whole parade in front of suitors thing.
She decides to flee and decided to take down the king once and for all.
The premise in this book is so unique. And I loved the dystopian twist on the classic Cinderella story. The romance is also adorable. It is a bit insta-lovey but it's developed so well that I was really engaged.
The plot really kept me hooked. And I really enjoyed the concept of women overthrowing a dystopian patriarchy. There is also much cottagey and woodland imagery. And I think this is something Kalynn Bayron writes exceptionally well. And it made me want to live in the forest.
If you're looking for LGBTQ+ books or fantasy romance books – then I highly recommend Cinderella is Dead.
14. Ash by Malinda Lo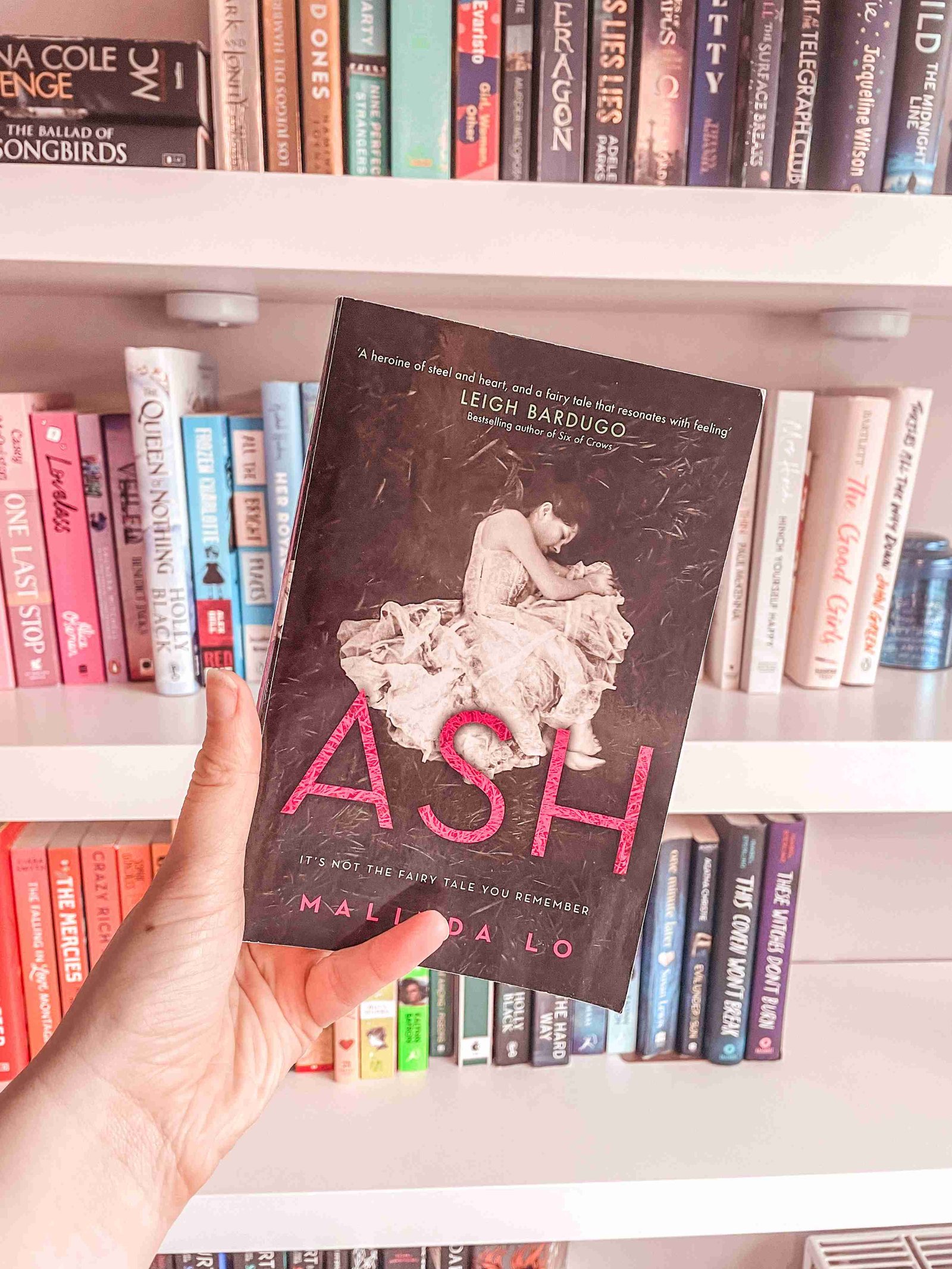 If you're looking for an LGBTQ+ Cinderella retelling
Ash is a book I'm always torn about. But I had to include it because I love the cottagey world building in this Sapphic retelling.
Ash is a lesbian Cinderella retelling. It follows Ash who is dealing with the grief of losing her parents. She falls in love with the king's huntress.
I loved the descriptions of the world such as the woods and the fae. And I instantly really loved the King's Huntress. But, I wish that the romance had been a little better developed.
However, I love that it focuses on Ash recovering from grief. Mental health is a strong theme throughout and the romance feels secondary. This is a really cosy read and offers great escapism. It's pretty short and you could easily read this in one sitting.
15. An Ember in the Ashes by Sabaa Tahir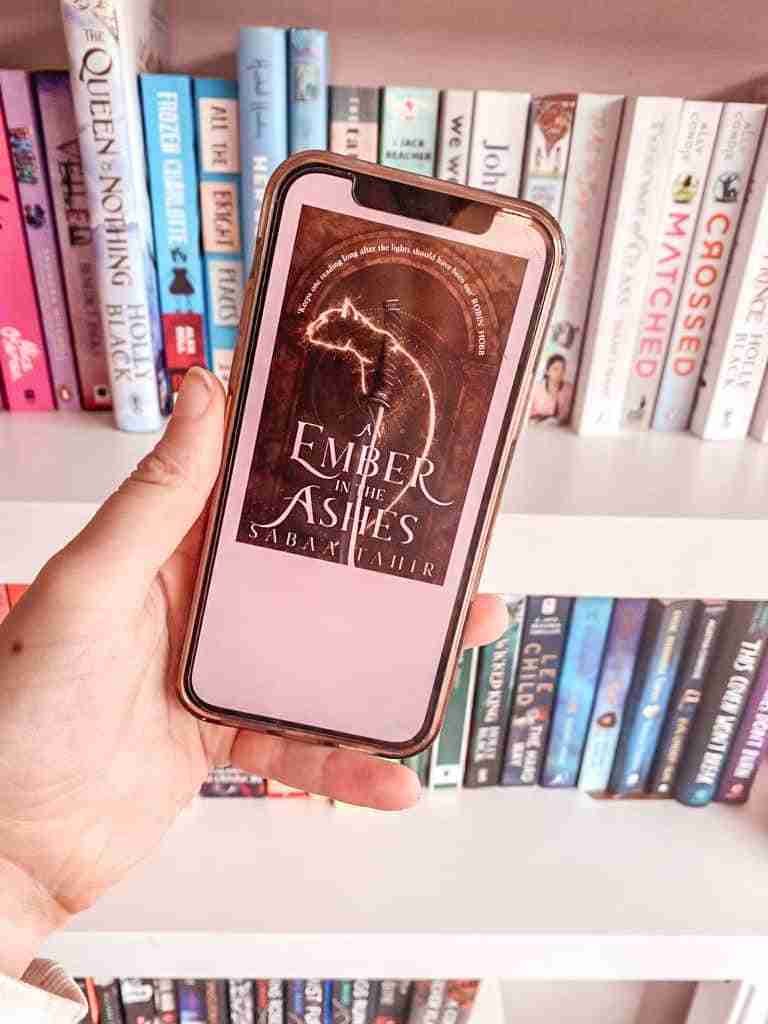 If you want to feel super emotional…
An Ember in the Ashes opens with Laia. She has found an illegal sketchbook belonging to her brother. The empire comes and takes away her brother. So she must locate the resistance and go on a perilous mission to save him.
Laia is insanely likeable. She is strong, loving and compassionate. If you love a book with a strong female lead then you should definitely read this one. The opening makes you really emotionally invested. Laia goes to extraordinary lengths and becomes a slave in order to save her brother.
The book opens with a punch and it's fast-paced throughout. The dystopian elements are so well developed. Ancient Rome inspires brutal world-building. The enemies are truly evil. The plot is really compelling. The book opens with a punch and it's fast-paced throughout. There is so much at stake that it leaves you on the edge of your seat.
The relationships are characters are so complex but also very well developed. This book will make you feel so many emotions. It made me so angry!
16. Spellhacker by M. K England
If you're looking for a fantasy heist with witty banter and a memorable friendship group
Spellhacker has so many of the elements that make A Court of Thorns and Roses great – a diverse cast of characters, a high stakes plot and plenty of banter. The characters were also really diverse – including non-binary, queer and POC characters.
It's set in a world where magic ( known as maz) was once freely available. But an earthquake unleashed a deadly plague. And now maz is a tightly controlled and expensive commodity.
We follow Diz who runs an illegal maz siphoning business with her three best friends. They get offered one last massive heist that could change everything.
This was a well written standalone. The book opened with a bang and it was fairly fast-paced throughout. It felt like a cross between Ready, Player One and Six of Crows. The world-building around the magic was also really excellent. You can buy Spellhacker conveniently on Amazon – check it out here
17. Bright and Pale by Jessica Rubinowski
If you're looking for a fantasy book with winter vibes
Bright and Pale is really underrated. It's a fantasy book that features a thieves guild, a mission and a beautiful winter setting.
It follows 17-year-old Valeria. As a child, she lived near this magical mountain. One day, it unleashed a big freeze that trapped her family. Valeria is one of few survivors.
So she flees and joins the thieves guild. And she does odd jobs to get by with her best friend Alik. Until he is brutally murdered.
Or so she thinks. A year later, he turns up alive. And she is forced to lead a group on a dangerous quest back to the mountain in exchange for Alik.
The world-building was truly enchanting. It's heavily inspired by Russian folklore. But the winter setting added another layer to it. The two gods concept was intriguing but also quite creepy.
Valeria felt like a typical YA Heroine. And she had many similarities with Feyre – a troubled past and is just trying to survive. Alik was instantly very likeable. The long lost childhood friend romance worked very well. A great choice if you're searching for books similar to A Court of Thorns and Roses. You also pick this up conveniently on Amazon –check it out here.
18. The Gilded Ones by Namina Forna
If you're looking for a high fantasy novel about feminism
The Gilded Ones was one of my most highly anticipated books in 2021. And I'm really glad it lived up to my expectations.
It follows 16-year-old Deka. She lives in a village where all the girls undergo a blood ceremony. If their blood runs gold – they are impure.
Deka has lived in fear of this ceremony. And on the day – her blood runs gold. And Deka must face consequences worse than death.
But then a mysterious woman comes to her rescue. And offers her the chance to fight for the emperor in an army of girls just like her.
There is so much to love about this book. The found family trope works really well. There was so much diversity in the army of Alaki. The magic system was really intriguing and the world-building was excellent.
This book is not for everyone – it has a lot of violence. Please check the trigger warnings before reading.
19. Lore by Alexandra Bracken
For Fans of Percy Jackon or Greek Mythology
Greek Mythology meets The Hunger Games. Lore is a standalone urban fantasy book with greek mythology woven into the plot.
Every seven years Greek Gods are hunted by descendants of ancient bloodlines. If the hunters succeed they seize their immortality. It follows Lore Perseus who has turned her back on this world. But as the next hunt dawns, two participants seek out her help.
The plot of Lore is quite complex but it's executed perfectly. Bracken did a great job of building the concept. I was intrigued and hooked from the first chapter.
It has a really great revenge storyline. So if you liked the revenge elements in Six of Crows then this is a great book to read.
20. Forbidden Forest by Tenaya Jayne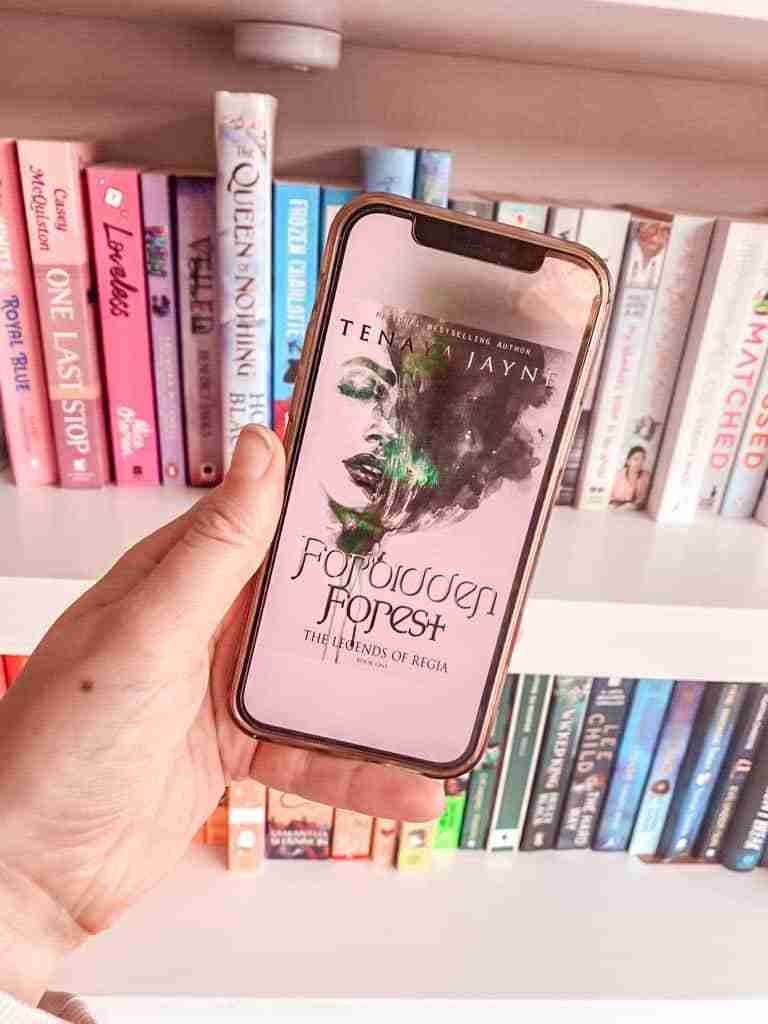 If you're looking for an urban fantasy with vampires, shapeshifters and elves
I came across The Forbidden Forest when looking for books with elves. And I really loved the unique concept in this book.
It follows Forest. She is born in shame as a half-Elf and half Shapeshifter hybrid. She has to work tirelessly to earn respect.
So she takes a job on earth guarding a portal. But she is asked to take on a mission to transport the vampire prince through enemy ground. And Forest has to conquer her prejudices to succeed.
There is a lot I loved about this book. I really enjoyed the elves in a more urban setting. And the idea that vampires can take control of someone they bite was really intriguing.
It's not perfect. It definitely falls into the trap of 'telling not showing' at times. Also, it would probably work better as a new adult novel rather than young adult. But it was still a really enjoyable read. And I absolutely loved Forest. If you have a kindle – you can buy this for just 99p on Amazon – check it out here
Those were my picks for the best books similar to A Court of Thorns and Roses
And that's it! 20 books that I've read and enjoyed. There are lots of different tropes in A Court of Thorns and Roses you might love. Whether they feature a strong female lead, brooding bad boy or the found family trope – all of these books share similarities with A Court of Thorns and Roses. Of course, no book will ever truly be the same as the ACOTAR series But I hope you find a new favourite book.
What do you think of my picks? Let me know your recommendations for books similar to A Court of Thorns and Roses
This post was all about books similar to A Court of Thorns and Roses
Other posts you might enjoy
Have you downloaded my free printable reading journal? It includes pages for book reviews, TBR list tracker and a library book loan tracker