Looking for books with elves? Here are 7 books to read about elves that you won't be able to put down.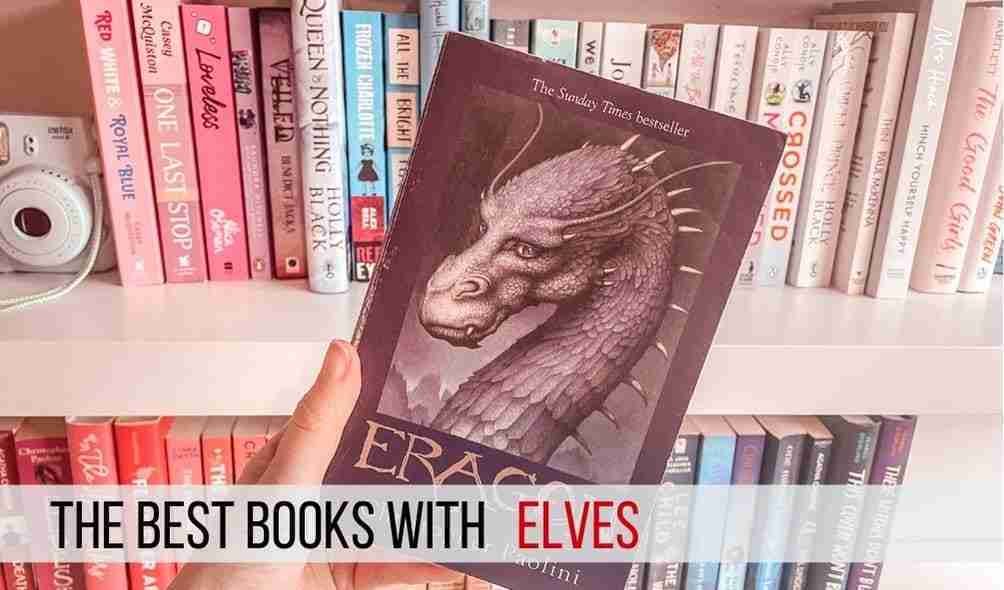 Elves love to tell stories. I bet you didn't know that about elves. Yes, I am quoting Elf in my introduction. Elves have long enchanted people readers. Whether it's small Christmas elves or strong human-sized creatures who dwell in the forest. I loved the elves in Lord of the Rings. And it got me wondering what other books feature elves. So I've compiled my top picks for books with elves.
It was surprisingly difficult to find books with Elves. Especially if you're looking for Tokein-esque strong, ethereal elves. You might also enjoy reading books with fae. I've also written a post rounding up my top recommendations for books with fae. But if you're looking for elves then keep reading for my top recommendations.
In the name of full transparency, please note that this post contains affiliate links and any purchase made through such links will award me a small commission at no extra cost to you. If you choose to purchase anything through my links, thank you for supporting my blog.
Here are the 7 best books with elves
My top picks for the best books with Elves

1. Lord of the Rings by J.R.R Tolkein
If you're looking for a classic adventure story with strong, beautiful forest elves
Lord of the rings is an absolute classic. And I couldn't write a blog post about elvish books without mentioning it. Honestly, the elves in this book are enchanting.
Lord of the Rings follows Frodo. He inherits a magical ring from Bilbo Baggins. But he discovers it's actually an all-powerful ring that is a danger to everyone. And he has to destroy it.
Tolkein's interpretation of elves does set the standard for other elves in the future. And many other interpretations seem to be inspired by the elves in Lord of the Rings. I would even say that modern fae have a strong resemblance to the elves in this book.
The movies are very popular. And if you haven't read the book series then I highly recommend them A classic adventure story containing the found family trope and danger at every turn. I also love the cottagecore atmosphere throughout the book. You can also buy this beautiful box set from Book Depository and conveniently they offer free shipping worldwide – get the boxset here.
2. The Hobbit by J.R.R Tolkein
If you're looking for a charming adventure story or you're new to J.R.R Tolkein
The Hobbit is the most charming adventure story set in Middle Earth. It was an easy choice for a blog post on Cottagecore books.
The novel follows Bilbo Baggins. He is A Hobbit who lives in The Shire. One day he meets the wizard Gandalf and goes on an adventure.
This is the most charming adventure story. Also, the imagery in the hobbit – particularly around food is lovely. I want to be able to eat seven meals a day much like a hobbit. And hobbit holes sound adorable.
If you haven't read any of J.R.R TOlkein's work – I would recommend starting with The Hobbit. You can get this special collectors edition hardback on Book Depository with free shipping worldwide – get it here.
3. Eragorn by Christopher Paolini
If you're looking for a YA adventure story with elves and dragons.
Eragorn has so much that I love about it – it has both elves, dragons and magic. And I honestly don't see this book hyped up enough online.
It follows Eragorn. He discovers a dragon egg in the forest. And it unhatched to reveal a dragon. The first to unhatch in many years.
Please don't let the terrible movie adaptation put you off! It's an excellent YA Fantasy book – the plot is gripping. And I found the writing style very easy to read.
The series features a prominent character who is an elf. The elves felt very Tolkein-esque to me – strong, battle hardy. This book is very much a YA Fantasy and features many of the typical YA Fantasy tropes/cliché's – a poor orphan, ancient swords and a quest. Personally, I loved this. But if you're not normally a YA Fantasy fan you might not enjoy this.
4. The Night before Christmas by Clement C. Moore
If you're looking for Christmas elves
So now for something very different in tone. But elves can cover so many different types of books. And in case you're after festive, Christmas elves I couldn't resist including the Night Before Christmas.
The Night before Christmas is a Christmas classic. It's a simple, heartwarming story of the Night before Christmas told through the eyes of Father Christmas. It's written in the form of a poem.
The elves are the classic Christmas elves busily preparing Christmas presents on Christmas Eve. You can read this for free online. But you can also get some beautifully illustrated editions of this book. I recommend checking for second hand, vintage editions. But Book depository also sells gorgeous versions with free shipping worldwide.
5. Forbidden Forest by Tenaya Jayne
If you're looking for an urban fantasy with vampires, shapeshifters and elves
I came across The Forbidden Forest when looking for books with elves. And I really loved the unique concept in this book.
It follows Forest. She is born in shame as a half Elf and half Shapeshifter hybrid. She has to work tirelessly to earn respect.
So she takes a job on earth guarding a portal. But she is asked to take on a mission to transport the vampire prince through enemy ground. And Forest has to conquer her prejudices to succeed.
There is a lot I loved about this book. I really enjoyed the elves in a more urban setting. The idea that vampires can take control of someone they bite was really intriguing.
It's not perfect. It definitely falls into the trap of 'telling not showing' at times. Also, it would probably work better as a new adult novel rather than young adult.But it was still a really enjoyable read. And I absolutely loved Forest.
6. The Elvenbane by Andre Norton and Mercedes Lackey
If you're looking for a book with darker elves and a dystopian world
The Elvenbane was really enchanting. The world building and the relationships between the different characters make this book different to anything else I've read.
It follows Shana. She's a halfbread who was born from a forbidden union between an Elvenlord and a human mother.
Her mother was exiled and dies. And Shana is raised by dragons. She embodies a prophecy that the all-powerful Elvenlords feared.
This book will definitely divide readers due to the writing style. It's very descriptive and definitely 'tells' rather than 'shows'. However, the way the world is built is fascinating. Particularly the relationships between the different races. It's also nice to see darker elves in a book.
7. Artemis Fowl by Eoin Colfer
If you love an criminal masterminds, supernatural characters and magic
Elves aren't a main protagonist in this novel. But they do feature prominently. And this is such a fantastic book I had to read it.
Artemis Fowl is a 12 year old criminal mastermind who kidnaps a fairy – Captain Holly Short of the LEPrecon Unit. But these aren't your typical fairies in bedtimes stories – they're dangerous.
Artemis Fowl is full of twists and turns. The elves feature as a fairy species but they are one of the more prominent fairy species featured in the book. They're very different to the Tolkein-style elves. They are short and highly intelligent.
The main character makes this such an entertaining read. Artemis Fowl is such a smart-ass. It's also a mix of fantasy and sci fi. And the way technology is written into the plot works very well.
So those were my picks for the best books with elves
Whether you're looking for Christmas or woodland elves. I hope you found a book about elves to reads.
Let me know your picks for the best books with elves underneath.
This post was all about books with elves.
Other posts you might like