Are these 10 popular bookstagram books worth the hype? Here are 10 books bookstagrammers can't stop recommending- find out which are worth buying.
There is an ongoing joke that bookstagrammers constantly recommend the same 5 books. And honestly, I was intrigued to see if other people had the same experience as me. And I also wanted to know – what popular bookstagram books lived up to the hype. I polled my Instagram followers. Keep reading to find out their recommendations for the best bookstagram books.
So what are the most popular bookstagram books? According to my Instagram followers, the books they see recommended on their feed the most are Red, White and Royal Blue, A Court of Thorns and Roses, the Seven Husbands of Evelyn Hugo, When We were liars, The Midnight Library, Normal People, The Cruel Prince, The Love Hypothesis, Song of Achilles and Six of Crows. But do these books live up to the hype? Keep reading to find out.
What Bookstagram Books are worth the hype?
Instagram Poll Results – 84% Worth the hype, 16% not worth the hype
Red, White and Royal Blue follows Prince Henry and Alex Claremont Diaz. They cause a scandal in the press and have to pretend to be friends.
It made the New York Times Bestseller list and won a Good Reads Choice award. Also over 30,000 people have reviewed it on Good Reads
The relationships between the characters in the book are what makes this for me. It's an empowering queer romance story. It takes place in a parallel universe where a woman with mixed-race children is president.
It's an incredible book. And this book is also one of the best for bisexual representation.
Instagram Poll Results – 40% Worth the hype, 60% not worth the hype
If you like retelling, the found family trope and enemies to lovers romance then you should read this. The series has one of the best enemies to lovers romances and the found family trope is executed really well.
A Court of Thorns and Roses is a Beauty and the Beast retelling. It follows Feyre. She is really poor and lives with her father and two sisters. She has to hunt to care for the family.
One day she sees a deer and can't resist killing it to sell. But it was actually a faerie she murdered. And the owner comes to kidnap her to live at the castle as punishment.
It is a bit slow. Sarah J Maas does dump a lot of information about the fantasy world on you. . But stay with it – I promise you it gets so much better. The second book is definitely the best in the series where many of my favourite characters are introduced. And conveniently you can buy it on Book Depository with free shipping worldwide – get a Court of Thorns and Roses here.
Instagram Poll Results – 96% Worth the hype, 4% not worth the hype
Evelyn Hugo is one of the best bisexual characters. There is so much hype around this book but it definitely lives up to it.
It follows an ageing movie icon, Evelyn Hugo. She is ready to tell the truth on her scandalous life. But she chooses an unknown reporter to tell the story. Why her?
There is no combination of words I can type that will accurately describe how brilliant this book is. I'm just going to leave you with a quote:
" I'm bisexual. Don't ignore the half of me so you can fit me into a box Monique. Don't do that."
When we were liars follows this really privileged family. Every year they go on holiday to this beautiful island.
We follow the main character Cadence. She suffers from memory loss due to traumatic events on the island the previous year. We follow her adventures with a group of her friends.
This is a book I'm torn about. And it seems to divide readers. The majority of good reads reviews are either 1 or 5 stars. There are very few in between.
There is a lot to love about this book. The family drama was interesting to read. The aunts all try to get attention from the rich grandfather. The summer imagery was also excellent.
Many reviews criticise the writing style. But I personally liked it. The writing style reflects the fractured mind of Cadence throughout the book as she suffers from memory loss.
But – the twist. This book is marketed as having secrets and a big plot twist. And it's quite an easy plot twist to guess.
The Midnight Library follows Nora. Her life seems to go from bad to worse. She finds herself transported to a library full of books. In each book is a different version of her life. Nora has the chance to undo her regrets. And she can try out other lives she might have lived.
But what is the best way to live?
This book is really therapeutic to read. It made me feel so much better about my own life. If you have ever had regrets or if you can identify with Nora – I highly recommend reading this book.
It's also easy to binge read. The book is separated into different episodes depending on what version of her life she is living. This structure made it really easy to read quickly.
If you're expecting a sci-fi or fantasy book – I would avoid this. Matt Haig has mental health issues and has suffered from depression. This is more of a motivational or self-help book.
Instagram Poll Results – 46% Worth the hype, 54% not worth the hype
This is a book that really divides readers. It's definitely a love-hate read. It follows Connell and Marianne. Connell is popular while she is lonely and private. At school, they pretend not to know each other. But when Connell comes to pick his mother up – a strange connection grows between them.
I can understand why this is such a polarising book. It's a character study that tries to capture millennials. It attempts to show how normal people living normal lives can be tiresome.
Fans of this book call it poignant, sad and emotional.
But I'm personally not a fan. Firstly, I found the writing style hard to read. There are no quotation marks which makes the writing hard to follow. There is very little plot. It's much more of a character study.
Instagram Poll Results – 24% Worth the hype, 76% not worth the hype
Holly Black is the queen of fae books! The Folk of Air series (The Cruel Prince, Wicked King and Queen of Nothing) has so many similarities to A Court of Thorns and Roses – fae, a strong female lead and an enemies to lovers romance.
It follows Jude who is a human. As a child, she gets kidnapped with her two sisters and taken to live with the fae in the woods. She grows up wanting to be like the wicked fae she lives with.
This series is incredible and there is so much to love. Jude is an incredibly strong female lead and an absolute badass. The court intrigue is executed perfectly.
The enemies to lovers romance is excellent! Many list the couple from this series as their favourite bookish couple. The Wicked King is definitely the best book in the series and is an absolute rollercoaster with lots of twists and turns.
Instagram Poll Results – 58% Worth the hype, 42% not worth the hype
The Love Hypothesis is a book I've seen on my feed a lot recently. It's a New York Times Best Seller and was named a Buzzfeed Summer Read for 2021.
It follows Olive Smith. She's a Ph.D student who doesn't believe in lasting romantic relationships. But her best friend does. And that's what got her into this situation.
Convincing Anh that Olive is dating and well on her way to a happily ever after was always going to take more than hand-wavy Jedi mind tricks. Scientists require proof. So, like any self-respecting biologist, Olive panics and kisses the first man she sees.
That man is none other than Adam Carlsen, a young hotshot professor. And an ass Which is why Olive is positively floored when he agrees to keep her charade a secret and be her fake boyfriend.
This book has so many popular tropes – enemies to lovers and fake dating. I can see why this is so popular among bookstagrammers.
Instagram Poll Results – 64% Worth the hype, 36% not worth the hype
The writing style in a Song of Achilles is very different to the other books on this list. And it seems to be a book that divides readers. However, many Red, White and Royal Blue fans really enjoy this book. And I personally think it's because the mlm romance is adorable.
The book follows Achilles and Patroclus. Achilles is handsome, strong and irristable to all who meet him. While Patroclus is an awkward young prince exiled from his homeland.
They are trained by the centaur Chiron in the arts of war and medicine. But they discover that Helen of Sparta has been kidnapped. All the heroes are called upon to lay siege to Troy. Achilles joins their cause. And Patroclus follows. But the years that follow will test everything.
Song of Achilles was an international bestseller. And I'm not surprised. The way Madeline Miller depicts the strong and passionate romance between Achilles and Patroclus is incredible. The writing is beautiful and will have you sobbing like a child.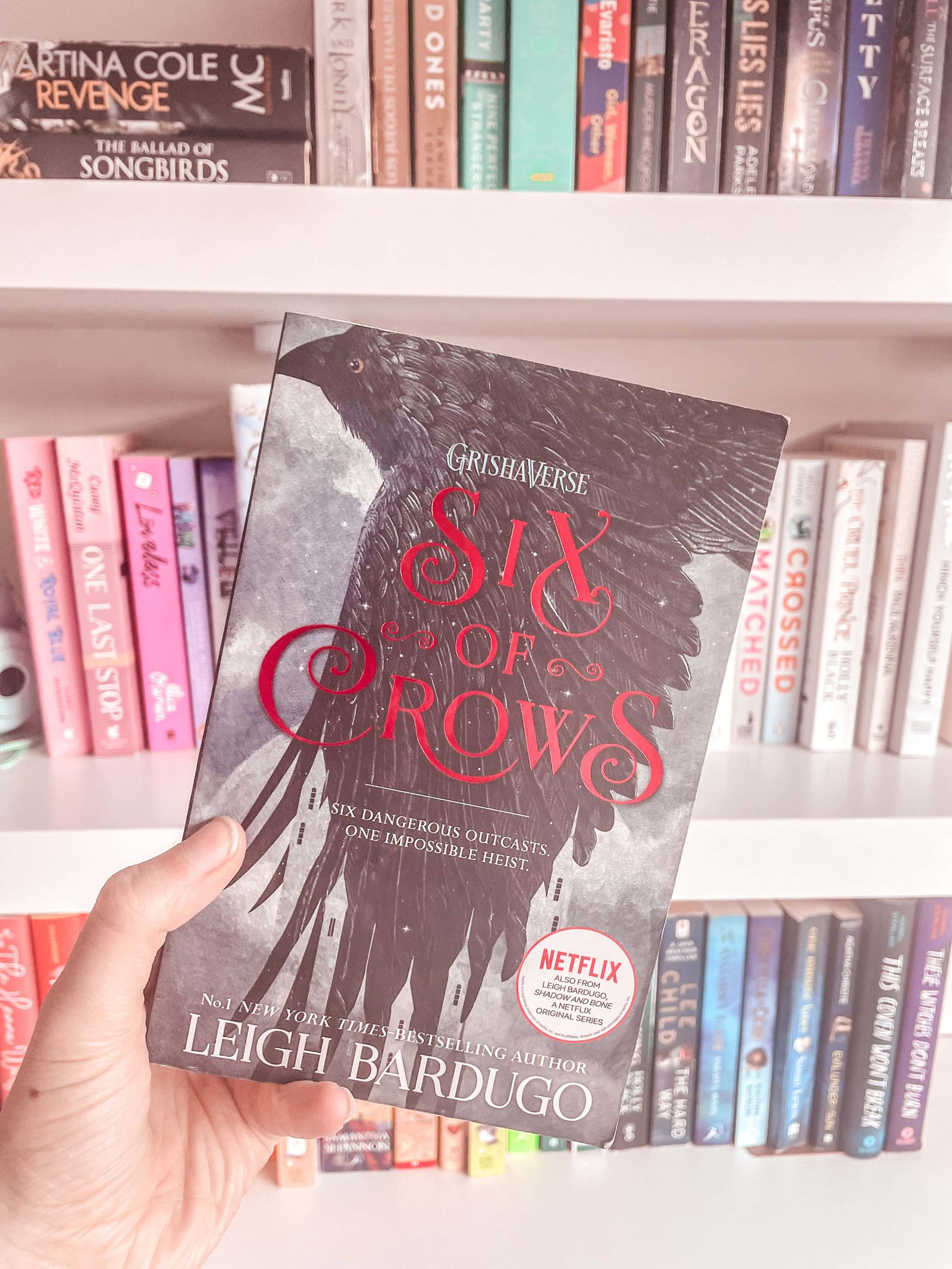 Instagram Poll Results – 77% Worth the hype, 23% not worth the hype
If you love a magical heist, the found family trope and a twisty plot then you should read Six of Crows.
It six teenagers living in Ketterdam. Kaz Brekker, a criminal prodigy, is one of the teens. He is offered a deadly heist for a huge payout.
But it's an impossible heist. And Kaz will need all the help he can get to pull it off. So he assembles five other teens to help him.
Six of Crows is like a fantasy version of Oceans Eleven. If you're a fan of the friendship group in A Court of Mist and Fury you should read this. There was plenty of banter between the friendship group.
Magic is incorporated throughout and it's developed very well. I really enjoyed reading about the unique magic system.
The cast is also really diverse which I really appreciated. And Jesper is an excellent example of a bisexual character. You can get this conveniently on Amazon- you can buy it here.
Those were my thoughts on the most popular bookstagram books
And that's it! Those were the most popular bookstagram books. Whether you're looking for popular books recommended on bookstagram or are just looking for a new read – I hope you found a new book to read.
Have you read any of these books? Which popular bookstagram books are worth the hype?
This post was all about bookstagram books
Other posts you might enjoy