If you look on my bookshelves, you will see so many LGBTQ+ YA Books. I truly think everyone should have LGBTQ+ books on their bookshelves! As a proud lesbian, I think its really refreshing to see yourself reflected in a book. That said, there are so many LGBTQ+ YA Books out there. It can be really hard to tell which ones are worth the time and money. So whether it's YA Fantasy, historical fiction or contemporary, this post will share the absolute best LGBTQ+ books for teens
I've included a description, readers ratings, representation and a summary of my personal thoughts (positives and negatives) for each book on this list. If you'd like a quick comparison I've also included a comparison chart at the bottom of this post. It includes representation, tropes and content warnings.
This post isn't meant to be an exhaustive list of every single LGBTQ+ YA Book I've read. It's a guide to the absolute best ones to read. This post does contain affiliate links. That said, I won't ever recommend a book I haven't read and loved myself. You can rest assured every book has passed my scrutiny.
This post is all about the Best LGBTQ+ YA Books
What are the best LGBTQ+ YA Books to read?
LGBTQ+ YA Fantasy Books
1. A Dark and Hollow Star by Ashley Shuttleworth
If you're a fan of Crescent City – urban fantasy, fae and a mystery to solve
If you're a fan of Crescent City you definitely need to read a Dark and Hollow Star. A Dark and Hollow Star is an urban fantasy, with fae, queer main characters and a wlw romance.
A series of gruesome murders threatens to expose the faerie world to humans. Four queer teens – Nausicaä, Arlo, Vehan, and Aurelian – each hold a piece of the truth. And they must track down the mysterious killer.
There are not one but two romances in this book. And the characters are what make them so perfect. I personally love Arlo and Nausicaä. Nausicaä is a grumpy, chaotic and sarcastic lesbian. Arlo and Nausicaä have a perfect grumpy/sunshine slow-burn vibe.
I listened to the audiobook version. There are four POVs but the full cast of narrators and different voices made it easy to follow. You can listen to it on Audible with a free trial. Or you can buy a physical copy on Amazon – you can buy it here.
Representation: Lesbian, bisexual, questioning, pansexual. non-binary
Good reads rating: 3.83
2. We set the dark on fire by Tehlor Kay Mejia
YA Dystopian with a wlw romance and dark academia vibes
This book reminds me of a Sapphic Handmaidens tale. And it also features one of the best wlw enemies to lovers romances that I've read!
We Set The Dark On Fire follows Daniela Vargas. She lives in a dystopian world where each man is entitled to 2 wives. A Primera and a Segunda. The Primera is intelligent, calm and analytical. The Segunda is the mother figure.
Outside the wall, the people go hungry. Dani started life outside of the wall. And she must use her wits to survive illegally in the capital. But she is also married to one of the most powerful men in the kingdom.
The premise was really intriguing. And the main character was instantly likeable. She also grows a lot through the book. But the romance is what makes this so perfect. Two badass women who are married to a Straight man but fall in love with each other.
The world-building is also excellent. And the book has such dark academia vibes. It opens in a prep school for girls. But it discusses so many important issues such as immigration politics and forced marriage.
We set the Dark on Fire features an intriguing dystopian premise and a likeable, strong-minded main character. This YA LGBTQ+ Dystopian book explores immigration politics, toxic masculinity and feminism.
Representation: Latine, Queer characters, wlw romance
Good reads rating: 3.76
3. Six of Crows & Crooked Kingdom by Leigh Bardugo
If you love a magical heist, the found family trope and a twisty plot
There is so much to love about Six of Crows – magic found family and super sassy banter. But I also love the LGBTQ+ representation. Jesper is one of the best bisexual characters.
It six teenagers living in Ketterdam. Kaz Brekker, a criminal prodigy, is one of the teens. He is offered a deadly heist for a huge payout.
But it's an impossible heist. And Kaz will need all the help he can get to pull it off. So, he assembles five other teens to help him.
Six of Crows is like a fantasy version of Oceans Eleven. If you're a fan of the friendship group in A Court of Mist and Fury you should read this. There was plenty of banter between the friendship group.
Magic is incorporated throughout and it's developed very well. I really enjoyed reading about the unique magic system. You can get this conveniently on Amazon- you can buy it here.
Representation: bisexual character, mlm romance
Good reads rating: 4.47
4. The Dark Tide by Alicia Jasinska
If you're looking for a curse, witches and a doomed romance
The Dark Tide is a really underrated book. It' features a wlw romance, witches and a curse on a town.
It follows Lina. She lives on a small island where the dark tide could cause it to sink. So, every year the Witch Queen lures a boy back to her palace and sacrifices him on the full moon. And so keeps the island city from sinking.
Lina is convinced her brother is going to be taken. She asks Thomas Lin to help. Thomas is the only person to survive the sacrifice. But they draw the Queen's attention. And instead, Thomas is taken.
Lina offers herself instead of Thomas. But the queen is nothing like Eva expected. And they must choose between saving the island or themselves.
This is such an angsty slow burn romance. Lina and Eva had an amazing grumpy/sunshine dynamic. The setup made this story so tragically romantic. It's also beautifully written with atmospheric worldbuilding that gave it a dark tone.
Representation: wlw romance
Good reads rating: 3.51
5. This Poison Heart by Kalynn Bayron
If you're looking for cottagecore sapphics, family secrets and magic
This Poison Heart follows Briseis. She has a magic gift where she can magic tiny seeds grow into rich blooms with a single touch.
Her aunt dies and wills her a dilapidated estate in rural New York. And it's there she must uncover her family's heritage and secrets.
Mythology was woven seamlessly into the plot of this book. It opens in an urban setting before the characters move to a small town.
Kalynn Bayron writes forest imagery so perfectly. The cottagecore imagery is beautiful. And I love the plant references.
I also really appreciate that Poison Heart features supportive same sex parents. Often in YA Fantasy the heroine has a tragic backstory with missing parents. So it was refreshing to read about supportive parents.
Representation: wlw romance, queer Black main character, supportive same sex parents
Good reads rating: 4.20
6. Not Your Sidekick by C.B. Lee
If you're looking for a book with superheroes and a sapphic romance
Not Your Sidekick is a superhero-themed novel featuring a bisexual Chinese-Vietnamese protagonist, a trans character and a f/f romance. And it's written by an own voices author.
It follows Jessica Tran, a bisexual high school student who is resigned to a life without superpowers and decides to start an internship to improve her college applications. However, she quickly discovers it's for a supervillain with her crush Abby.
Not Your Sidekick is another light, fluffy and fun read. It takes superhero tropes and gives a really refreshing take on a superhero story. I love how the superheroes and supervillians storyline is woven into modern, everyday life.
It also manages to tackle a lot of issues while still staying fun. There is a whole series of these and I've already added Not Your Villain to my TBR list as I really loved Bells in Not Your Sidekick.
Representation: transgender character, bisexual main character, wlw romance
Good reads rating: 3.90
7. These Witches Don't Burn by Isabel Sterling
If you are looking for an urban fantasy with sapphic witches (set in Salem)
I was sold on this book as soon as I heard Sapphic witches! It's a YA Fantasy book about witches featuring a f/f romance and set in urban Salem.
These Witches Don't Burn follows Hannah. She is a witch living in Salem. A dark blood ritual interrupts her end of school bonfire. And she investigates with her ex-girlfriend Veronica.
She also meets Morgan. But trying to date in the middle of a supernatural crisis is not easy and will test Hannah's limits.
This is one of my favourite duologies! I love all the magical, fantastical elements and I really enjoyed the modern setting in Salem.And the pacing of the plot really kept me hooked.
While this book features a lot of fantastical elements it also deals a lot with serious life issues. It balances fantasy with relationships very well. And the pacing felt like a YA Contemporary rather than a fantasy.
Representation: lesbian, bisexual characters, wlw romance
Good reads rating: 3.76
8. When we were magic by Sarah Gailey
An Urban fantasy set in a school with magic and a wlw romance
When We Were Magic follows Alexis. She has always been able to rely on her best friends and magic powers. On prom night, accidental magic goes wrong and someone ends up dead. Alexis and her friends have to try and fix a terrible wrong.
The writing in this book really made me laugh. And it has one of the best opening paragraphs I've ever read. I knew I would love it from page one.
The relationships and friendships in this book were really powerful. Also, the parents in this book were really supportive which I always appreciate.
That said, I did want a bit more character development. Especially in the romance between Alexis and Roya.
Representation: Lesbian character, bisexual character, supportive same sex parents
Good reads rating: 3.69
9. Cinderella is Dead by Kalynn Bayron
If you're looking for a Sapphic cinderella retelling with a dystopian twist
A Cinderella retelling with a sapphic romance. This is another twist on the classic story that features BIPOC characters and a wlw romance.
The premise is that teen girls are now required to appear at an annual ball where men select wives. But Sophia wants to marry her childhood best friend Erin. And isn't a fan of the whole parade in front of suitors thing.
She decides to flee and decided to take down the king once and for all.
The premise in this book is so unique. And I loved the dystopian twist on the classic Cinderella story. The romance is also adorable. It is a bit insta-lovey but it's developed so well that I was really engaged.
The plot really kept me hooked. And I really enjoyed the concept of women overthrowing a dystopian patriarchy. There is also much cottagey and woodland imagery. Kalynn Bayron's books always make me want to live in a cute cottage int he forest. The woodland imagery was exceptionally well written.
Representation: Lesbian main character, wlw romance
Good reads rating: 3.74
10. Ruinsong by Julia Ember
If you're looking for a unique magic system in a dystopian world with Phantom of the Opera vibes.
Ruinsong is an wlw book set in a dystopian world. It has lush world-building, a twisty plot and feisty main characters.
In this world, singers have magic powers when they sing certain songs. And they are able to heal, cause pain and heat people.
Cadence is an incredibly strong mage. She was born in poverty in an orphanage and rises to success. But she works for the evil Queen Elene. And Elene forces Cadence to use her power to torture others. But when she is reunited with her childhood friend she must make a choice. Does she take a stand or follow the queen.
This book reminds me of a dystopian and queer phantom of the opera. Strong-willed women, wearing beautiful ball gowns and taking down evil. If you're a Katniss or Johanna fan you're guaranteed to love this underrated gem.
Representation: wlw romance
Good reads rating: 3.54
11. Girls of Paper and Fire by Natasha Ngan
If you're looking for a ya fantasy book, set in a dystopian society with a grumpy/sunshine romance
I've seen Girls of Paper and Fire everywhere online! Firstly, please can we take a moment to appreciate how beautiful the book cover is.
Girls of Paper and Fire follows Lei. She is a member of the Paper Caste. And the people of Ikhara persecute her.
She sees the royal guards take her mother. Afterwards, Lei suffers with trauma. But the guards return and try to take Lei. She has to learn skills fitting of a King's Consort. But she falls in love.
The plot of this book is quite dark. But it was handled really sensitively. I loved the wlw romance in the book. The grumpy/sunshine trope was executed perfectly well.
The pacing did lapse a bit in the middle for me. But the character developement was so good that I still enjoyed reading it.
Representation: wlw romance, Asian main and side characters
Good reads rating: 3.82
12. Malice by Heather Walter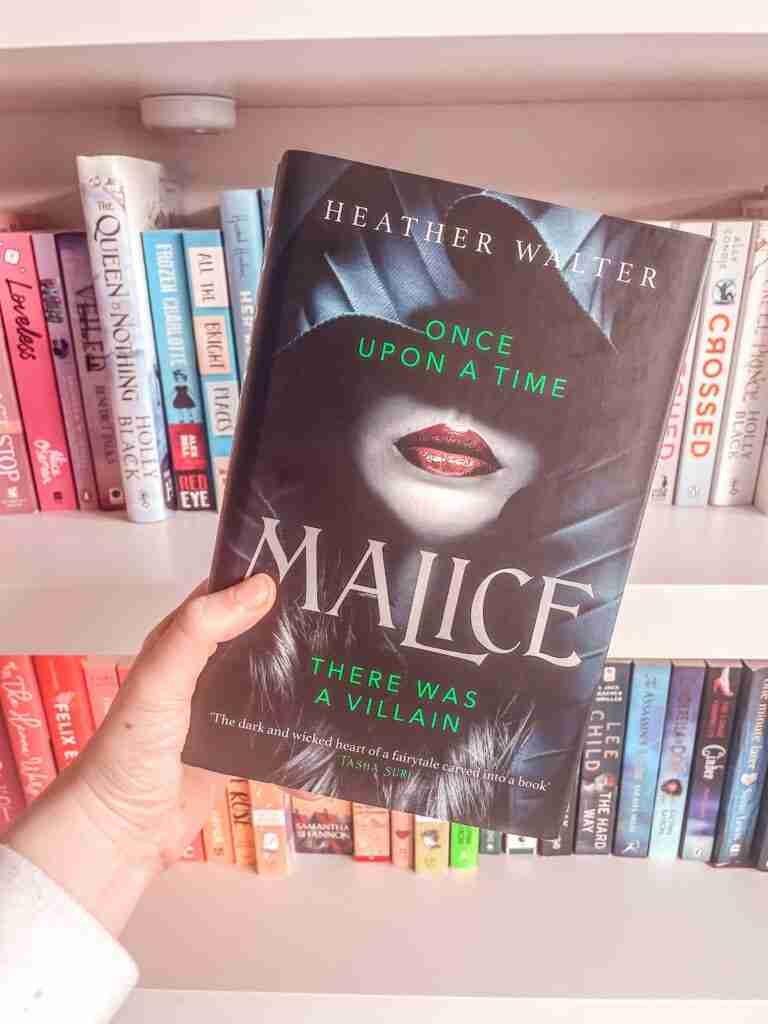 If you're looking for a dystopian re-telling with an anti-villain protagonist
Malice is one of the best books I've read this year. I absolutely adored this book from start to finish. And if you're a fan of re-tellings, dystopian books or books with fae then you need to read this book!
Malice is a Maleficent retelling. The book is set in a Kingdom called Briar. Once upon a time, a wicked fairy cursed a line of princesses to die. Only true love's kiss can break the curse.
The book follows Alyce – the dark grace. She was left abandoned in Briar from a dark kingdom. The dark magic that runs in her veins abhors residents in Briar.
Except for Princess Aurora who accepts her. And she encourages Alyce to accept herself.
This book is almost a cross between Wicked and The Hunger Games. But with fae. The world building is darkly magical. And the residents of Briar reminded me of the residents of the Capitol. It critiques greed and consumerism quite a lot throughout the book. Alyce's character was also really well developed. And she gets a lot of growth throughout the novel.
Representation: wlw romance
Good reads rating: 4.06
LGBTQ+ YA Contemporary
13. Hani and Ishu's Guide to Fake Dating by Adiba Jaigirdar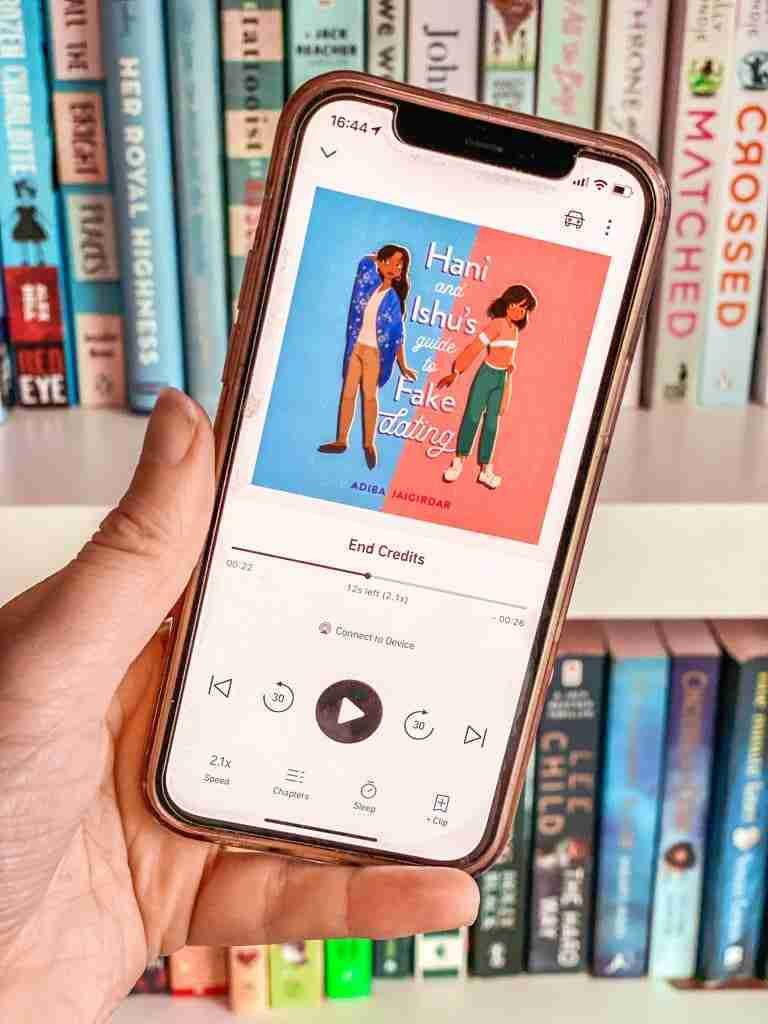 For Fans of the Fake Dating and Grumpy/Sunshine tropes
If you enjoy the fake dating trope – I guarantee you will love Hani and Ishu's Guide to Fake Dating!
Hani is bisexual but she is having trouble getting her friends to believe her. Ishu wants to be Head Girl.
They decide to fake date so that Hani's friends believe she is bisexual. And to help Ishu in her Head girl campaign.
This book had me laughing out loud so many times. It has the perfect combination of a grumpy and sunshine main character.
The fake dating trope is executed perfectly – it leads to so many funny moments. And both characters learn from each other. It's an absolutely adorable book and the romance is perfect. The combination of tropes is executed really well. And this book will never fail to cheer me up.
Representation: lesbian, bisexual, Bengali, Muslim
Good reads rating: 4.21
14. The Henna Wars by Adiba Jaigirdar
If you're looking for a wlw rivals to lovers with a school competition
The Henna Wars is incredible! It's an own voices, YA Contemporary book featuring a Muslim, Bangladeshi, lesbian main character
The Henna Wars follows Nishat as she comes out to her parents as a lesbian. They're happy for her to be whoever she wants to be. As long as she isn't herself – because Muslim girls aren't lesbians.
Her life becomes harder when she is reacquainted with a childhood friend – Flavia. Especially when in a school competition they both decide to start their own henna business.
Adiba Jaigirdar wrote The Henna Wars. She's a Bangladeshi, Irish writer who has been living in Dublin, Ireland from the age of 10.
This book includes a lovely queer f/f romance. But it's also so much more than a romance
It navigates homophobia, bullying, racism and cultural appropriation. It also includes one of the best main characters in Nishat. Nishat bravely deals with so many things being thrown at her.
But it still manages to remain a cute, funny and romantic debut novel. Please pick it up and read it!
Representation: lesbian, bisexual, Bengali, Muslim
Good reads rating: 4.03
15. Her Royal Highness by Rachel Hawkins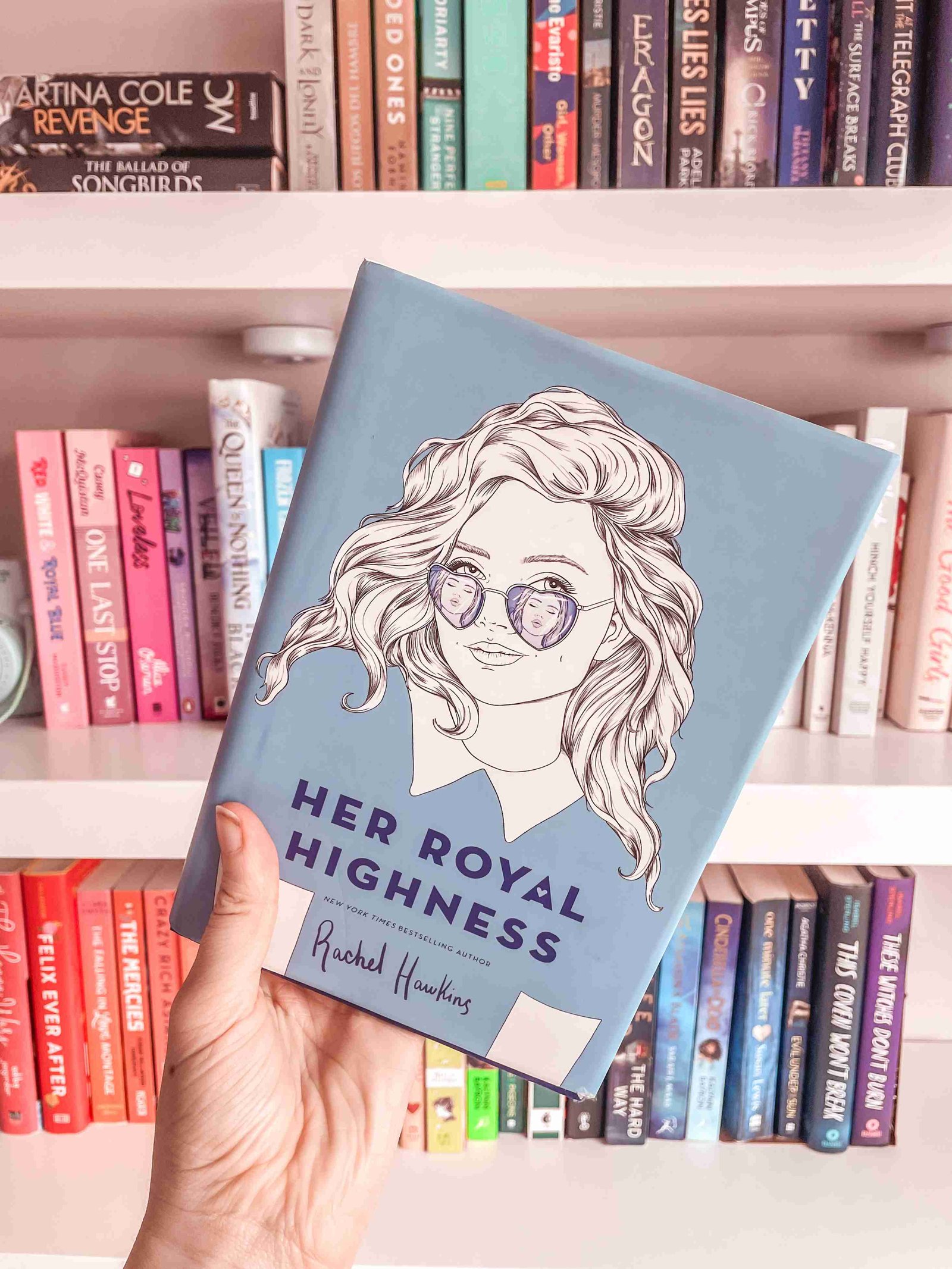 If you love the enemies-to-lovers, royalty and room-mates trope
Her Royal Highness has some serious Red, White and Royal Blue Vibes.
Not only does it include the enemies-to-lovers trope. But it also features the room-mates trope, royalty, an ex-girlfriend and a posh boarding school.
Oh, and did I mention it's all set in stunning Scottish highlands.
The book follows Millie who is heartbroken when she discovers that her kinda girlfriend has been kissing someone else. After getting into a super elusive boarding school, she moves to Scotland. And this is where she meets Princess Flora.
It's a sweet, lighthearted and irresistibly charming book. You can easily binge-read it in one sitting. If you haven't read it you absolutely need to.
Representation: lesbian, bisexual, wlw romance
Good reads rating: 3.79
16. Love Frankie by Jacqueline Wilson
If you were a fan of Jacqueline Wilson growing up
Jacqueline Wilson wrote a lesbian romance novel!
Jacqueline Wilson was my childhood! I read recently that she has written over 100 books and is the most borrowed author from libraries.
If you were a British teen in the 90s and bookworm you will definitely have read some of her work.
If you're familiar with Jacqueline Wilson's work, you will find this super comforting to read. Jacqueline Wilson's distinctive writing style very easy to read.
It follows Frankie who is struggling to cope with her mum's MS diagnosis when she meets Sally. Problem is Sally is perfect when it's just them. But she ignores her at school
Wilson has never been one to avoid controversial topics. And Love Frankie is no different. It explores mental health and coming out in teens.
Representation: lesbian, wlw romance
Good reads rating: 3.98
17. The Falling in Love Montage by Ciara Smyth
If you love 90s and 00s romcoms
The Falling in Love Montage is incredible! The main character is insanely relatable, the plot is great and it has an easy-to-read writing style. It's a well-paced lesbian romance novel you can devour very quickly.
Falling in Love Montage follows Saoirse from Ireland. She is struggling to cope with her mum in a care home with Dementia and her dad's new relationship. She meets an amazing girl at a party. And she decides to embark on a fun summer fling. Much like the Falling in Love Montage in a 00s romcom.
I found Saoirse to be seriously relatable. And there were many lines that made me laugh out loud. Also, the book deals with mental health issues very well.
A fantastic read that will make you laugh and cry.
Representation: Lesbian main character, wlw romance, dementia
Good reads rating: 3.93
18. Running with Lions by Julian Winters
For fans of Sports Romance and the enemies to lovers trope.
This book follows Sebastian Hughes who is going to a summer training camp. And he is a member of an incredible team where he can be open about his sexuality. But Emir, an old best friend who hates his guts, is also at the camp.
I love how this book deals with sexuality in sports! Also, it includes the sweetest and most wholesome queer love story.
The author is Julian Winters. He started writing because he couldn't find any books with people like him.
Running with Lions won accolades for its positive depictions of diverse, relatable characters. The relationships between the football team are insanely heartwarming. Sebastian's team is a multi-ethnic group with many different sexual orientations and they almost become a family.
Representation: mlm, bisexual main character, gay main characters, Muslim love interest
Good reads rating: 3.72
19. Felix Ever After by Kacen Callender
If you're looking for summer romance, friends to lovers and a revenge plot
Felix Ever After is an own voices book featuring a black, queer and transgender main character.
It follows Felix Love who has never been in love. And he is desperate to experience it.
An anonymous student starts sending him transphobic messages. And the student publicly posts Felix's deadname. Along with photos of him before his transition.
Felix decides to plot revenge. But his catfishing lands him in a love triangle.
Kacen Callender wrote Felix Ever After. Callender also won the Stonewall Book Award and Lambda literary award for Hurricane Child. They do a particularly good job at discussing difficult topics such as class disadvantage, transphobia and body dysmorphia. Oh and it features an adorable friends to lovers m/m romance.
Representation: Black Trans demiboy main character, gay main characters, lesbian side character, mlm romance
Good reads rating: 4.37
20. Radio Silence by Alice Oseman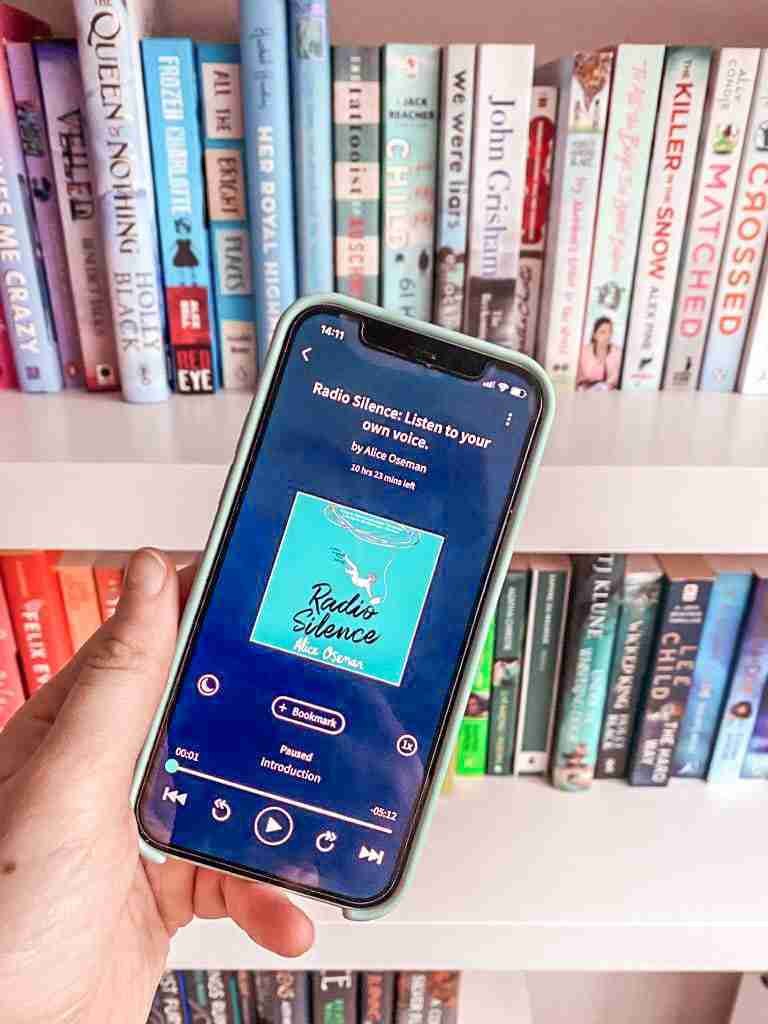 If you're looking for a cute friendship, podcast and asexual representation
I am obsessed with Alice Oseman. But with good reason! Radio silence is a incredible book about friendship and mental health.
Frances has always been focused on studying and getting into university. But then she meets Aled and they instantly become friends. But when the trust is broken Frances has to confront her past. And her guilty secret.
One thing Alice Oseman does really well is that she writes the most beautiful friendships. Aled and Frances are one of my all-time favourite fictional friendships. A bisexual girl and a demisexual boy in a m/m relationship.
I listened to this as an audiobook and I would 100% recommend it. The podcast theme that runs through the book really lends itself to the audiobook format. And it felt like it was meant to be listened to.
Representation: Asexual representation, bisexual and biracial main character, mental illness
Good reads rating: 4.16
21. Black Flamingo by Dean Atta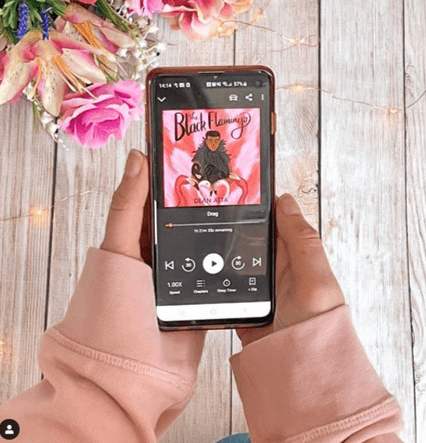 A coming of age story about the power of drag
Black Flamingo is a coming of age story about a mixed-race, gay teenager finding his identity and the power of drag. It is written in beautiful verse.
This LGBTQ+ YA Book is an empowering and joyful read about race, identity and pride. It deals with so many different issues such as race, racism, gender identity, sexuality and internalized homophobia.
I listened to The Black Flamingo as an audiobook. Dean Atta wrote the book and also narrates the audiobook. Atta has been writing and performing for over 10 years. This really comes across in the audio version.
A powerful read. It also has some really lovely, lighthearted moments in it. The Black Flamingo is truly unique.
Representation: Mixed race, gay main character, bisexual character
Good reads rating: 4.41
22. Perfect on Paper by Sophie Gonzales
A bisexual girl who gives anonymous love advice to her classmates
Perfect on paper follows Darcy Phillips. She runs an anonymous service giving love advice to her classmates via a locker. They slip in their worries and she responds with a carefully worded response. But Alexander Brougham catches her in the act. And in exchange for keeping her secret, he asks her to be his dating coach.
If you like the fake dating trope, I think you'll really enjoy this book. The 'dating coach' concept worked really well. And it allowed for so much character growth and development. I also really enjoyed the romance between Alexander and Darcy.
The discussions around bisexuality and biphobia in this book are excellent. You can clearly tell this is an own voices story. And the discussions around bisexual girls in relationships with guys is absolutely spot on.
Gonzales' Writing style is excellent. There was no purple prose and it was very easy to read. The teenagers were also written really well. And they were very believable. I thoroughly enjoyed the banter between all the characters.
Representation: bi girl mc, trans sc, Vietnamese-American lesbian sc, bi sc, gay sc, pan nonbinary sc
Good reads rating: 4.13
LGBTQ+ YA Mystery books
23. The Good Girls by Claire Eliza Bartlett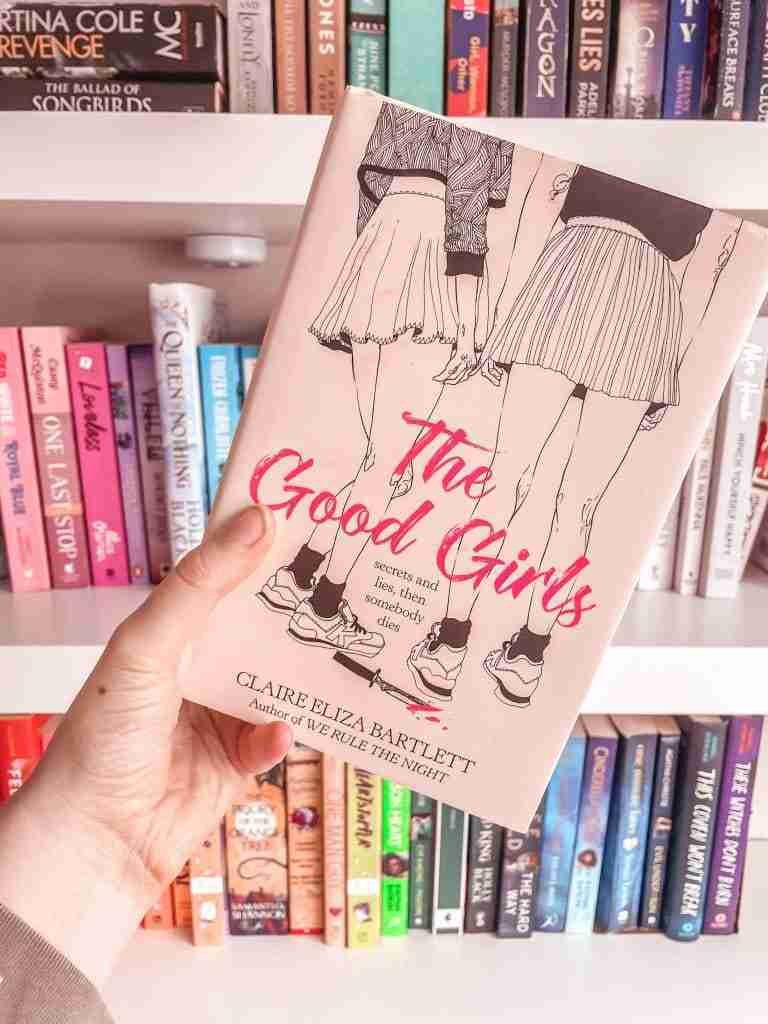 If you're looking for a murder mystery with a queer romance and dark academia vibes
The good girls is a fairly recent read. I received this in a rainbow crate book box. And I instantly loved it. It's a murder mystery story following 4 girls. It features a bi protagonist and a wlw couple.
Everyone in high school has a label. Emma Baines was known as a good girl. She is murdered and three of her classmates become suspects. But appearances are never what they seem.
The characters and opening hooked me in really quickly. And I really loved the premise. The pace and plot were very suspenseful. But the mood of the book is the reason I enjoyed it so much. It has fall vibes for me. A great, cosy read for a rainy day.
Representation: bisexual main character , wlw romance
Good reads rating: 3.69
24. The Sawkill Girls by Claire Legrand
If you're looking for an atmospheric and spooky halloween read
Sawkill island has never been safe for young girls. There is a local legend about a paranormal beast who hunts young girls.
We are introduced to three girls: Zoey, Val and Marion. They have the power to save the island. If they are willing to come together and try.
Sawkill Girls is a really dark fantasy audiobook. And it's definitely not for everyone. The world-building is dark, moody and atmospheric. I love the idea of sapphic girls coming together and using magical powers to conquer evil.
Representation: Black, asexual and biromantic characters, bisexual, sapphic characters
Good reads rating: 3.69
LGBTQ+ YA Books – Graphic novels
25. Heartstopper by Alice Oseman
A heartwarming teen romance in high school.
Heartstopper includes an adorable romance, a supportive friendship group and the most stunning graphics!
The book series follows Charlie Spring and Nick Nelson. Charlie Spring is an openly gay student in year 10. And he meets Nick Nelson a soft-hearted rugby player in year 11. They quickly become friends. But could there be something more?
Alice Oseman wrote and illustrated the graphic novel series. She is insanely talented. And she secured her first publishing deal at just 17 years old!
The graphics are stunning! Seeing the characters faces meant that I felt so many more emotions when reading this. And I got so emotional!
Representation: Black, asexual and biromantic characters, bisexual, sapphic characters
Good reads rating: 4.52
26. The LumberJanes by Shannon Watters, Grace Ellis, Brooklyn A. Allen and Noelle Stevenson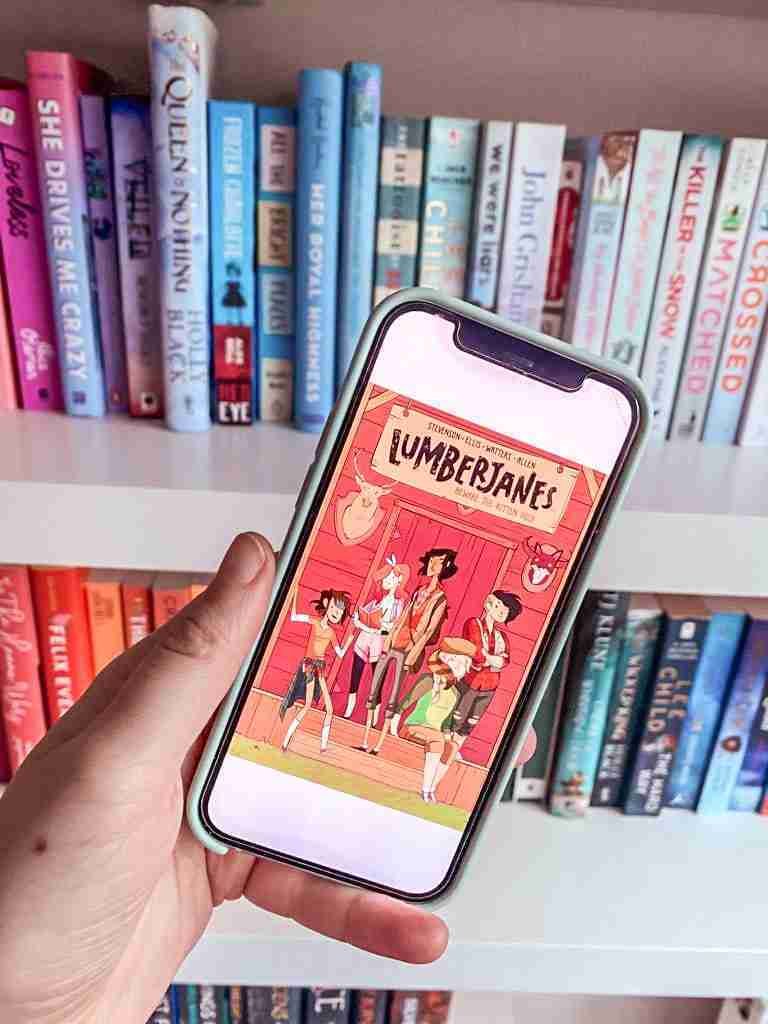 If you're looking a cute friendship group and a summer camp
I read the LumberJanes series on Scribd. The graphic comic book series follows five pals at a summer camp. They are determined to have an incredible summer and not let supernatural critters or quests get in their way.
The incredible drawings instantly gave me an emotional connection to the characters in the books.
The first novel opens with a bang and the plot really engaged me. The graphic novel format and short length make them really easy to read. If you're looking for lighthearted LGBTQ+ YA Books then you should pick this up.
Representation: wlw romance, sapphic main charcters
Good reads rating: 4.03
27. Heavy Vinyl by Carly Usdin, Nina Vakueva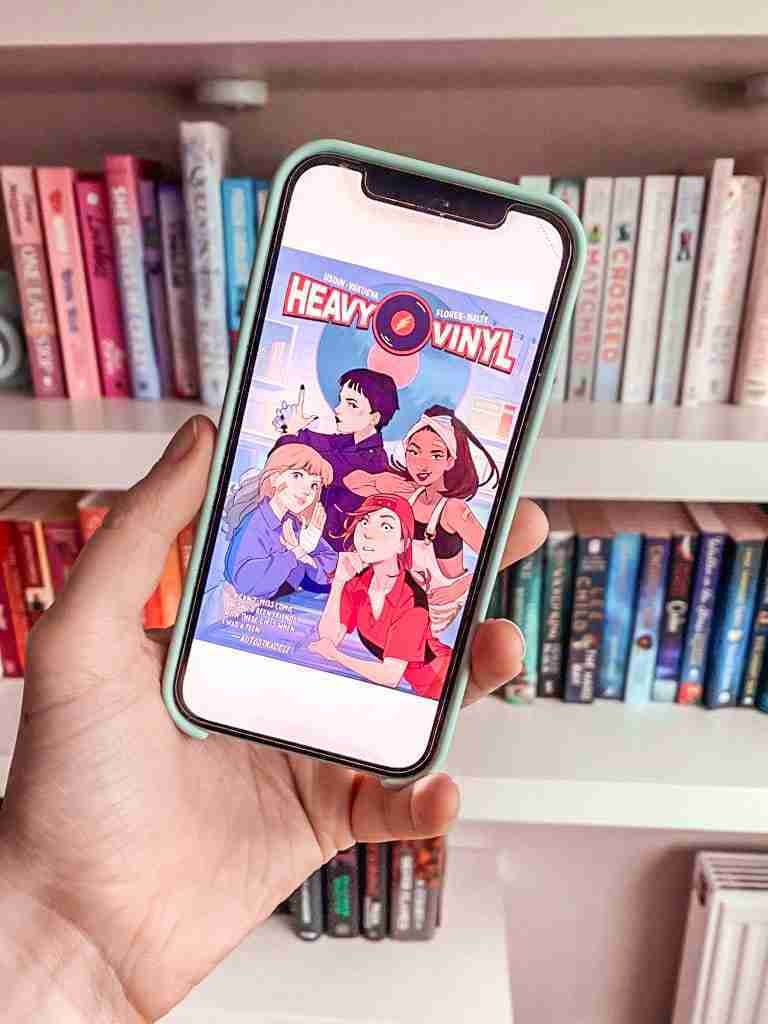 If you're looking for a book about ladies fighting the patriarchy
Heavy Vinyl is a recent read for me. And it's fantastic! It has a diverse cast, beautiful artwork and features ladies fighting the patriarchy.
It follows Chris. She starts working at her local record store. But her coworkers are keeping something from her. They're all members of a secret fight club who fight crime.
It features a f/f couples, an all girl fighting club and a 90s setting. The art style is awesome. Plus the found family trope works really well. And the banter between coworkers is hilarious.
It's definitely more of a lighthearted 'slice of life;' type read. So if you're looking for an action-packed adventure book then this probably isn't for you. But if you're looking for some lighthearted escapism then Heavy Vinyl is for you.
Representation; wlw romance, queer main characters, same sex parents
Good reads rating: 4.01
LGBTQ+ YA Historical fiction
28. Last Night at the Telegraph Club by Malinda Lo
A Historical fiction with a wlw romance set in San Francisco during the Red Scare
I'll be honest, historical fiction can be very hit or miss for me. However, I absolutely loved Last Night at the Telegraph Club.
Last Night at the Telegraph Club follows 17 year old Lily Hu. She's questioning her identity. And she decides to visit a lesbian night club called the Telegraph Club.
But America in 1954 is not a safe place for two girls to fall in love. Especially not in Chinatown. Red-Scare paranoia threatens everyone – including Chinese Americans like Lily.
This story is heartwrenching and made me feel so many different emotions. Lily Hu is a very lovable main character and the romance is absolutely adorable. It felt very realistic for teenagers coming to terms with who they are.
It took me a while to get into the story, but once I did I couldn't put it down. And by the end of this book I was an emotional mess.
Representation: Lesbian main characters, queer main characters, wlw romance, Chinese American characters
Good reads rating: 4.31
Those were my picks for LGBTQ+ YA Books
There are so many incredible LGBTQ+ YA Books. And this guide really is just the tip of the iceberg.
Everyone should have LGBTQ+ Books on their bookshelves. Diversity makes books better.
What are your favourite LGBTQ+ YA Books for teens?
This post was all about LGBTQ+ YA Books
Other posts you might like
Insanely good wlw books to read
Must-Read Bisexual books
The best wlw enemies to lovers books
This post on books like red, White and Royal Blue
The 16 best books like heartstopper
The absolute best books with lesbian characters
If you liked this post please download my free LGBTQ+ bookmarks. They include designs inspired by popular LGBTQ+ YA Books
LGBTQ+ YA Books comparison table and where to buy the books:

Name
& Author
Tropes
Representation
Trigger Warnings
Where to buy
A Dark and Hollow Star
by Ashley Shuttleworth
grumpy/sunshine MC,
fae, political intrigue,
outsider
pansexual, lesbian,
bisexual, gay,
genderfluid characters

anger, arson, blood/gore,
body horror (minor),
death of a child, depression,
disownment, divorce,
drug use/addition, grief/grieving,
human trafficking, poverty,
psychopathy, stalking,
suicide (past, off-page),
suicidal ideation, toxic relationship/manipulations,
trauma/PTSD, racism,
violence/gun violence
Book Depository
Audible Amazon
We set the dark
On fire by Tehlor
Kay Mejia
Love triangle,
enemies-to-lovers, dystopian, fighting the power
Latine, queer characters, wlw romance
abusive relationship, Assault,
Blood, Bombing, Death, Guns,
Knives, Homophobia, Murder,
Police brutality, Protests (violent),
Sexism, Terrorism, Torture, Violence
War, Xenophobia
Book Depository
Amazon
Six of Crows & Crooked Kingdom
by Leigh Bardugo
Enemies to lovers, heist, found family

biracial character. POC characters, bisexual characters, gay characters, mlm romance, disabled character, neurodivergent characters, religious characters
Addiction (gambling and drug), Child trafficking Gambling, Genocide, Sexual abuse and slavery, Violence (graphic)

Amazon
The Dark Tide by
Alicia Jasinska
Enemies to lovers, witches, ritual sacrifice, found family

lesbian characters, bisexual characters
loss of a loved one, human sacrifices, drowning, self-harm for blood for spells, blood depictions, violence, magical compulsion, grief depiction, brief mentions of abuse
Amazon
This Poison Heart
By Kalynn Bayron
Insta-love,
friends to lovers
queer Black main character, supportive same sex parents, wlw romance
Attempted murder, Death,
Blood, Murder, Poisoning,
Violence
Book Depository
Amazon
Not your sidekick
by C.B.Lee
Friends to lovers, superheroes

Chinese-Vietnamese main character, Bisexual main character, F/F romance, Black side character, Trans side character, Latine side character
Kidnapping, Racism,
Violence
Book Depository
Amazon
These Witches Don't
Burn by Isabel Sterling
Friends to lovers, witches

lesbian main character, bisexual love interest, transgender side character, queer side characters
Animal sacrifice, Arson,
Blood, Car accident,
Character death (family),
Gun violence, Homophobia,
Sexual harassment
Book Depository
Amazon
When we were magic
by Sarah Gailey
Friends to lovers, slow burn
Supportive same sex parents, bisexual main character, queer characters, adopted character,Filipina rep, Afghani rep, Muslim rep
Blood, Body horror, Death,
Gore
Book Depository
Amazon
Cinderella is dead by
Kalynn Bayron
subverted fairy tale retelling, fighting the power
Black main characters*
Lesbian main characters
wlw romance
Gay side character
Animal death, Arranged marriages,
Corpse description, Death, Domestic abuse, Homophobia, Kidnapping, Misogyny,
Murder, Physical assault,
Selling people, Sexual assault
Book Depository
Amazon
Ruinsong by Julia Ember
Enemies to lovers, magic
wlw romance


fatshaming, violence, cancer,
child abuse, animal death ,
blood, torture, vomiting.
Book Depository
Amazon
Girls of Paper and Fire
by Natasha Ngan
Friends-to-lovers, grump/sunshine
Sapphic main characters
Asian main and side characters
Abduction, Abuse,Death,
Genocide, Murder, Prostitution (forced), Rape, Sexual assault, Sexism, Slavery, Torture, Violence
Book Depository
Amazon
Malice by Heather Walter
anti-villain, friends-to-lovers
Representation: wlw romance
Blood.
Death of a sibling.
Homophobia.
Non-consensual kissing.
Self harm (to draw blood for magic)
War (mentioned)
Amazon
Hani and Ishu's guide
to fake dating
by Adiba Jaigirdar
Fake dating, grumpy/sunshine MC
wlw romance, bisexual Bangladeshi Bengali Muslim mc, Sapphic Indian Bengali MC
Islamophobia, biphobia, homophobia, racism, bullying, toxic friendships
Book Depository
Audible
Amazon
The Henna Wars
by Adiba Jaigirdar
Rivals-to-lovers, long lost friend
rival business,
wlw romance, Bengali Muslim lesbian main character*
Afro-Brazilian Irish bisexual love interest, Korean side characters
racism, homophobia, bullying, and a character being outed
Book Depository
Audible
Amazon
Her Royal Highness
by Rachel Hawkins
Enemies-to-lovers, long lost friend
rival business,
wlw romance, bisexual mc, lesbian love interest
Alcohol use, Cheating, Death (parental, recalled)
Lesbophobia
Book Depository
Audible
Amazon
Love Frankie
by Jacqueline Wilson
enemies to lovers, secret romance
Lesbian MC, wlw romance
Chronic illness (MS), bullying
Book Depository
Amazon
The Falling in Love Montage by Ciara Smyth
Grumpy/sunshine MC
lesbian mc, wlw romance, mental health
Dementia (early-onset, hereditary)
Disabled sibling
Parental abuse


Book Depository
Amazon
Running with Lions
by Julian Winters
Enemies to lovers, childhood friend
mlm, bisexual main character, gay main characters, Muslim love interest

alcohol use, bullying, islamophobia, body shaming, body insecurity, one scene that contained the use of homophobic language
Book Depository
Amazon
Felix Ever After by
Kacen Callender
friends to lovers, love triangle, revenge plot
Trans demiboy maincharacter, gay main characters, lesbian side character, mlm romance
Alcohol (underage drinking), Bullying, Catfishing, Cyberbullying
Deadnaming, Disownment, Drugs
Homophobia. HP references
Injections, Misgendering
Outing, Parental abuse/neglect
Racism, Surgery/scars (mentioned)
Transphobia
Book depository
Amazon
Radio Silence by Alice Oseman
friends, podcast
Asexual representation, bisexual and biracial main character, mental illness
suicide ideation, depression, emotional abuse, and animal cruelty
Book Depository
Amazon
The Black Flamingo
by Dean Atta
Absent father,
Representation: Mixed race, gay main character, bisexual character
Alcohol, Bullying, Drug use.
Homophobia (internalized)
Physical abuse.
Racism (internalized)
Toxic masculinity.
Book Depository
Amazon
Perfect on Paper
by Sophie Gonzales
enemies to lovers, love triangle,
bi girl mc, trans sc, Vietnamese-American lesbian sc, bi sc, gay sc, pan nonbinary sc
alcoholism, divorce, manipulation, bisexual erasure (countered), biphobia/some internalized (countered)
Amazon
The Good girls
by Claire Elizabeth Bartlett
slow burn, small
town, head cheerleader, notorious party girl,
Lesbian character, bisexual character
Abuse, Eating disorder
Grooming, Gun use, Rape
Murder, Pedophilia, Predatory
teacher, Sexual assault, suicide
Barnes and Noble

The Sawkill girls
by Claire Legrand
Queen bee, loss of a loved one, new girl, remote island
Black, asexual andbiromantic characters, bisexual, sapphic characters
Aphobia. Assault. Blood.
Child abuse. Cults. Fire.
Gore.
Pedophilia
Book Depository
Amazon
Heartstopper by Alice Oseman
Friends to lovers, happy ending, grumpy/sunshine
: Black, asexual and biromantic characters, bisexual, sapphic characters
Emotionally abusive relationship, homophobia, bullying, self harm, eating disorders, OCD, Psychiatric ward,
Book depository
Amazon
The LumberJanes by Shannon Watters, Grace Ellis, Brooklyn A. Allen and Noelle Stevenson
Action girl,m absent parents, love triangle, found family
Representation: wlw romance, sapphic main charcters
Drowning, minor blood depiction, phsycial injury
Book Depoistory
Amazon
Heavy Vinyl by Carly Usdin, Nina Vakueva
goth girl, found family, lovable misfit, girl next door
wlw romance, queer main characters, same sex parents
Brainwashing, Kidnapping, Fighting, breaking in to places
Book depository
Amazon
Last Night at the telegraph club by Malinda Lo
Beauty contest, first love,
Lesbian main characters, queer main characters, wlw romance, Chinese American characters
Homophobia · Lesbophobia · Miscarriage · Misogyny · Racial slurs · Racism · Sex (on page but not graphic)
Amazon