"Obstinate, headstrong girl!"  Jane Austen's timeless story of Elizabeth Bennet and Mr Darcy sparked my love for books with the enemies-to-lovers trope.  If you also love Mr Darcy, Elizabeth Bennet and Lady Catherine de Bourgh then this post is for you. I've compiled the best Pride and Prejudice Merch including Pride and Prejudice posters, T-Shirts and Tote Bags.
n the name of full transparency, please note that this post contains affiliate links and any purchase made through such links will award me a small commission at no extra cost to you. If you choose to purchase anything through my links, thank you for supporting my blog.
Insanely Cute Pride and Prejudice merch you need to buy
Pride and Prejudice fan? You should seriously consider a special collectable version.
The Barnes and Noble Collectable classics are exquisite. And the hardbacks have most precious designs on the front.
They could seriously take pride of place on any bookshelf!
This collectable version costs £12.71
I love this 'obstinate headstrong girl' t-shirt. The simplicity is beautiful. And it really lets the quote take centre stage.
It would look excellent paired with jeans, a cute skirt or with PJs around the house.
The handmade t-shirt also comes in lots of different colours such as white, dark grey and pink.
The cotton t-shirt is available for  £20.52.
How fun is this t-shirt?  The style is very reminiscent of the 80s.
And the pop style reminds me of similar style t-shirts I've seen online.
It's £19.99 and available in either white or black.
The perfect sweatshirt for any Jane Austen fan.
 A simple and super cute design that would work well with many different outfits.
 I can imagine it looking adorable with a collar peeking out the top.
It's soft inside and oversized. So this is the perfect sweater for lounging around the house in.
You can also choose from different colours such as black, grey and maroon.
It costs £27.92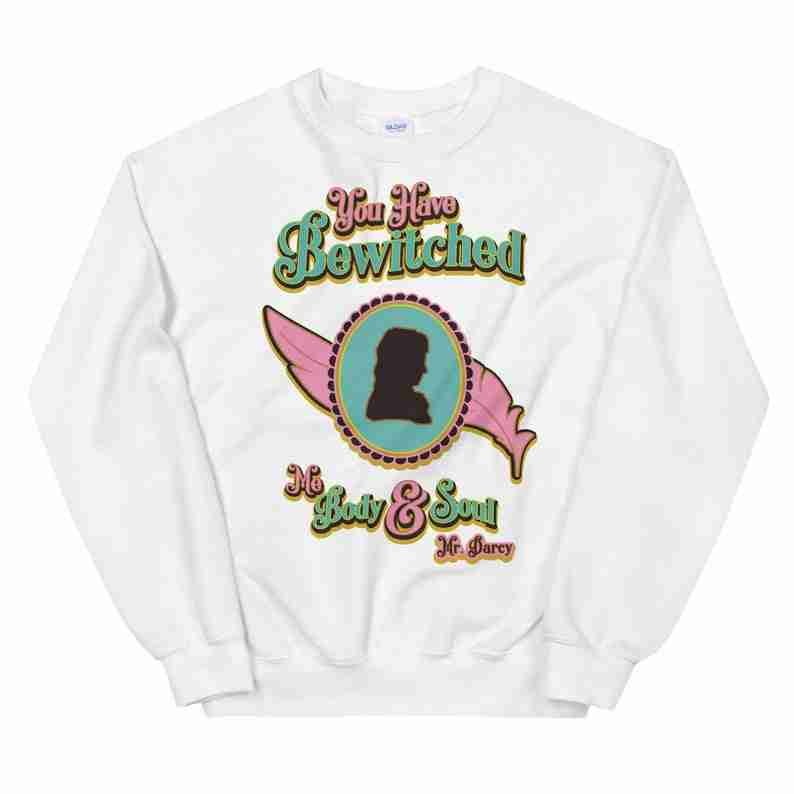 I am in love with this 'you have me bewitched body and soul' sweatshirt. The design and colours are really fun.
Again, this comes in lots of different colours. But, I personally really like the neutral colours as they make the lovely design pop.
It costs £22.89 and is handmade
I'm a massive fan of wall art. It's an easy way to liven up your space and add some personality.
This Longbourn house print is really well designed. And the print is guaranteed to enchant Jane Austen fans.
The print is available in A3 or A4. And the A4 size costs just £15.00.
This print features a book stack of Jane Austen'sworks. The colours and book designs are perfect.
It's an instant download. And if you have a good printer Then I highly recommend.
This print is an easy way to customise university halls, a bookworm's bedroom or any Jane Austen fans home.
Also, it costs just £6.89.
I had to include this one. I adore the simplicity of the graphic print.
The design is very striking. And there is a very romantic feel to it.
The print is wonderfully imaginative and really detailed.
It also costs  just £11.99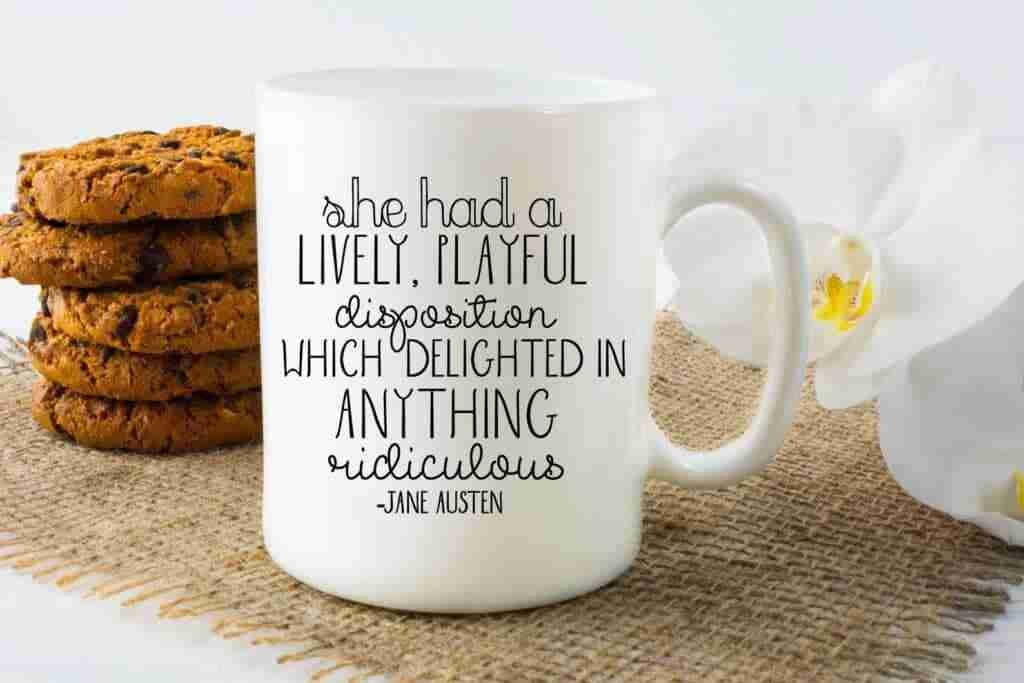 This is such a good quote! Elizabeth Bennet is one of my favourite book characters.
If you also love Elizabeth Bennet, then this is an excellent mug to enjoy your morning tea in. And it would also really spice up your bookshelves.
It costs £12,79. And you can also personalise this mug with your name on the other side.
This really made me chuckle! This quote is so relatable.
Tote bags are incredibly practical. And this one would be a great gift.
The black and white is really simple and chic. But it is also available in purple, blue and green.
It costs just £8.95
I am really enjoying fun earrings at the moment. And the detail on this pair is exquisite.
These mini book earrings are 100% handmade.  They are sterling silver and also double-sided.
They cost just £16.99 and you can even personalise them.
How cute is this Gardens at Pemberley candle?  This handmade candle is a soy wax blend with a cotton wick.
I love the floral label and the adorable pink colour.
The floral scented candle has notes of Jasmine,  honeysuckle and rose. Perfect for classic literature or cottagecore fans.
 It costs £16.48 for the 9oz candle.
 I couldn't limit myself to just one scented candle. This Elizabeth Bennet candle is a hand-poured coconut wax blend.
The top of the candle is topped with green and white glitter. And it matches the perfectly designed label.
It costs £20.60 and has 40-50 hours of burn time.
I've got very into enamel pins recently. they're a cute and affordable way to show your love of a book.  They can decorate bags, jackets or bookshelves perfectly.
This enamel pin costs £7.00.
And it's an excellent choice for feminists. I adore the quote "My courage always rises with every attempt to intimidate me.'
If you have a bookstagram these also look excellent photographed.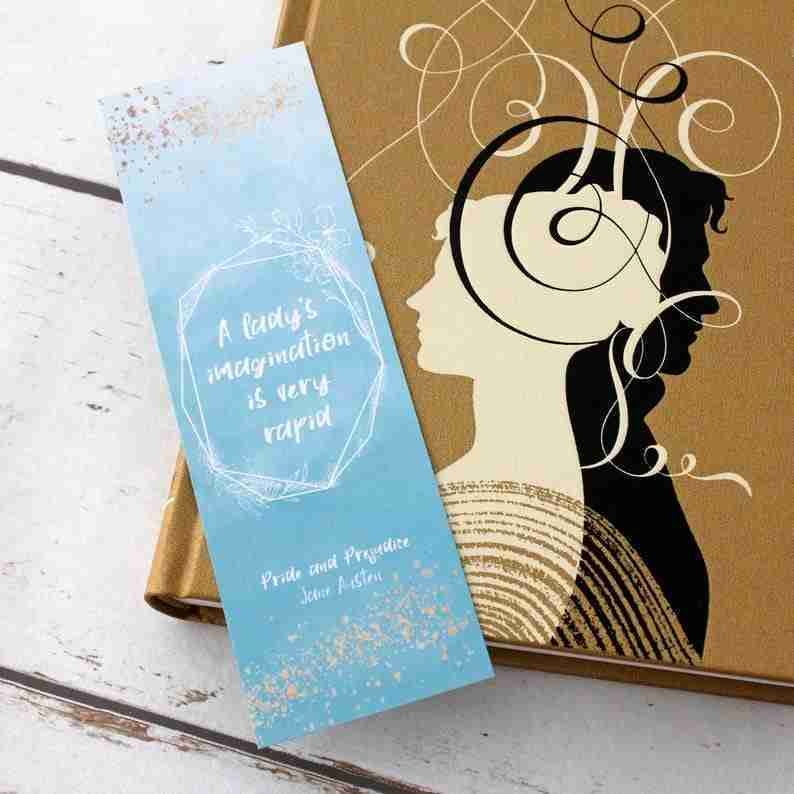 Bookmarks are another affordable way to share your love of a book.
 They are also incredibly practical. And I think these designs are super sweet.
 Alongside Pride and Prejudice, they also have two designs from the Classics Little Women and Jane Eyre.
The colours are really beautiful. And the white line design is very pretty.
They are double-sided, eco friendly and cost just £3.95
Whether you're buying these as a gift for a book lover…
…..or as a present to yourself –I sincerely hope that you found some Pride and Prejudice merch you love.
I'm obsessed with finding good quality book merch and I especially love shopping at small businesses. There is so much incredible Jane Austen merch out there that would make excellent gifts.
If you liked this post on Pride and Prejudice merch then you might also like…