Looking for the best WLW books? I asked book lovers to share their favourite WLW books. Here are their truly amazing recommendations!
WLW make books better. Whether you love reading LGBTQ+ books or simply want to add diversity to your bookshelves. I've got you! There are so many insanely good wlw books. So I surveyed book lovers online to find out their absolute favourite wlw books. I've compiled the results along with some of my personal recommendations. Here are the absolute best wlw books (plus get my FREE printable LGBTQ+ bookmarks and quiz to help you decide what sapphic book to read next!)
In the name of full transparency, please note that this post contains affiliate links and any purchase made through such links will award me a small commission at no extra cost to you. If you choose to purchase anything through my links, thank you for supporting me and my blog.
Here are 23+ insanely heartwarming wlw books you should definitely read
The top 12 WLW books to read
I asked book lovers on social media to share their favourite WLW books. And they did NOT disappoint with their responses! I've compiled their responses to create the top 12 WLW books. So here are the best WLW books in order of popularity: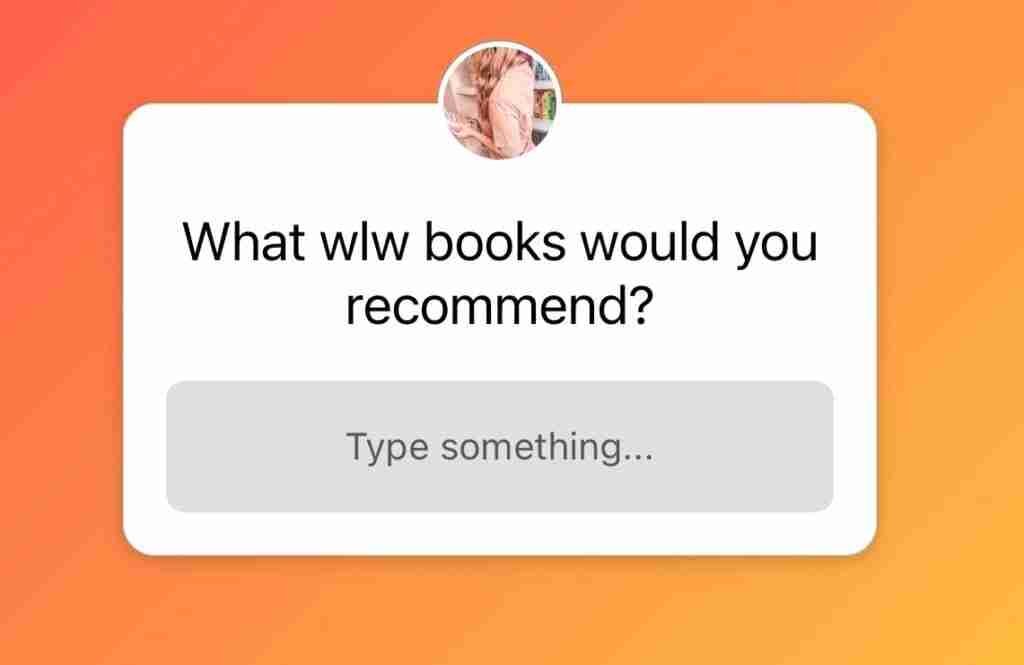 One last stop by Casey Mcquiston
Crier's War by Nina Varela
The Seven Husbands of Evelyn Hugo by Taylor Jenkins Reid
Not my problem by Ciara Smyth
She drives me crazy by Kelly Quindlan
Cinderella is dead By Kalynn Bayron
Cool for the summer by Dahlia Adler
Girls of Paper and fire by Natasha Ngan
Hani and Ishu's guide to fake Dating By Adiba Jaigirdar
A Dark and Hollow Star by Ashley Shuttleworth
You should see me in a crown by Leah Johnson
Ivy Aberdeen's Letter to The World by Ashley Herring Blake
Keep reading to find out more about these books. Plus get some extra WLW book recommendations and a free printable reading journal.
If you love contemporary novels with grumpy/sunshine dynamic
If you've read Red, White and Royal Blue and you haven't read One Last stop – I highly recommend you pick this one up. This was easily the most recommended LGBTQ+ book on this list.
One Last Stop follows August. She's a cynical 23-year-old who is trying to survive in New York. But then she meets this gorgeous girl on the train.
Jane.
Jane is dazzling, mysterious and insanely charismatic. But there's one problem. She's literally displaced in time from the 1970s.
There are so many good things about this book. The chaotic roommates and the friendships are incredible. The writing is really funny with great banter. Plus the food imagery is droolworthy.
Casey Mcquiston writes the most incredible characters that always feel really authentic. August is really relatable main character – cynical and trying to establish herself as a young adult in a big city. Casey McQuiston draws on their own experience to write incredible bisexual characters. We definitely need more bisexual representation in books. That's why I wrote a whole article on books with bisexual characters. If you're looking for bisexual representation you can read my article on bisexual books. Alternatively, if you're a Casey Mcquiston fan, you can read my article on books like Red, White and Royal Blue
---
If you're looking for mystery, revenge and enemies to lovers wlw romance
Crier's War is an epic urban fantasy novel with a f/f romance. It's set in the Kingdom of Rabu and follows Ayla.
A War has ravaged the kingdom of Rabu. The Automae took over the estates of their owners and bent the human race to their will.
Ayla is a human servant who is rising the ranks at the House of Soverign. She dreams of avenging the death of her family… by killing the Sovereign's daughter – the beautiful Lady Crier.
Now, Ayla, a human servant rising the ranks at the House of the Sovereign, dreams of avenging the death of her family… by killing the Sovereign's daughter, Lady Crier. Crier, who was Made to be beautiful, to be flawless. And to take over the work of her father.
Crier was Made to be beautiful, flawless, and to carry on her father's legacy. But that was before her betrothal to the enigmatic Scyre Kinok, before she discovered her father isn't the benevolent king she once admired, and most importantly, before she met Ayla.
---
If you love wit and sarcasm with an enemies to lovers romance
Not My Problem follows Aideen. Aideen agrees to help Maebh Kowalska deal with her crazy workload. M Meabh is desperate to escape her crushing pile of extracurriculars. Aideen volunteers to help. By pushing Meabh down the stairs.
With this, Aideen becomes the school 'fixer': any problem a student has, Aideen will sort it out, from stealing confiscated mobiles to breaking into parties. All she asks for is a favour in return.
But Aideen's own life is a mess – her mam's drinking again, her BFF Holly is avoiding her and she's skipping school. Spending more time with the uptight (but annoyingly cute) Maebh and chatterbox Kavi, Aideen starts to wonder: can every problem be solved?
---
If you're looking for a contemporary historical fiction
Evelyn Hugo is one of the best bisexual characters. There is so much hype around this book but it definitely lives up to it.
It follows an ageing movie icon, Evelyn Hugo. She is ready to tell the truth on her scandalous life. But she chooses an unknown reporter to tell the story. Why her?
There is no combination of words I can type that will accurately describe how brilliant this book is. I'm just going to leave you with a quote:
" I'm bisexual. Don't ignore the half of me so you can fit me into a box Monique. Don't do that."
---
If you're looking for a fake-dating, enemies to lovers sports romance
She drives me crazy is a high school queer enemies to lovers romance with the fake dating trope.
It follows Scottie Zajac. She loses spectacularly to her ex-girlfriend in their first game since their break up. So she gets into a fender bender with the worst possible person. Her nemesis Irene Abraham.
Irene Abraham is incredibly beautiful but also incredible mean. And things only get worse when their nosey, do-gooder moms get involved and the girls are forced to carpool together until Irene's car gets out of the shop.
And it only gets worse the more time they spend together. But then an opportunity presents itself for Scottie to get back at her ex. And she bribes Irene into playing along.
This book is such a cute, light-hearted read. And it makes for such escapism. I often don't want to read books that deal with heavy issues. Or that teach you something. If you're looking for a cozy, feel-good ya lesbian book or a cute wlw romance then this is a great choice. I'm obsessed with the enemies to lovers trope and if you're looking for enemies to lovers books with LGBTQIA+ representation then you're in luck. You can check out my article on wlw enemies to lovers books or my article on LGBTQ+ enemies to lovers books.
---
A Cinderella retelling with an lgbtq+ twist.
Cinderella is dead is a retelling of the classic story. But it features BIPOC characters and a f/f romance.
The premise is that teen girls are now required to appear at an annual ball. There, men select wives. But Sophia wants to marry her childhood best friend Erin. And she isn't a fan of the whole parade in front of suitors thing. She decides to flee and decided to take down the king once and for all.
A book about queer Black girls overthrowing the patriarchy. Sign me up. The romance is adorable, the pacing is good and the main character is very likeable.
---
If you're looking for a Grease inspired contemporary about summer love
Cool for the summer features a messy, queer love triangle. It follows Lara. She's only ever had eyes for one person – Chase Harding. He's tall, strong, sweet and a football star. Oh and h'es talking to her now. On purpose.
But she's haunted by a memory. A memory of a confusing, romantic, strangely perfect summer spent with a girl named Jasmine. That memory becomes present when Jasmine walks through the front doors of the school.
Lara has everything she's ever wanted. So why can't she stop thinking about Jasmine?
---
If you're looking for a wlw fantasy book
I've seen Girls of Paper and Fire everywhere online! Firstly, the cover is absolutely stunning and I'm a little bit in love.
It follows Lei. She is a member of the Paper Caste. And the people of Ikhara persecute her. She sees the royal guards take her mother. Afterwards, Lei suffers with trauma. They return and try to take Lei.
She has to learn skills fitting of a King's Consort. But she falls in love. An excellent fantasy book. The plot is quite dark but it also features a f/f romance.
The worldbuilding in this book is seriously beautiful. Natasha Ngan was inspired by her own experiences growing up in Malaysia – a country with a mix of cultures. And Ikhara was heavily inspired by this.
The character development is excellent. I loved the wlw romance in the book. The grumpy/sunshine trope was executed perfectly. The plot of the book is quite dark but it was handled really sensitively
The pacing did lapse a bit in the middle for me. But the character development was so good that I still enjoyed reading it. YA Fantasy is one of my favourite book genres. And there are some incredible ya fantasy books with wlw characters. You can find out my top ya wlw fantasy books here
---
For Fans of the Fake Dating and Grumpy/Sunshine tropes
If you enjoy the fake dating trope – I guarantee you will love Hani and Ishu's Guide to Fake Dating!
Hani is bisexual but she is having trouble getting her friends to believe her. Ishu wants to be Head Girl. They decide to fake date so that Hani's friends believe she is bisexual. And to help Ishu in her Head girl campaign.
This book had me laughing out loud so many times. It has the perfect combination of a grumpy and sunshine main character.
The fake dating trope is executed perfectly – it leads to so many funny moments. And both characters learn from each other.
---
For Fans of Crescent city
A Dark and Hollow Star is an urban fantasy, with fae, queer main characters and a wlw romance.
A series of gruesome murders threatens to expose the faerie world to humans. Four queer teens – Nausicaä, Arlo, Vehan, and Aurelian – each hold a piece of the truth. And they must track down the mysterious killer.
Shuttleworth's writing was perfect. And it really bought the urban fantasy world to life.
But the characters are what makes this book. Nausicaä is a very sarcastic and chaotic lesbian. And I loved her instantly. Many will also find Arlo very relatable.
---
If you're looking for a book about cute wlw romance in a small town
You should see me in a Crown follows Liz. She lives in a small, prom obsessed town. And she's always believed she's too Black, poor and awkward to shine in the town. But she has a plan to attend an elite college and become a doctor.
But then her financial aid falls through. And her plans come crashing down. Until she's reminded of the school scholarship for prom kind and queen.
So she endures the social media trolls and catty competitors to get to college. New girl Mack is the only thing that makes it bareable. But she's also in the running for prom queen.
---
If you're looking for a book that'll make you cry
Oh, I wept buckets when I read this one. It made my heart swell, my eyes water and at the end made me smile like a loon.
It follows Ivy Aberdeen. Her house is destroyed by a hurricane. In the aftermath, someone steals her notebook full of secret drawings of her crush (A girl)
Ashley Herring Blake is a literary genius. The writing is sublime. Vivid and beautiful.
The plot is paced exceptionally well. And all the characters were well developed and nuanced.
---
More WLW books you need to read
YA wlw books
If you're looking for a murder mystery with a queer romance
The good girls is a fairly recent read. I received this in a rainbow crate book box. And I instantly loved it. It's a murder mystery story following 4 girls. It features a bi protagonist and a wlw couple.
Everyone in high school has a label. Emma Baines was known as a good girl. She is murdered and three of her classmates become suspects. But appearances are never what they seem.
The characters and opening hooked me in really quickly. And I really loved the premise. The pace and plot were very suspenseful. But the mood of the book is the reason I enjoyed it so much. It has fall vibes for me. A great, cosy read for a rainy day.
---
If you're looking for a wlw enemies to lovers with a school competition
The Henna Wars is incredible! It's an own voices, YA Contemporary book featuring a Muslim, Bangladeshi, lesbian main character
The Henna Wars follows Nishat as she comes out to her parents as a lesbian. They're happy for her to be whoever she wants to be. As long as she isn't herself – because Muslim girls aren't lesbians.
Her life becomes harder when she is reacquainted with a childhood friend – Flavia. Especially when in a school competition they both decide to start their own henna business.
Adiba Jaigirdar wrote The Henna Wars. She's a Bangladeshi, Irish writer who has been living in Dublin, Ireland from the age of 10.
This book includes a lovely queer f/f romance. But it's also so much more than a romance
It navigates homophobia, bullying, racism and cultural appropriation. It also includes one of the best main characters in Nishat. Nishat bravely deals with so many things being thrown at her.
But it still manages to remain a cute, funny and romantic debut novel. Please pick it up and read it!
wlw romance books
Red, White and Royal Blue fan? If so, you should definitely pick up Her Royal Highness!
It contains so many fantastic tropes – roommates, enemies to lovers, royalty and boarding school.
Her Royal Highness follows Millie Quint. She's in a kinda complicated relationship that goes wrong. When she is accepted to an uber post boarding school, she decided to move to Scotland. Only her roommate happens to be a princess.
Flora is outspoken, sassy and a complete badass. Millie was also the perfect counter to Flora's sass.
Oh and it's also set in the gorgeous Scottish highlands. The mountain imagery coupled with the descriptions of cosy rooms and lochs is divine.
This book is such an easy read. And it's still one of my top LGBTQ+ YA books. For even more LGBTQ+ YA books you can check out my article here
---
If you're looking for cute wlw romance inspired by nineties and noughties romcoms
The Falling In Love Montage follows Saoirse . She is struggling to cope because her mother is in a home with dementia. Also, it's a hereditary condition. One day she might inherit it. So she doesn't really see the point in a relationship. Until she meets Ruby at a party. And they decide to have a relaxed summer fling.
Ciara Smyth wrote The Falling in Love Montage. And she previously worked as a mental health trainer. This definitely comes across in the book. And it deals with many mental health issues. It also deals with the consequences of early-onset dementia.
The debut novel balances mental health struggles perfectly with adorable romance.
If you love a good rom-com then you should read this debut novel!
---
If you were a fan of Jacqueline Wilson growing up
Jacqueline Wilson wrote a lesbian romance novel!
Jacqueline Wilson was my childhood! I read recently that she has written over 100 books and is the most borrowed author from libraries.
If you were a British teen in the 90s and bookworm you will definitely have read some of her work.
If you're familiar with Jacqueline Wilson's work, you will find this super comforting to read. Jacqueline Wilson's distinctive writing style very easy to read.
It follows Frankie who is struggling to cope with her mum's MS diagnosis when she meets Sally. Problem is Sally is perfect when it's just them. But she ignores her at school
Wilson has never been one to avoid controversial topics. And Love Frankie is no different. It explores mental health and coming out in teens.
wlw Fantasy Books
If you're looking for a book with dark academia vibes and enemies to lovers romance
We Set The Dark On Fire follows Daniela Vargas. She lives in a dystopian world. where each man is entitled to 2 husbands – a Primera and a Segunda in the capital. The Primera is intelligent, calm and analytical. While the Segunda is the mother figure.
Outside of the wall, people suffer. Dani started life outside of the wall. And she must use her wits to survive illegally while married to one of the most powerful men in the kingdom.
The premise was intriguing and the main character was instantly likeable. The descriptions of food were mouth-watering and made me starving hungry.
If you love the Hunger Games you're guaranteed to enjoy this one – it features an intriguing dystopian premise and a likeable, strong-minded main character.
---
If you're looking for a unique magic system in a dystopian world
Ruinsong is an wlw book set in a dystopian world. It has lush world-building, a twisty plot and feisty main characters.
In this world, singers have magic powers when they sing certain songs. And they are able to heal, cause pain and heat people.
Cadence is an incredibly strong mage. She was born in poverty in an orphanage and rises to success. But she works for the evil Queen Elene. And Elene forces Cadence to use her power to torture others. But when she is reunited with her childhood friend she must make a choice. Does she take a stand or follow the queen.
This book reminds me of a dystopian and queer phantom of the opera. Strong-willed women, wearing beautiful ball gowns and taking down evil. If you're a Katniss or Johanna fan you're guaranteed to love this underrated gem.
---
If you're looking for a book with superheroes and a sapphic romance
Not Your Sidekick is a superhero-themed novel featuring a bisexual Chinese-Vietnamese protagonist, a trans character and a f/f romance. And it's written by an own voices author.
It follows Jessica Tran, a bisexual high school student who is resigned to a life without superpowers and decides to start an internship to improve her college applications. However, she quickly discovers it's for a supervillain with her crush Abby.
Not Your Sidekick is another light, fluffy and fun read. It takes superhero tropes and gives a really refreshing take on a superhero story. It also manages to tackle a lot of issues while still staying fun. There is a whole series of these and I've already added Not Your Villain to my TBR list as I really loved Bells in Not Your Sidekick.
---
If you are looking for autumnal reads with witches (set in Salem)
I was sold on this book as soon as I heard Sapphic witches! It's a YA Fantasy book about witches featuring a f/f romance and set in Salem.
These Witches Don't Burn follows Hannah. She is a witch living in Salem. A dark blood ritual interrupts her end of school bonfire. And she investigates with her ex-girlfriend Veronica. She also meets Morgan. But trying to date in the middle of a supernatural crisis is not easy and will test Hannah's limits.
This is one of my favourite duologies! I love all the magical, fantastical elements and I really enjoyed the modern setting in Salem. The representation is absolutely fantastic. And the pacing of the plot really kept me hooked.
---
If you enjoy books with magic and wlw romance
When We Were Magic follows Alexis. She has always been able to rely on her best friends and magic powers. On prom night, accidental magic goes wrong and someone ends up dead. Alexis and her friends have to try and fix a terrible wrong.
The writing in this book really made me laugh. I knew I would love it one page in and the opening was fantastic. The relationships and friendships in this book were really powerful. Also, the parents in this book were really supportive which I always appreciate.
---
If you're looking for cottagecore sapphics, family secrets and magic
This Poison Heart follows Briseis. She has a magic gift where she can magic tiny seeds grow into rich blooms with a single touch.
Her aunt dies and wills her a dilapidated estate in rural New York. And it's there she must uncover her family's heritage and secrets.
Greek mythology was woven seamlessly into the plot of this book. And the mysteries keep you intrigued until the end of the book. I especially loved the relationship between her moms.
---
If you're looking for a book about mental health, burnout and found family
Honey Girl follows Grace. She's just completed her PhD in astronomy. She goes on a girls trip to Las Vegas and accidentally marries another woman. But she doesn't even know her name. And this is very uncharacteristic of Grace.
Meanwhile Grace is struggling under the weight of her ex-military father's expectations. And she starts to wonder why she doesn't feel more fulfilled from completing her degree. So she leaves home and decides to spend the summer with the wife she barely knows.
This book has so many tropes and elements that are really relatable. The main character suffers mental health issues and burnout after tirelessly working on her degree. This is something many can probably identify with. It also features an adorable friends and the found family trope.
The writing style is more adult and so this won't suit everyone. But many will really enjoy this sapphic romance.
Comparison table and where to buy the books:
Name
Tropes
Representation
Trigger warnings
Where to buy
One last stop by
Casey Mcquiston
Time Travel, found family
Opposites attract, grumpy/sunshine
wlw romance, bisexual MC
with anxiety, Chinese-
American love interest,
Black sapphic
side character, Puerto
Rican trans side
character, Gay Jewish side character, gay black side character
Drinking, semi-public sex, anxiety, memory loss, familial estrangement, familial death, Homophobia, the AIDS crisis, racism, childhood neglect, arson
Book Depository
Audible
Crier's war by
Nina Varela
First-love, enemies
to lovers, revenge plot,
character raised to be a weapon,
Lesbian protagonist, bisexual protagonist,
wlw romance,
Potentially problematic representations of asexuality,
blood, hunting, sex overheard, death, grief, humans killed, descriptions of dead bodies – burned and beheaded, and murder fantasies

Book Depository
The Seven Husbands
of Evelyn Hugo by
Taylor Jenkins Reid
Famed in story, platonic life partners,
serial spouse
bisexual Cuban- American m
A Mixed-race (Black/White) protagonist
Lesbian love-interest
Gay side characters
Biphobia, Cancer
Car accident, Domestic abuse, Homophobia, Physical abuse
Racism,Sexism
Statutory Rape
Book Depository
Audible
Not my problem

by
Ciara Smyth
Enemies-to-lovers,
"can fix everyone except herself",
Lesbian protagonist, Lesbian main characters
Indian side character
Black side characters
Bisexual side character
Alcoholism, Bullying
Cheating, Gaslighting
Toxic friendships
Book Depository
She drives me crazy


by Kelly Quindlan
Enemies-to-lovers, fake dating, There's only one bed
Lesbian protagonist, lesbian Indian-American love interest, Black Side character
Toxic relationship,
bullying, car accident
Book depository
Cinderella is dead


By Kalynn Bayron
subverted fairy tale retelling, fighting the power
Black main characters*
Lesbian main characters
wlw romance
Gay side character
Animal death, Arranged marriages,
Corpse description, Death, Domestic abuse, Homophobia, Kidnapping, Misogyny,
Murder, Physical assault,
Selling people, Sexual assault
Book Depository
Cool for the summer


by Dahlia Adler
Long lost friend, summer romance, love triangle
Questioning main character
Russian/Jewish main character
Bisexual Syrian Jewish love interest
Biphobia, divorce
Book Depository
Girls of Paper and fire


by Natasha Ngan
Friends-to-lovers
Sapphic main characters
Asian main and side characters
Abduction, Abuse,Death,
Genocide, Murder, Prostitution (forced), Rape, Sexual assault, Sexism, Slavery, Torture, Violence
Book Depository
Hani and Ishu's guide
to fake Dating

By
Adiba Jaigirdar
Fake dating, grumpy/sunshine MC
wlw romance, bisexual Bangladeshi Bengali Muslim mc, Sapphic Indian Bengali MC
Islamophobia, biphobia, homophobia, racism, bullying, toxic friendships
Book Depository
Audible
A Dark and Hollow Star
by Ashley Shuttleworth
grumpy/sunshine MC, fae, political intrigue, outsider,
pansexual, lesbian, bisexual, gay, genderfluid characters
anger, arson, blood/gore, body horror (minor), death of a child, depression, disownment, divorce, drug use/addition, grief/grieving, human trafficking, poverty, psychopathy, stalking, suicide (past, off-page), suicidal ideation, toxic relationship/manipulations, trauma/PTSD, racism, violence/gun violence
Book Depository
You should see me
in a crown

by
Leah Johnson
Absent parents, outsider
Black main character, F/F relationship
Mental health
Anxiety, Bullying
Death (parental), Disease,
Cancer, Chronic illness (family),
Forced outing, Homophobia,
Hospital, Needles, Racism,
Panic attacks
Book Depository
Ivy Aberdeen's Letter
to The World by
Ashley Herring Blake
Flawed characters, messy family relationships,
WLW main character
Black queer side character
Bisexual side character
Queer side character
Divorce (mentioned)
Homelessness
Leukemia (past)
Natural disasters
Book Depository
The Good Girls by
Claire Eliza Bartlett
slow burn, small
town, head cheerleader, notorious party girl,
Lesbian character, bisexual character
Abuse, Eating disorder
Grooming, Gun use, Rape
Murder, Pedophilia, Predatory
teacher, Sexual assault, suicide
Barnes and Noble
The Henna Wars by
Adiba Jaigirdar
Enemies-to-lovers, long lost friend
rival business,
wlw romance, Bengali Muslim lesbian main character*
Afro-Brazilian Irish bisexual love interest, Korean side characters
racism, homophobia, bullying, and a character being outed
Book Depository
Audible
Her Royal Highness
by Rachel Hawkins
Royalty, room mates, boarding school
enemies-to-lovers
wlw romance, bisexual mc, lesbian love interest
Alcohol use, Cheating, Death (parental, recalled)
Lesbophobia
Book Depository
Audible
The Falling in Love
Montage by Ciara
Smyth
Grumpy/sunshine MC
lesbian mc, wlw romance, mental health
Dementia (early-onset, hereditary)
Disabled sibling
Parental abuse
Book Depository

Love Frankie by Ciara
Smyth
enemies to lovers, secret romance
Lesbian MC, wlw romance
Chronic illness (MS), bullying
Book Depository
We set the dark on
fire by Tehlor Kay
Mejia
Love triangle,
enemies-to-lovers, dystopian, fighting the power
Latinx, queer characters, wlw romance
abusive relationship, Assault,
Blood, Bombing, Death, Guns,
Knives, Homophobia, Murder,
Police brutality, Protests (violent),
Sexism, Terrorism, Torture, Violence
War, Xenophobia
Book Depository
Ruinsong by Julia Ember
Enemies to lovers, magic
wlw romance
fatshaming, violence, cancer,
child abuse, animal death ,
blood, torture, vomiting.
Book Depository
Not your sidekick
by C.B. Lee
Friends to lovers, superheroes
Chinese-Vietnamese main character, Bisexual main character, F/F romance, Black side character, Trans side character, Latinx side character
Kidnapping, Racism,
Violence
Book Depository
These Witches
Don't Burn
by Isabel Sterling
Friends to lovers, witches
lesbian main character, bisexual love interest, transgender side character, queer side characters
Animal sacrifice, Arson,
Blood, Car accident,
Character death (family),
Gun violence, Homophobia,
Sexual harassment
Book Depository
When we were magic
by Sarah Gailey
Friends to lovers, slow burn
Supportive same sex parents, bisexual main character, queer characters, adopted character,Filipina rep, Afghani rep, Muslim rep
Blood, Body horror, Death,
Gore
Book Depository
This Poison Heart by
Kalynn Bayron
Insta-love,
queer Black main character, supportive same sex parents, wlw romance
Attempted murder, Death,
Blood, Murder, Poisoning,
Violence
Book Depository
Honey Girl by
Morgan Rogers
Accidental wedding, friends to lovers, found family
Black lesbian, Japanese American lesbian love interest, wlw romance, trans side character
Mental illness, self harm, homophobia, racism
Book depository
Those were my picks for WLW books
Not my problem
by Ciara SmythShe drives me crazy
by Kelly QuindlanCinderella is dead
By Kalynn BayronCool for the summer
by Dahlia AdlerGirls of Paper and fire
by Natasha NganHani and Ishu's guide to fake Dating
By Adiba JaigirdarA Dark and Hollow Star by Ashley ShuttleworthYou should see me in a crown
by Leah JohnsonIvy Aberdeen's Letter to The World by Ashley Herring Blake
There are so many incredible wlw Books. And this post really is just the tip of the iceberg.
Everyone should have LGBTQ+ Books on their bookshelves. Diversity makes books better.
What are your favourite wlw books?
This post was all about wlw books to read