Are you looking for LGBTQ+ Books like Red, White and Royal Blue? Discover the absolute best books like Red, White and Royal Blue that you're guaranteed to absolutely love!
Royalty, fake friendship and tabloid rumours. If you're anything like me then you probably love Red, White and Royal Blue. Is it even possible for a book to make you happier than this Good Reads Choice Award winner? Well, lucky for us, there are some incredible LGBTQ+ books like Red, White and Royal Blue.
In this post I recommend 8 incredible books Casey Mcquiston fans will love (plus get my FREE printable LGBTQ+ bookmarks and quiz to help you decide what to read next!)
The real question is – will Texas go blue?
In the name of full transparency, please note that this post contains affiliate links and any purchase made through such links will award me a small commission at no extra cost to you. If you choose to purchase anything through my links, thank you for supporting me and my blog.
Here are the best LGBTQ+ books like Red, White and Royal Blue
The Best LGBTQ+ books like Red, White and Royal Blue You Need to Read
I asked book lovers on social media to share their favourite LGBTQ+ books. And they did NOT disappoint with their responses! I then edited the list to find books with similar tropes, romance or writing style to Red, White and Royal Blue. These are all books I have personally read and can recommend.
If you're looking for books similar to others, hold up just a minute. I have posts based on other books you might also want to check out.
Here are the best lgbtq+ books like Red, White and Royal Blue in order of popularity:
The Top 12 LGBTQ+ Books like Red, White and Royal Blue
If you love Casey McQuiston's writing style
If you've read Red, White and Royal Blue and you haven't read One Last stop – I highly recommend you pick this one up. This was easily the most recommended LGBTQ+ book on this list.
One Last Stop follows August. She's a cynical 23 year old who is trying to survive in New York. But then she meets this gorgeous girl on the train.
Jane.
Jane is dazzling, mysterious and insanely charismatic. But there's one problem. She's literally displaced in time from the 1970s.
There are so many good things about this book. The chaotic roommates and the friendships are incredible. The writing is really funny with great banter. Plus the food imagery is droolworthy.
---
If you're looking for a cute romance and a graphic novel
The YA Contemporary Graphic Novel Series is about a teen romance in high school. And it includes an adorable romance, a supportive friendship group and the most stunning graphics!
The book series follows Charlie Spring and Nick Nelson. Charlie Spring is an openly gay student in year 10. And he meets Nick Nelson a soft-hearted rugby player in year 11. They quickly become friends. But could there be something more?
Alice Oseman wrote and illustrated the graphic novel series. She is insanely talented and was a highly recommend author. She secured her first publishing deal at just 17 years old!
The graphics are stunning! It's also one of the best friends-to-lovers romances I've read. The trope is executed perfectly in this book.
---
If you're looking for a book with serious fall vibes
Cemetery Boys follows Yadriel whose traditional Latinx family has problems accepting his true gender.
Yadriel is determined to prove himself. So he performs a ritual to become a Brujo. He performs a ritual. And then he sets out to find the ghost of his murdered cousin.
But he actually summons Julian Diaz. The school's resident bad boy. And he won't go quietly. But the longer Julian stays, the less Yadriel wants him to leave.
This book is a really unique – it's a great mix of mystery and magic. The mystery intially sells the book. But the characters are what really sells this book.
---
If you're looking for a contemporary historical fiction
Evelyn Hugo is one of the best bisexual characters. There is so much hype around this book but it definitely lives up to it.
It follows an ageing movie icon, Evelyn Hugo. She is ready to tell the truth on her scandalous life. But she chooses an unknown reporter to tell the story. Why her?
There is no combination of words I can type that will accurately describe how brilliant this book is. I'm just going to leave you with a quote:
" I'm bisexual. Don't ignore the half of me so you can fit me into a box Monique. Don't do that."
---
Please read Felix Ever After! It is one of the best books of LGBTQ+ books!
I'm confident that fans of RWRB will really love this book with it's adorable romance, supportive friends and gripping plot.
Felix Ever After is an own voices book featuring a black, queer and transgender main character.
It follows Felix Love who has never been in love. And he is desperate to experience it. An anonymous student starts sending him transphobic messages. And the student publicly posts Felix's deadname. Along with photos of him before his transition. Felix decides to plot revenge. But his catfishing lands him in a love triangle.
Kacen Callender wrote Felix Ever After. Callender also won the Stonewall Book Award and Lambda literary award for Hurricane Child. Callender does a particularly good job at discussing difficult topics well such as class disadvantage, transphobia and body dysmorphia.
This book features another adorable friend to lover m/m romance. Felix Ever After is an absolute must-read.
For Fans of the Fake Dating and Grumpy/Sunshine tropes
If you enjoy the fake dating trope – I guarantee you will love Hani and Ishu's Guide to Fake Dating!
Hani is bisexual but she is having trouble getting her friends to believe her. Ishu wants to be Head Girl. They decide to fake date so that Hani's friends believe she is bisexual. And to help Ishu in her Head girl campaign.
This book had me laughing out loud so many times. It has the perfect combination of a grumpy and sunshine main character.
The fake dating trope is executed perfectly – it leads to so many funny moments. And both characters learn from each other.
---
If you're looking for a book about mental health, burnout and found family
Honey Girl follows Grace. She's just completed her PhD in astronomy. She goes on a girls trip to Las Vegas and accidentally marries another woman. But she doesn't even know her name. And this is very uncharacteristic of Grace.
Meanwhile Grace is struggling under the weight of her ex-military father's expectations. And she starts to wonder why she doesn't feel more fulfilled from completing her degree. So she leaves home and decides to spend the summer with the wife she barely knows.
This book has so many tropes and elements that are really relatable. The main character suffers mental health issues and burnout after tirelessly working on her degree. This is something many can probably identify with. It also features an adorable friends and the found family trope.
The writing style is more adult and so this won't suit everyone. But many will really enjoy this sapphic romance.
---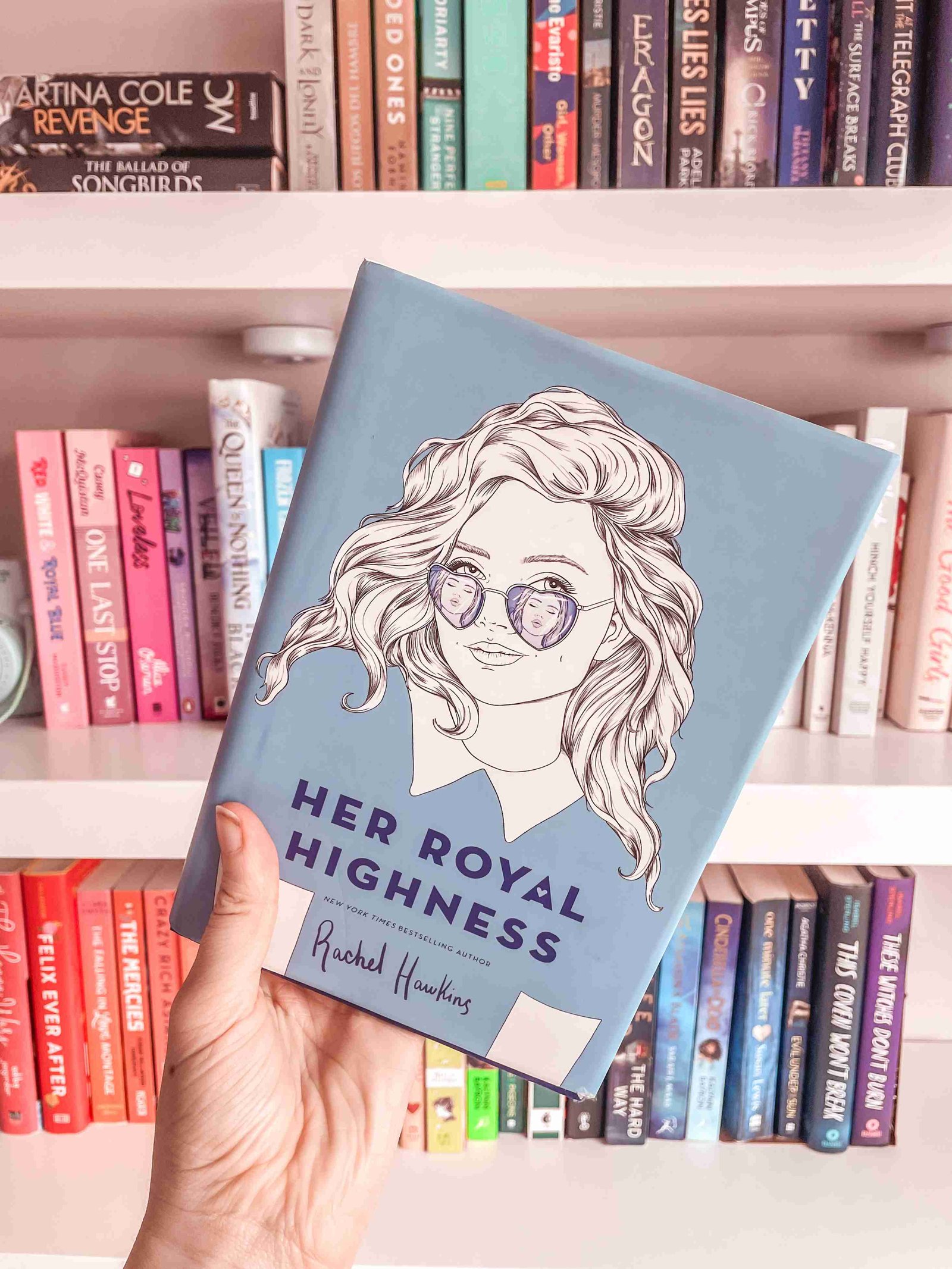 If you love the enemies-to-lovers, royalty and room-mates trope
Her Royal Highness has some serious Red, White and Royal Blue Vibes.
Not only does it include the enemies-to-lovers trope. But it also features the room-mates trope, royalty, an ex-girlfriend and a posh boarding school.
Oh, and did I mention it's all set in stunning Scottish highlands.
The book follows Millie who is heartbroken when she discovers that her kinda girlfriend has been kissing someone else. After getting into a super elusive boarding school, she moves to Scotland. And this is where she meets Princess Flora.
It's a sweet, lighthearted and irresistibly charming book. You can easily binge-read it in one sitting. If you haven't read it you absolutely need to.
If you're looking for lgbtq books about royalty then I have a whole blog post full of recommendations. You can check out my top picks for lgbtq books with royalty here
---
A powerful read about gender identity, family issues and mental health
It follows Ben De Becker as they come out as nonbinary to their parents. Ben is then thrown out of their house and struggles with anxiety coupled with their parents' rejection. Ben becomes friends with Nathan who takes Ben under his wing.
This is the most beautiful debut novel. Mason Deaver is best selling author. And he was nominated for a GoodReads Choice Award for I Wish You All The Best.
The depiction of mental health struggles in this book is perfect. Also, the writing style is excellent. You can really feel how this is an own voices book. It's an honest depiction of the complexity of coming out and falling in love as a non-binary person.
---
If you're looking for a wlw enemies to lovers with a school competition
The Henna Wars is incredible! It's an own voices, YA Contemporary book featuring a Muslim, Bangladeshi, lesbian main character
The Henna Wars follows Nishat as she comes out to her parents as a lesbian. They're happy for her to be whoever she wants to be. As long as she isn't herself – because Muslim girls aren't lesbians.
Her life becomes harder when she is reacquainted with a childhood friend – Flavia. Especially when in a school competition they both decide to start their own henna business.
Adiba Jaigirdar wrote The Henna Wars. She's a Bangladeshi, Irish writer who has been living in Dublin, Ireland from the age of 10.
This book includes a lovely queer f/f romance. But it's also so much more than a romance
It navigates homophobia, bullying, racism and cultural appropriation. It also includes one of the best main characters in Nishat. Nishat bravely deals with so many things being thrown at her.
But it still manages to remain a cute, funny and romantic debut novel. Please pick it up and read it!
---
If you're looking for a cute friendship
I am obsessed with Alice Oseman. But with good reason! Radio silence is a incredible book about friendship and mental health.
Frances has always been focused on studying and getting into university. But then she meets Aled and they instantly become friends. But when the trust is broken Frances has to confront her past. And her guilty secret.
One thing Alice Oseman does really well is that she writes the most beautiful friendships. Aled and Frances are one of my all-time favourite fictional friendships. A bisexual girl and a demisexual boy in a m/m relationship.
I listened to this as an audiobook and I would 100% recommend it. The podcast theme that runs through the book really lends itself to the audiobook format. And it felt like it was meant to be listened to.
---
If you're looking for a historical fiction and a mythological romance
The writing style in a Song of Achilles is very different to the other books on this list. And it seems to be a book that divides readers. However, many Red, White and Royal Blue fans really enjoy this book. And I personally think it's because the mlm romance is adorable.
The book follows Achilles and Patroclus. Achilles is handsome, strong and irristable to all who meet him. While Patroclus is an awkward young prince exiled from his homeland.
They are trained by the centaur Chiron in the arts of war and medicine. But they discover that Helen of Sparta has been kidnapped. All the heroes are called upon to lay siege to Troy. Achilles joins their cause. And Patroclus follows. But the years that follow will test everything.
Song of Achilles wasan international bestseller. And I'm not surprised. The way Madeline Miller depicts the strong and passionate romance between Achilles and Patroclus is incredible. The writing is beautiful and will have you sobbing like a child.
---
More LGBTQ+ Books like Red, White and Royal Blue
LGBTQ+ Books with the enemies-to-lovers trope
A summer sports romance with an enemies to lovers twist
This book follows Sebastian Hughes who is going to a summer training camp. And he is a member of an incredible team where he can be open about his sexuality. But Emir, an old best friend who hates his guts, is also at the camp.
I love how this book deals with sexuality in sports! Also, it includes the sweetest and most wholesome queer love story.
The author is Julian Winters. He started writing because he couldn't find any books with people like him.
Running with Lions won accolades for its positive depictions of diverse, relatable characters. The relationships between the football team are insanely heartwarming. Sebastian's team is a multiethnic group with many different sexual orientations and they almost become a family.
You could easily binge read this and it's a fantastic summer read.
---
Books with Comedy Romance
If you're a fan of snarky, British humour
Boyfriend Material is a queer romance featuring the fake dating trope. If that sentence doesn't sell you on this book I really don't know what will.
This book seemed to explode in popularity on Instagram. And when I saw the synopsis it instantly reminded me of Red, White and Royal Blue.
Boyfriend Material follows Luc O'Donnel who is reluctantly famous due to his rockstar parents. A compromising photo is released. And he is forced to clean up his image. He strikes a deal with clean-cut Oliver Blackwood. They will be fake boyfriends until everything calms down.
It's written by Alexis Hall an English author who has been nominated for a slew of awards for his books.
The writing is excellent and it's genuinely very funny.
LGBTQ+ Romance Books like Red, White and Royal Blue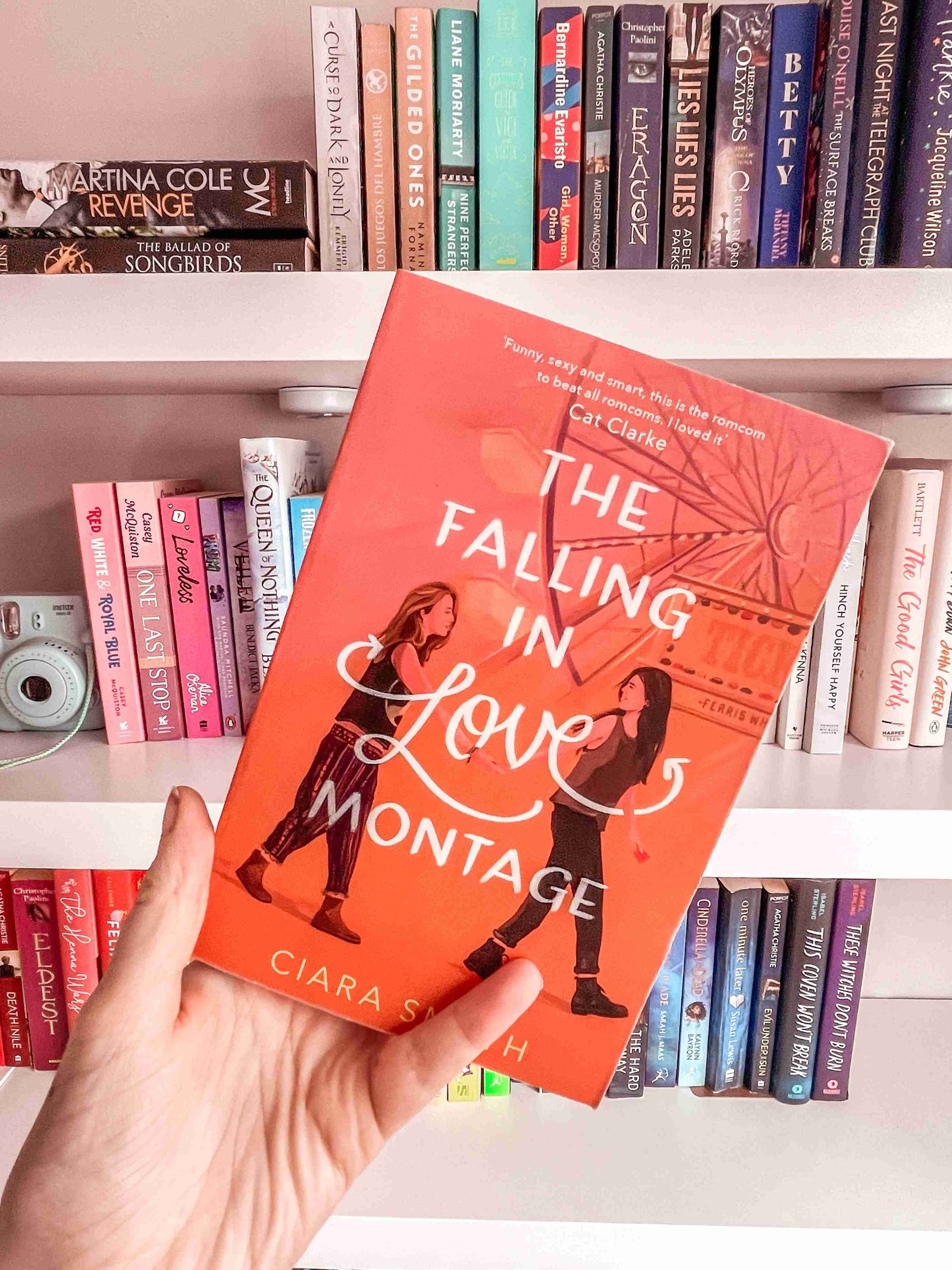 If you love 90s and 00s romcoms
The Falling in Love Montage is a YA Contemporary. It gives the nineties and noughties romcoms a modern twist.
The Falling In Love Montage follows Saoirse. She is struggling to cope because her mother is in a home with dementia. Also, it's a hereditary condition. One day she might inherit it. So she doesn't really see the point in a relationship. Until she meets Ruby at a party. And they decide to have a relaxed summer fling.
Ciara Smyth wrote The Falling in Love Montage. And she previously worked as a mental health trainer. This definitely comes across in the book. And it deals with many mental health issues. It also deals with the consequences of early-onset dementia.
The debut novel balances mental health struggles perfectly with adorable romance.
I almost included this in comedy romance – it really made me laugh. But the emotions seriously snuck up on me. And I was in floods of tears by the end.
If you love a good rom-com then you should read this debut novel!
If you're looking for funny banter and great chemistry
The whole Brown sisters series is absolutely incredible. The writing style is very easy to read. And I also love the characters and the chemistry they have.
It follows Danika Brown. She wants professional success. But romantic partners, whatever their gender, are a distraction.
So she asks for a friend with benefits.
When brooding security guard Zafir Ansari rescues Dani from a workplace fire drill gone wrong, it's an obvious sign.
Her plan is simple. fake a relationship in public, seduce Zaf behind the scenes.
LGBTQ+ Contemporary books like Red, White and Royal Blue
A coming of age story about the power of drag
The Black Flamingo is a coming of age story about a mixed-race, gay teenager finding his identity and the power of drag. It is written in beautiful verse.
This LGBTQ+ YA Book is an empowering and joyful read about race, identity and pride. It deals with so many different issues such as race, racism, gender identity, sexuality and internalized homophobia.
I listened to The Black Flamingo as an audiobook. Dean Atta wrote the book and also narrates the audiobook. Atta has been writing and performing for over 10 years. This really comes across in the audio version.
A powerful read. It also has some really lovely, lighthearted moments in it. The Black Flamingo is truly unique.
LGBTQ+ Fantasy Books Like Red, White and Royal Blue
If you're looking for an LGBTQ+ book with magical forest imagery
I saw this book recommended on Riley Marie's Youtube Channel. And I'm so glad she recommended it.
This book follows a forest guardian. He is tasked to look after the forest. A man moves into the house in the forest. And they fall in love.
From the very start, the writing was beautiful. And the imagery in the forest is whimsical and enchanting.
If you like the cottagecore aesthetic you'll probably really enjoy this book. I listened to the audiobook. And the duology is only 5 hours so it's a really quick listen.
Comparison table and where to buy the books:
Name
Tropes
Representation
Trigger Warnings
Where to buy/Read
Red, White and Royal Blue by Casey Mcquiston
Fake Friendship, Royalty,
Enemies to lovers, secret relationship
supportive parent
Bisexual MC, Gay mc, mlm romance,
Mexican MC
Addiction, homophobia, forced outing, invasion of privacy, neglect, sexual abuse, sexually explicit scenes
Book depository
Audible
One Last Stop by
Casey Mcquiston
Time Travel, found family
Opposites attract
wlw romance, bisexual MC with anxiety, Chinese-American love interest, Black sapphic side character,Puerto Rican trans side character, Gay Jewish side character, gay black side character
Drinking, semi-public sex, anxiety, memory loss, familial estrangement, familial death, Homophobia, the AIDS crisis, racism, childhood neglect, arson
Book Depository
Audible
Heartstopper by
Alice Oseman
Found Family, Friends to
Lovers, First Love, coming of age
mlm romance, gay mc, bisexual mc, wlw side characters, Transgender side character
Homophobia, Eating disorder
Self-harm, bullying
Book Depository

Cemetery Boys
by Aiden Thomas
Absent parent, hate at first sight, slow burn, grumpy/sunshine, opposites attract
Mexican*-Cuban*-American gay* trans* main character, Colombian-American gay*, love interest with ADHD, Puerto Rican-Mexican*-American side character
Blood magic (referenced),
Deadnaming, Death,
Gender dysphoria, Homophobia, Misgendering of a trans character, Transphobia
Book Depository
Audible (Spanish)
The Seven Husbands of Evelyn Hugo by
Taylor Jenkins Reid
Famed in story, platonic life partners,
serial spouse
bisexual Cuban- American m
A Mixed-race (Black/White) protagonist
Lesbian love-interest
Gay side characters
Biphobia, Cancer
Car accident, Domestic abuse, Homophobia, Physical abuse
Racism,Sexism
Statutory Rape
Book Depository
Audible
Felix Ever After
by Kacen Callender
Revenge plot, love triangle, friends to lovers
Transgender MC, mlm romance, gay mc
Bullying, Deadnaming,
Homophobia, Misgendering
Outing, Racism, Transphobia
Book Depository
Audible
Hani and Ishu's Guide to Fake Dating by
Adiba Jaigirdar
Fake dating, grumpy/sunshine MC,

wlw romance, bisexual Bangladeshi Bengali Muslim mc, Sapphic Indian Bengali MC
Islamophobia, biphobia, homophobia, racism, bullying, toxic friendships
Book Depository
Audible
Honey Girl by
Morgan Rogers
Accidental wedding, friends to lovers, found family
Black lesbian, Japanese American lesbian love interest, wlw romance, trans side character
Mental illness, self harm,homophobia, racism
Book depository

Her Royal Highness
by Rachel Hawkins
Royalty, room mates, boarding school
enemies-to-lovers
wlw romance, bisexual mc, lesbian love interest
Alcohol use, Cheating, Death (parental, recalled)
Lesbophobia
Book Depository
Audible

I Wish you all the Best
by Mason Deaver
Friends to lovers, coming out
Disaster MC
bisexual mc, Non binary protagonist, Black love interest
Transphobia, homophobia, misgendering, child abuse
Book Depository
The Henna Wars
by Adiba Jaigirdar
Enemies-to-lovers, long lost friend
rival business,
wlw romance, Bengali Muslim lesbian main character*
Afro-Brazilian Irish bisexual love interest, Korean side characters
racism, homophobia, bullying, and a character being outed
Book Depository
Audible
Radio Silence
by Alice Oseman
Absent parent/family member
coming of age story, platonic friendship

bisexual mc, asexual mc
Anxiety, Animal death, Emotionally abusive parent
Book depository
Audible
Song of Achilles
by Madeline Miller
Friends to lovers, childhood friends,

mlm romance
Abduction, Abandonment, Child abuse, Death, Murder
Physical violence, Plague (mentioned, graphic), Rape (mentioned), Self-harm
Slavery, Torture, War
Book Depository
Audible
Running with Lions
by Julian Winters
Enemies to lovers, long lost friend
bisexual mc, mlm romance
Islamophobia, Coming out themes, Fat-shaming & internalised body-image issues
Alcohol consumption, Bullying
Book Depository

Boyfriend Material
by Alexis Hall
Fake dating, enemies to lovers
opposites attract
mlm romance
Body shaming, Cancer, Disordered eating, Homophobia, Parental abuse
Workplace discrimination
Book Depository
Audible
The Falling in Love Montage by Ciara Smyth
Grumpy/sunshine MC
lesbian mc, wlw romance
Dementia (early onset, hereditary)
Disabled sibling
Parental abuse
Book Depository

Take a Hint, Dani Brown
by Talia Hibbert
Fake dating, friends to lovers
opposites attract
bisexual mc, m/f romance, Black MC, Muslim MC
Car crash, Death (parent and sibling, mentioned/discussed)
Grief, Panic attack, Sex
Book depository
Audible
The Black Flamingo
by Dean Atta
Coming of Age story,
Mixed MC, Gay MC, Lesbian supporting character
Alcohol, Bullying
Drug use, Homophobia , Physical abuse, Racism (internalized), Toxic masculinity
Book depository
Audible
Silver in the Wood
by Emily Tesh
Friends to lovers, opposites attract, grumpy/sunshine, slow burn
mlm romance
physical injuries (gunshot wounds), murder & attempted murder, kidnapping, gun violence, knife violence & stabbing, and disappearance of a loved one
Audible
Amazon
Those were my picks for LGBTQ+ books like Red, White and Royal Blue
"On purpose. I love him on purpose".
Whether you're an avid queer literature fan, Red, White and Royal Blue Fan or just someone looking for book recommendations –I sincerely hope you found a new book to read!
There are so many truly incredible LGBTQ+ books out there to enjoy and I think queer literature should be enjoyed by everyone!
What are your thoughts? What books like Red, White and Royal Blue would you recommend?
This post was all about LGBTQ+ books like Red, White and Royal Blue
Other posts you might like
The best LGBTQ+ YA Books
These recommendations for LGBTQ+ Book Blogs to follow
Must-Read Bisexual books
This post with the best lesbian books
Some wlw books you should read
Insanely thrilling LGBTQ+ YA Fantasy books
If you liked this post please share on pinterest: