Looking for books with fae? Leap out of this world and into the pages of one of these incredible fantasy fae books to read!
Are fae the new vampires? Whether you call them fae, faery or fairies – fae are mythical creatures who generally have great magical powers. And they've long been an obsession in literature. But recently, my feed has been bombarded with fae books. And honestly, I'm not mad about it because I love books featuring fae or faerie. So I've compiled my top picks for the best fantasy books with fae.
In the name of full transparency, please note that this post contains affiliate links and any purchase made through such links will award me a small commission at no extra cost to you. If you choose to purchase anything through my links, thank you for supporting my blog.
Here are the absolute best books with fae
My top picks for the best books with fae
If you're a fan of Crescent City or Sarah J Maas
If you're a fan of Crescent City you definitely need to read a Dark and Hollow Star. This is one of my top books in 2021!A Dark and Hollow Star is an urban fantasy, with fae, queer main characters and a wlw romance.
A series of gruesome murders threatens to expose the faerie world to humans. Four queer teens – Nausicaä, Arlo, Vehan, and Aurelian – each hold a piece of the truth. And they must track down the mysterious killer.
The characters are what makes this book. Nausicaä is a very grumpy, sarcastic and chaotic lesbian. And I loved her instantly Although there are multiple POVS it still works really well. And it's still fairly easy to follow.
I listened to the audiobook version which you can find on audible. It features a full cast of narrators which made it really engrossing. And you can listen to it on Audible with a free trial. Or you can buy a physical copy on Book Depository where they conveniently have free shipping worldwide – you can buy it here.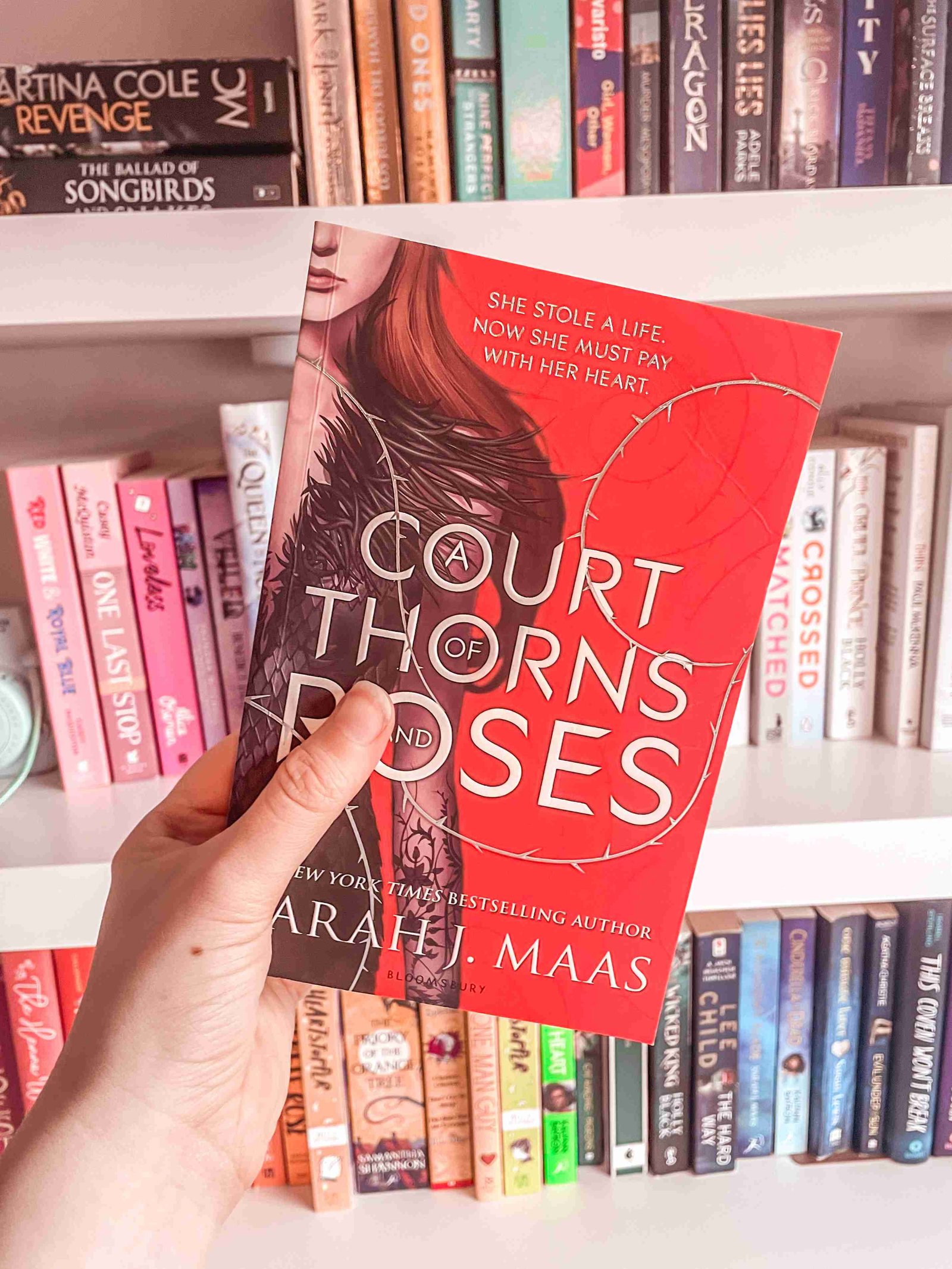 If you like retellings, the found family trope and enemies to lovers romance
I couldn't write a series about fae and not mention this book. The series has one of the best enemies to lovers romances and the found family trope is executed really well.
A Court of Thorns and Roses is a Beauty and the Beast retelling. It follows Feyre. She is really poor and lives with her father and two sisters. She has to hunt to care for the family.
One day she sees a deer and can't resist killing it to sell. But it was actually a faerie she murdered. And the owner comes to kidnap her to live at the castle as punishment.
It is a bit slow. Sarah J Maas does dump a lot of information about the fantasy world on you. . But stay with it – I promise you it gets so much better. The second book is definitely the best in the series where many of my favourite characters are introduced. And conveniently you can buy it on Book Depository with free shipping worldwide – get a Court of Thorns and Roses here.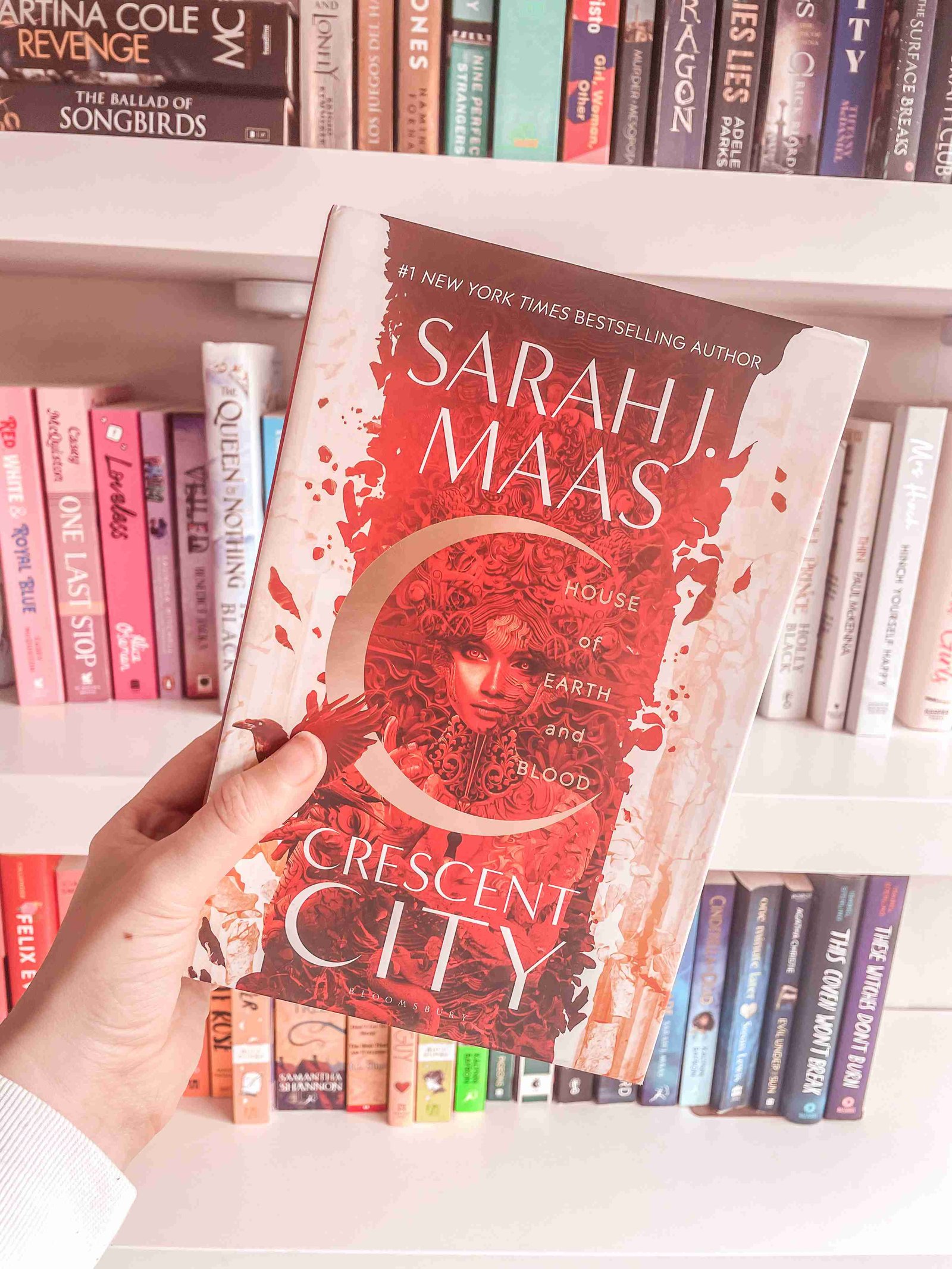 If you're looking for an urban fantasy with shocking twists
Crescent city is set in an urban city. And it features a number of different mythological creatures such as mermaids, fae and wolves.
It's hard for me to describe the plot without giving massive spoilers. It follows Bryce. She is a mix of human and fae. And she is tasked with investigating a series of crimes with Hunt Athalar – a fallen angel. But they discover some dark powers at work.
I'm going to link to the Good Reads page below but I personally find the summary quite spoilery. I hadn't read the synopsis before and was on the edge of my chair.
I absolutely adored the twists and turns throughout the story. The characters were incredible and draw you in right from the start. It also poses a number of mysteries that keep you hooked to find out what happens right until the very end. And you can get it on Book Depository with free worldwide shipping.
If you're looking for autumnal cottagecore vibes
I came across An Enchantment of Ravens while looking for cottagecore books to read for another post. And I absolutely loved it.
It follows Isobel who paints stunning portraits for the dangerous fair folk. One day she creates a portrait of the Autumn Prince. But she makes a deadly mistake. She paints humanity in his eyes. And for that, she has to be punished.
I loved the imagery in this book. It's full of magical woodland imagery. It also has a lot of Autumnal imagery because the Autumn Prince features so prominently.
I also instantly really loved Isobel. She's down to earth, practical and incredibly kind. You can buy this on Book Depository and they offer free worldwide shipping – you can get it here. You can also read the ebook version on Scribd with a free 30 day trial
If you're looking for a coming of age tale with fae
The Iron King is an incredible YA Fantasy book with fae, an enemies to lovers romance and a strong female lead. Fans of Holly Black should definitely read it.
The Iron King follows 16-year-old Meghan Chase. Her father disappeared mysteriously when she was six years old. And ever since, something has been off.
But things start to change drastically. And Meghan will have to learn just how far she'll go to save someone she truly cares about.
I think The Iron King is a book that will divide readers. Some will really not like it. But personally, I really enjoyed this book. The setting is beautifully described. And Meghan is a great heroine. She's not perfect but a very realistic 16-year-old.
This book takes many characters from classic literature and myths (such as a Midsommer Night's Dreame) and modernises it in this coming of age story. Some of the characters are retold in a YA context. If you're a Shakespeare fan then you might not like this. But if you love YA Fantasy books with fae then you should definitely read this one. You can also read this on Scribd – they offer a free trial for 30 days.
If you're looking for a queer love story in a magical forest
Silver in the wood is a queer love story and forest fairy tale featuring fae. It references mythological creatures such as dryads and faeries. But the magic is much more subtle compared to other books on this list.
This book follows a forest guardian. He is tasked to look after the forest. A man moves into the house in the forest. And they fall in love.
From the very start, the writing was beautiful. And the imagery in the forest is whimsical and enchanting.
If you like the cottagecore aesthetic you'll probably really enjoy this book. I listened to the audiobook on Audible. And the duology is only 5 hours so it's a really quick listen on Audible – check it out here.
7. Ash by Malinda Lo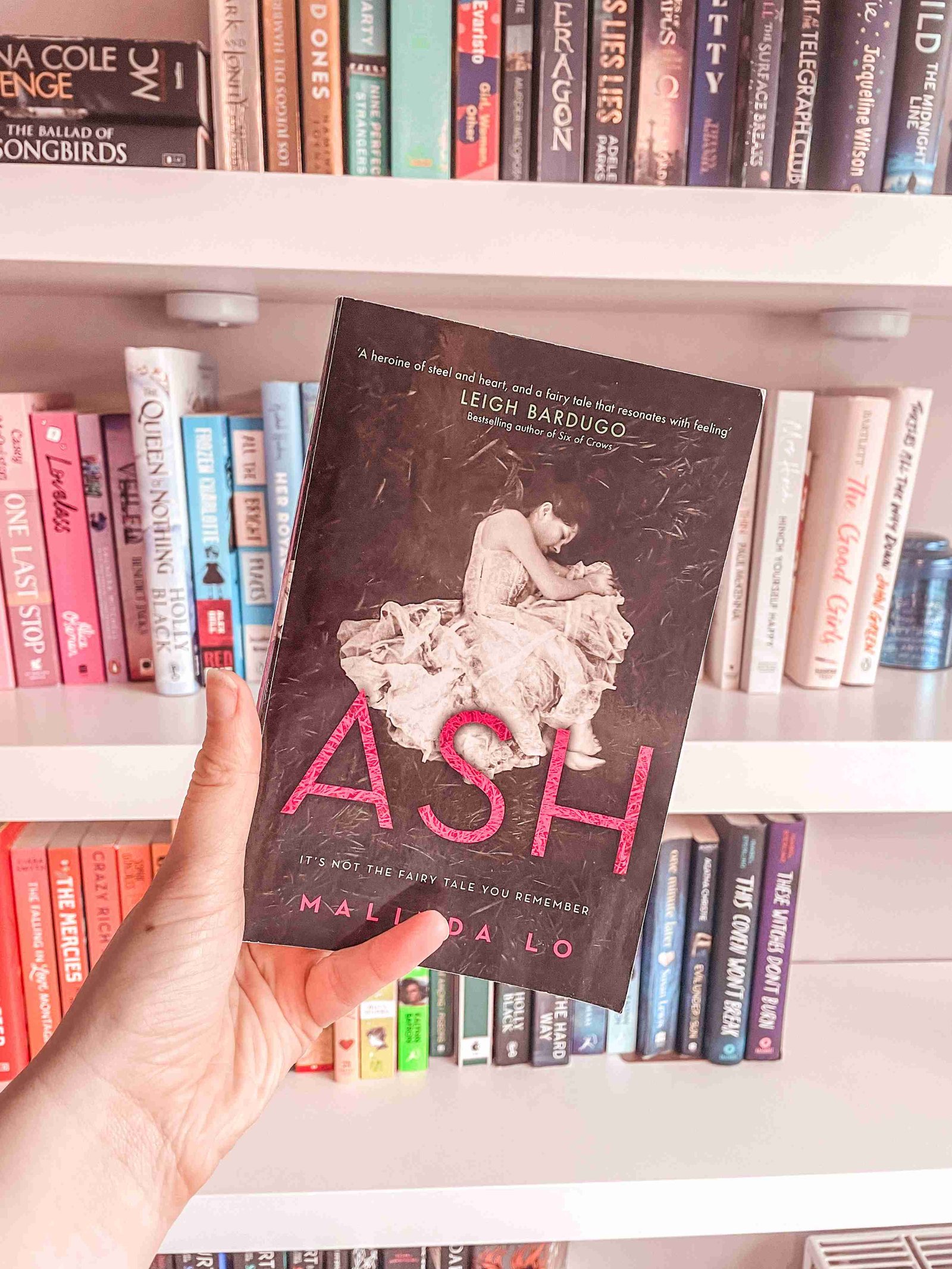 If you're looking for an LGBTQ+ Cinderella retelling
Ash is a book I'm always torn about. But I had to include it because I love the cottagey world building in this book.
Ash is a lesbian Cinderella retelling. It follows Ash who is dealing with the grief of losing her parents. She falls in love with the king's huntress.
I loved the descriptions of the world such as the woods and the fae. I instantly really loved the King's Huntress. But, I wish that the romance had been a little better developed. However, this is a cosy read and offers great escapism. It's pretty short and you could easily read this in one sitting.
Buy Ash here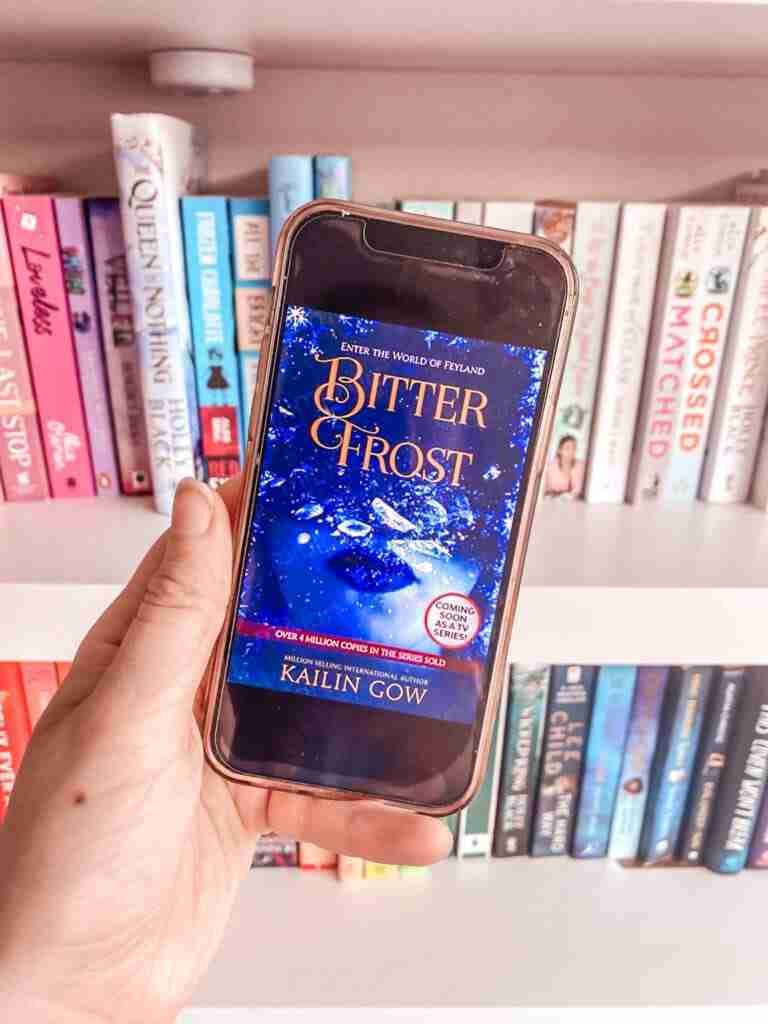 If you love an enemies to Lovers romance or A Court of Thorns and Roses
Bitter Frost is an amazing book featuring memory loss, beautiful forest imagery and of course Fae. It follows Breena. She has always dreamed of fairies as though she lived among them.
In her dreams, there was always a handsome but dangerous Prince named Kian. But when she turns sixteen she starts seeing strange creatures. And her best friend Logan becomes very protective.
There were a few elements I didn't like about this – Breena seemed a bit 'not like other girls'. There were a few comments on other 'popular girls' appearances that I didn't appreciate and weren't necessary.
But, it's a really captivating fae book. The twists are incredible and the pacing is perfect It was hugely successful – winning awards and selling over 4 million copies.
If you're a fan of A Court of Thorns and Roses you should definitely read this as it references Summer and Winter courts. You can read an ebook version of this on Scribd – they also offer a free 30-day trial. If you prefer a physical book you can also get this conveniently from Amazon.
If you're looking for a faerie book about the relationship between a grandmother and her grand daughter
Please don't let that cover put you off! The book cover really doesn't do this beautiful book justice! The Wild Hunt is different to many other fae books I've read. The central theme was about the love a granddaughter can have for her grandmother. Whereas many books with fae seem to focus on romance.
The Wild Hunt follows Lily Boyd. It starts as a simple story. A girl visiting her grandmother. But her grandmother starts acting strangely. And Lily discovers her grandmother is a faerie doctor. And there is a lot more to her than Lily realised.
The writing style isn't the best. There are a few issues with the editing. And that might put some readers off. But it's an engaging story and the plot is excellent. You can buy The Wild Hunt on Book Depository and they have free worldwide shipping – buy it here. It's also available on Scribd and they have a free 30-day trial.
If you're looking for a fantasy book with a strong female lead and lots of twists
Holly Black is the queen of fae books! I've read a few but my personal favourite is the folk of air series – made up of The Cruel Prince, Wicked King and Queen of nothing.
It follows Jude who is a human. As a child, she gets kidnapped with her two sisters and taken to live with the fae in the woods. She grows up wanting to be like the wicked fae she lives with.

There are a few elements that make this series so incredible. Jude is an incredibly strong female lead and an absolute badass. The enemies to lovers romance is excellent! Many list the couple from this series as their favourite bookish couple. The Wicked King is definitely the best book in the series and is an absolute rollercoaster with lots of twists and turns.
So those were my top picks for the best books with fae
Whether you're looking for a fae romance, mythology or just a new fantasy book – I hope you found a new book to read.
What books with fae would you recommend? Let me know in the comments below!
This post was all about books with fae
Other posts you might like