Looking for the best YA Urban Fantasy books? Here are 20 Binge-worthy YA Urban Fantasy books you won't be able to put down
This post may contain affiliate links, which means I'll receive a commission if you purchase through my link, at no extra cost to you.
There are so many incredible YA urban fantasy books. An Urban fantasy book is a fantasy set in the real world, often in the present day. And I honestly think YA urban fantasy is one of the most thrilling and binge-worthy book genres to read. What makes urban fantasy books so engrossing is that they combine fantastical worldbuilding with the grounding of a YA contemporary novel.
So whether you're looking for a dystopian book or a YA Urban fantasy book with fae, here are the absolute best YA Urban Fantasy books.
In the name of full transparency, please note that this post contains affiliate links and any purchase made through such links will award me a small commission at no extra cost to you. If you choose to purchase anything through my links, thank you for supporting my blog
What are the best YA Urban Fantasy books?
1. A Dark and Hollow Star by Ashley Shuttleworth
If you're a fan of Crescent City
This is one of my top books in 2021! A Dark and Hollow Star is an urban fantasy, with fae, queer main characters and a wlw romance.
A series of gruesome murders threatens to expose the faerie world to humans. Four queer teens – Nausicaä, Arlo, Vehan, and Aurelian – each hold a piece of the truth. And they must track down the mysterious killer.
The worldbuilding in this book is incredible. The fantasical fae elements are woven perfect into the modern Toronto. I thoroughly enjoyed the imagery around the courts. And also how the magical world is kept secret from humans.
However, the characters are what make this book so perfect. I personally love Arlo and Nausicaä. Nausicaä is a grumpy, chaotic and sarcastic lesbian. Together they have the perfect grumpy/sunshine slow-burn vibe. I listened to the audiobook which features a full cast of narrators- you can listen to it on Audible with a free trial. Or you can buy a physical copy on Amazon – you can buy it here.
2. We set the dark on fire by Tehlor Kay Mejia
If you're looking for Latinx representation
We Set The Dark On Fire follows Daniela Vargas. She lives in a dystopian world where each man is entitled to 2 wives. A Primera and a Segunda. The Primera is intelligent, calm and analytical. The Segunda is the mother figure.
Outside the wall, the people go hungry. Dani started life outside of the wall. And she must use her wits to survive illegally in the capital. She is also married to one of the most powerful men in the kingdom.
The premise was intriguing. And the main character was instantly likeable. She also grows a lot through the book.
The world-building is also excellent. The book has such dark academia vibes. But the romance is what makes this so perfect. Two badass women who are married to a Straight man but fall in love with each other.
3. Cinder by Marissa Meyer
If you're looking for a retelling with a sci-fi twist
The main character Cinder is an android. She had an accident when she was younger. And she now has a cyborg hand and ankle. But the world she lives in shuns androids.
There is also a deadly plague that is affecting the world (sound familiar…heh).
She meets and falls in love with the Prince. But she can't tell him that she's an android.
The pace was perfect and I couldn't put this one down. It opens straight away. And you gradually learn more about the world..
The world building was really unique. The modern setting and sci-fi elements work perfectly. There were also so many intriguing elements at the start that I kept reading to see what would happen.
This is one of the most unique retellings I've ever read. If you're a fan of retellings like A Court of Thorns and Roses, The Cruel Prince or a Curse so Dark and Lonely – then you need to read this one
4. Bitter Frost by Kalin Gow
If you love fae, winter imagery and stories about memory loss
Bitter Frost is an amazing book featuring memory loss, beautiful forest imagery and of course Fae. It follows Breena. She has always dreamed of fairies as though she lived among them.
In her dreams, there was always a handsome but dangerous Prince named Kian. But when she turns sixteen she starts seeing strange creatures. And her best friend Logan becomes very protective.
Then she sees Kian in real life. And he's intent on carrying her off to Feyland. And although Kian seemed to be her intended – he now hates her.
There were a few elements I didn't like about this – Breena seemed a bit 'not like other girls'. There were a few comments on other 'popular girls' appearances that I didn't appreciate and weren't necessary. But she did feel like a realistic teen girl.
It's also a really captivating fae book. The twists are incredible and the pacing is perfect It was hugely successful – winning awards and selling over 4 million copies.
5. Shatter me by Tahereh Mafi
For fans of super powers, dystopian fiction and angsty romance
Shatter me opens with the main character locked up for murder. She is unable to touch anyone. And she falls in love with the first person she is able to touch.
The writing style in Shatter me is unlike anything else I've ever read. It's very prose heavy. And consequently, it seems to be a book people either love or hate. I love it.
It's set in a dystopian, post-apocalyptic world. But it's definitely more of a romance. And an ansgty one at that. There was a definite 'will they, won't they vibe. Similar to Kaz and Inej for me.
Juliette is an excellent main character. She has been dealt an awful hand in life. And yet she still perseveres and looks for the best in everyone.
The plot behind the series is excellent. And it particularly picks up towards the end. Trust me when I say – you will instantly want to read the next book.
6. The Raven Boys by Maggie Stiefvater
If you are into friendship, magic and unforgettable characters
The Raven Boys follows Blue. Each year in the churchyard, Blue watches her psychic mother see those who are going to die that year. Blue never actually sees them herself. Until this year. When she speaks directly to a boy.
He is called Gansey and is a student at Aglionby school. The students there are known locally as Raven Boys.
This book has such dark academia vibes. It's set in a local private school. Gansey is also obsessed with researching Welsh mythology. And it even references Latin.
The characters are what make this book. On the surface, it seems like a quirky loner meeting rich boys. But it's so much more than that! The characters are all fully developed with fleshed-out backstories. The relationships between them are some of the best I've read in YA Fiction.
7. A Sky Without Stars by Jessica Brody and Joanne Rendell
If you love Les Miserables…
A Sky Without Stars is a dystopian science fiction book and a Les miserable retelling. It features an enemies-to-lovers romance and a love triangle.
It's set in a dystopian world called Laterre. When the Last Days came, the planet of Laterre promised hope. But now an elite class reigns. A rebel group is resurfacing.
It follows three characters Chatine, Alouette and Marcellus. And they all play a role in the revolution.
I definitely think the authors are Eponine fans. Chatine gets the most development out of the three main characters. She is a bit 'not like other girls'. But I rooted for her because of her tragic backstory.
I Listened to the audiobook version of this. It uses 3 different voices for each of the main characters. This makes it really easy to follow the different points of view.
Buy Sky Without Stars on Book Depository with free shipping
8. Spellhacker by M.K. England
If you're looking for a fantasy heist with witty banter and a memorable friendship group
Spellhacker is a fantastic fantasy heist book. It features a high stakes heist, criminal mastermind main character and plenty of banter. The characters were also really diverse – including non-binary, queer and POC characters.
It's set in a world where magic ( known as maz) was once freely available. But an earthquake unleashed a deadly plague. And now maz is a tightly controlled and expensive commodity.
We follow Diz who runs an illegal maz siphoning business with her three best friends. They get offered one last massive heist that could change everything.
This was a well written standalone. The book opened with a bang and it was fairly fast-paced throughout. It felt like a cross between Ready, Player One and Six of Crows. The world-building around the magic was also really excellent. You can buy Spellhacker on Book Depository with free shipping worldwide.
9. Lore by Alexandra Bracken
For Fans of Percy Jackon or Greek Mythology
Greek Mythology meets The Hunger games. Lore features Greek mythology, an urban setting and a strong female lead.
Every seven years Greek Gods are hunted by descendants of ancient bloodlines. If the hunters succeed they seize their immortality. It follows Lore Perseus who has turned her back on this world. But as the next hunt dawns, two participants seek out her help.
The plot of Lore is quite complex but it's executed perfectly. Bracken did a great job building the world and the concept in this book. The greek mythology is woven flawlessly into the modern setting. I was intrigued and hooked from the first chapter.
It has a really great revenge storyline. So if you liked the revenge plots then this is a great book to read.
10. Forbidden Forest by Tenaya Jayne
If you're looking for an urban fantasy with vampires, shapeshifters and elves
I came across The Forbidden Forest when looking for books with elves. And I really loved the unique concept in this book.
It follows Forest. She is born in shame as a half-Elf and half Shapeshifter hybrid. She has to work tirelessly to earn respect.
So she takes a job on earth guarding a portal. But she is asked to take on a mission to transport the vampire prince through enemy ground. And Forest has to conquer her prejudices to succeed.
There is a lot I loved about this book. I really enjoyed the elves in a more urban setting. And the idea that vampires can take control of someone they bite was really intriguing.
It's not perfect. It definitely falls into the trap of 'telling not showing' at times. Also, it would probably work better as a new adult novel rather than young adult. But it was still a really enjoyable read. And I absolutely loved Forest. If you have a kindle – you can buy this for just 99p on Amazon – check it out here
11. The Divergent by Veronica Roth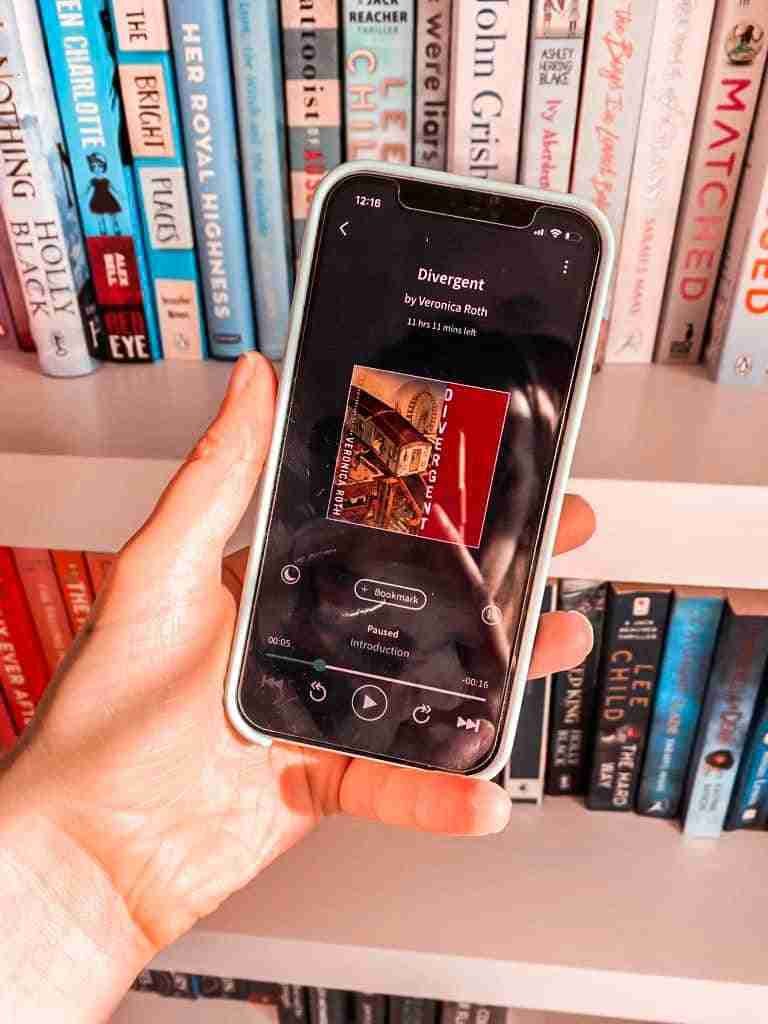 If you're looking for a fast-paced read
Divergent is wildly popular, successful and slightly ridiculous. But it's also entertaining so I'm including it.
If you enjoy books like the Hunger Games chances are you'll love this one. In Divergent the world is divided into 5 factions. Each faction is based on a personality trait which that faction embodies – Candor (honesty), Dauntless (bravery), Amity (peaceful), Erudite (intelligent) and abnegation (selfless).
Each sixteen year old must choose a faction. To help them decide, they take a test telling them which faction they belong to. Those who don't fit into one faction are divergent.
Divergent seems to divide fans a lot. But it's a fun premise and fast-paced book. I would take this as a standalone. The rest of the series just isn't as good as the original.
12. This Poison Heart by Kalynn Bayron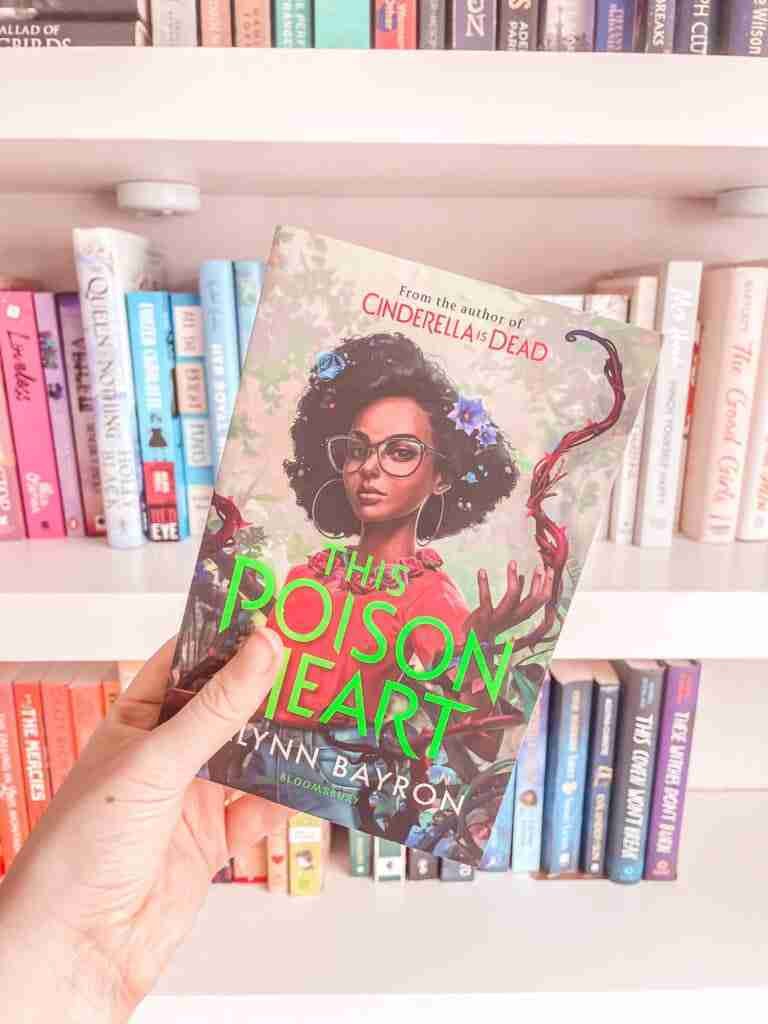 If you're looking for cottagecore sapphics, family secrets and magic
This Poison Heart follows Briseis. She has a magic gift where she can magic tiny seeds grow into rich blooms with a single touch.
Her aunt dies and wills her a dilapidated estate in rural New York. And it's there she must uncover her family's heritage and secrets.
Again, mythology was woven seamlessly into the plot of this book. It opens in an urban setting before the characters move to a small town. And the cottagecore imagery is beautiful. I love the plant references.
It opens with several mysteries and they keep you intrigued until the end of the book.
13. Not Your Sidekick by C.B. Lee
If you're looking for a book with superheroes and a sapphic romance
Not Your Sidekick is a superhero-themed novel featuring a bisexual Chinese-Vietnamese protagonist, a trans character and a f/f romance. And it's written by an own voices author.
It follows Jessica Tran, a bisexual high school student who is resigned to a life without superpowers and decides to start an internship to improve her college applications. However, she quickly discovers it's for a supervillain with her crush Abby.
Not Your Sidekick is another light, fluffy and fun read. It takes superhero tropes and gives a really refreshing take on a superhero story. I love how the superheroes and supervillians storyline is woven into modern, everyday life.
It also manages to tackle a lot of issues while still staying fun. There is a whole series of these and I've already added Not Your Villain to my TBR list as I really loved Bells in Not Your Sidekick.
14. These Witches Don't Burn by Isabel Sterling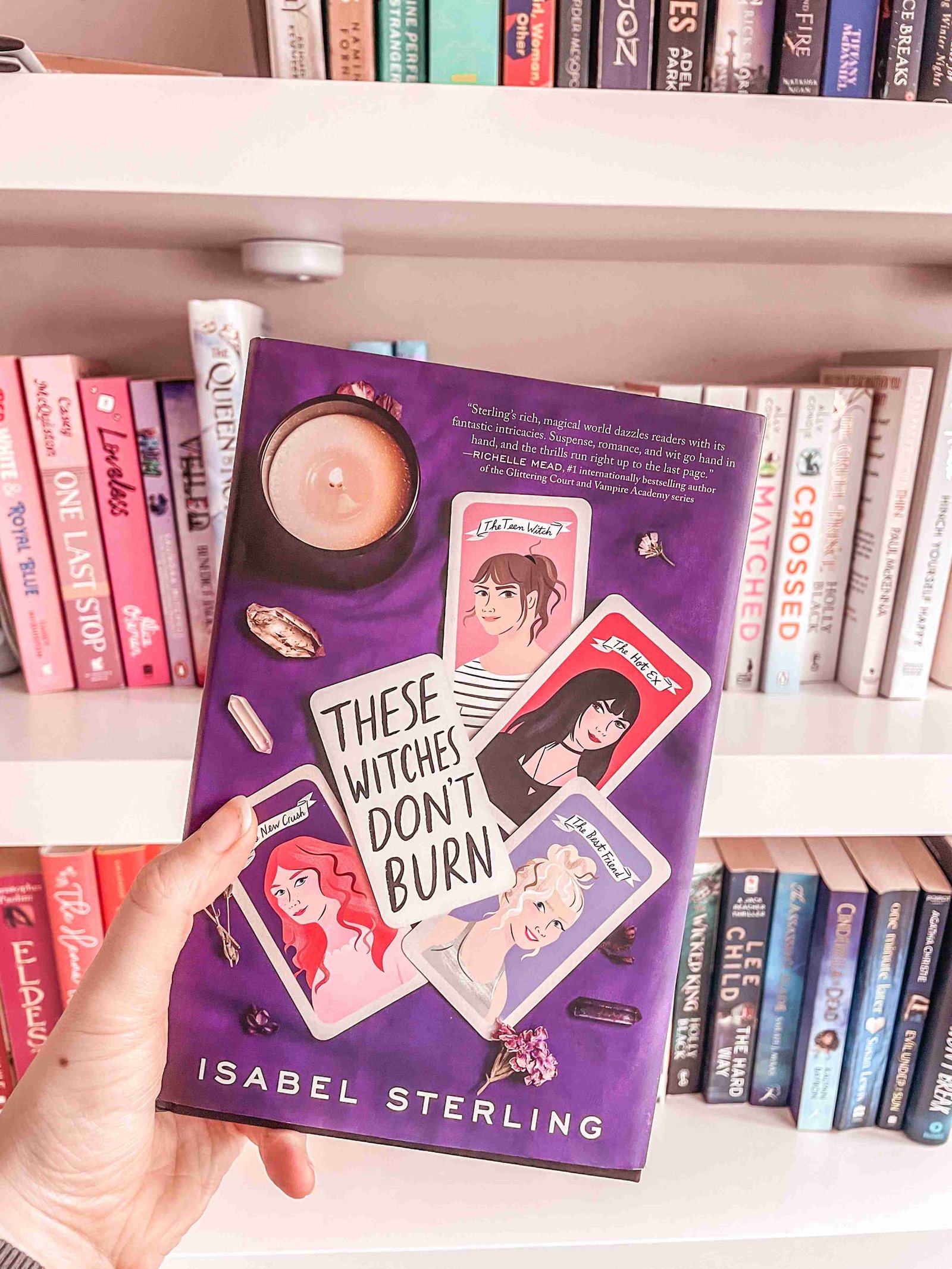 If you are looking for autumnal reads with witches (set in Salem)
I was sold on this book as soon as I heard Sapphic witches! It's a YA Fantasy book about witches featuring a f/f romance and set in Urban Salem.
These Witches Don't Burn follows Hannah. She is a witch living in Salem. A dark blood ritual interrupts her end of school bonfire. And she investigates with her ex-girlfriend Veronica. She also meets Morgan. But trying to date in the middle of a supernatural crisis is not easy and will test Hannah's limits.
This is one of my favourite duologies! I love all the magical, fantastical elements and I really enjoyed the modern setting in Salem. The representation is absolutely fantastic. And the pacing of the plot really kept me hooked.
15. When we were magic by Sarah Gailey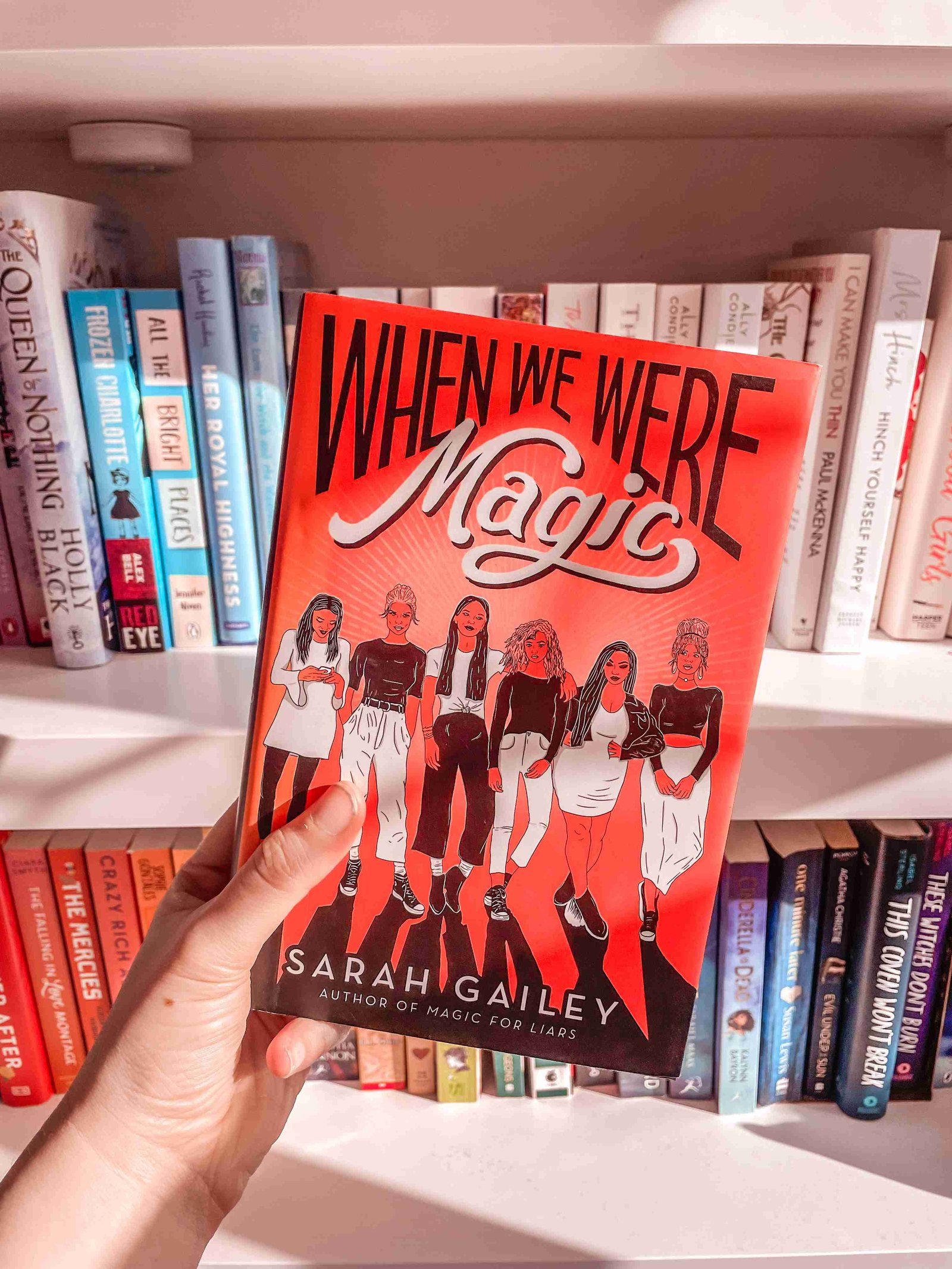 If you enjoy books with magic and wlw romance
When We Were Magic follows Alexis. She has always been able to rely on her best friends and magic powers. On prom night, accidental magic goes wrong and someone ends up dead. Alexis and her friends have to try and fix a terrible wrong.
The writing in this book really made me laugh. I knew I would love it one page in and the opening was fantastic.
The relationships and friendships in this book were really powerful. Also, the parents in this book were really supportive which I always appreciate.
16. The Illuminae Files by Amie Kaufman and Jay Kristoff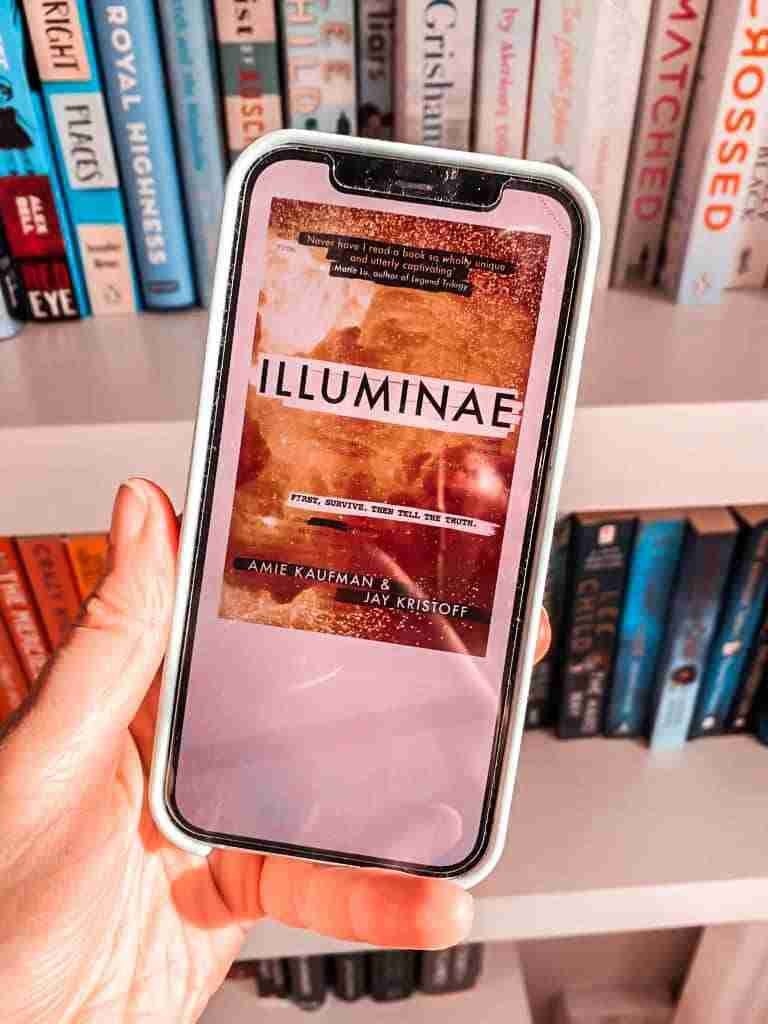 If you're looking for sarcasm, banter and an immersive audiobook
This book has the best sarcastic banter! . Ezra is hilarious and his witty, sarcasm carried this book for me.
Illuminae Files opens with Kady. It opens with Kady. She thought breaking up with Ezra was the hardest thing she'd have to do. But then her planet is invaded. A terrifying plague breaks out. And it's clear the only person who can help is her ex-boyfriend.
Illuminae files has a very unique format as it's an epistolary book. The story is told through a dossier of documents such as emails and interviews. Consequently, it's not going to be for everyone. And some will find it quite difficult to read.
I listen to the audiobook version. I see it mentioned everywhere online and honestly, it's for a good reason. The audiobook contains a full-cast and sound effects which make it super immersive. It feels like you're listening to a Netflix movie rather than an audiobook.
17.Ms Peregrine's Home for Peculiar Children by Ransom Riggs
If you like anything fantastical and the found family trope
Ms Peregrine's home for Peculiar Children follows Jacob. His grandfather escaped the Holocaust and grew up at an orphanage for children with strange powers. He even has photographic evidence.
As he grows up, he stops believing the stories. But one day a horrible tragedy occurs. And Jacob starts to wonder – could it have been real?
The story is really gripping. It also has very dark and mysterious elements to it. And I love the way antique photographs were woven into the plot. The photographs and the imagery gives it real academia vibes.
The book also uses the gound family trope – one of my favourites. And Ransom Riggs executes is really well.. And it what makes this book so enjoyable.
18. Matched by Ally Condie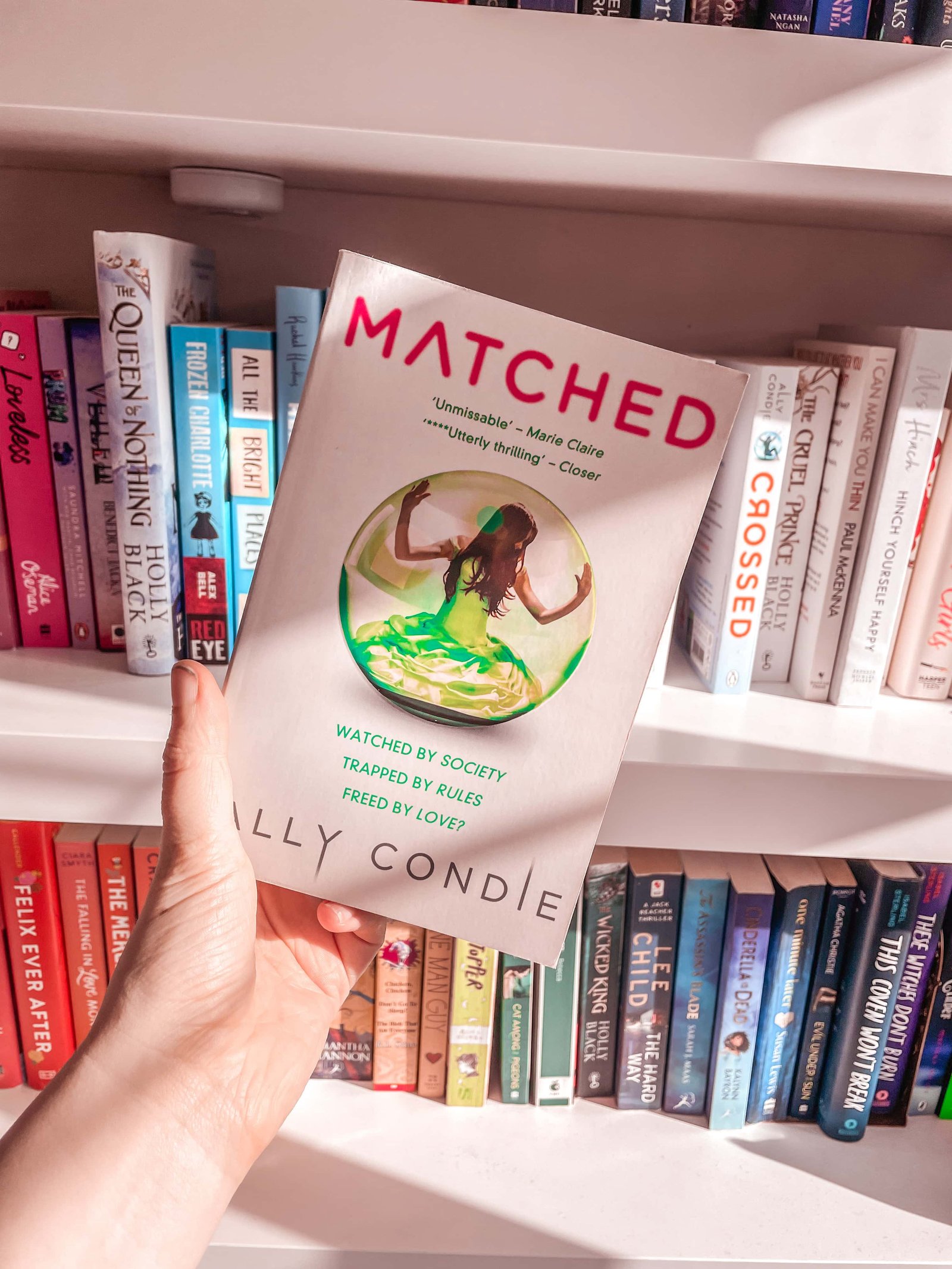 If you're looking for a quick read
This isn't the best book on this list. But it's a quick read and it's a nice YA Urban Fantasy read. If you're a fan of the Hunger Games or Divergent then you might enjoy this.
It follows Cassia. She lives in a society where they decide who people love. On her Seventeenth birthday, Cassia will meet her perfect match.
But Cassia finds herself falling in love with another boy. And she must make some difficult choices.
There are three books in the series. Honestly, the next two aren't very good. But Matched is pretty enjoyable.
The first book in the series was a light, easy read. And you can probably binge read this pretty quickly.
But Matched is pretty enjoyable. It's a quick YA dystopian read with a unique concept.
19. Percy Jackson by Rick Riordan
If you're looking for a popular book series merging Greek mythology with the modern world
Growing up I was a huge fan of the Percy Jackson series. And it's still one of my all time favourites. The concept is that the Greek Gods are real. And they occasionally fall in love with mortals. They have children who become demigods.
The book follows Percy Jackson. He is having trouble focusing on his schoolwork. When one day his maths teacher turns into a monster.
And so mum decides it's time to tell him the truth. His father is a Greek God. And she sends him to camp Halfblood – a summer camp for demigods.
Greek Mythology is woven seamlessly into this book. And I love how it balances Greek mythology with the real world. There are quite a few books in the Percy Jackson series. So if you haven't read this yet there are plenty for you to add to your tbr list.
20. Crier's War by Nina Varela
If you're looking for mystery, revenge and enemies to lovers wlw romance
Crier's War is an epic urban fantasy novel with a f/f romance. It's set in the Kingdom of Rabu and follows Ayla.
A War has ravaged the kingdom of Rabu. The Automae took over the estates of their owners and bent the human race to their will.
Ayla is a human servant who is rising the ranks at the House of Soverign. She dreams of avenging the death of her family… by killing the Sovereign's daughter – the beautiful Lady Crier.
Now, Ayla, a human servant rising the ranks at the House of the Sovereign, dreams of avenging the death of her family… by killing the Sovereign's daughter, Lady Crier. Crier, who was Made to be beautiful, to be flawless. And to take over the work of her father.
Crier was Made to be beautiful, flawless, and to carry on her father's legacy. But that was before her betrothal to the enigmatic Scyre Kinok, before she discovered her father isn't the benevolent king she once admired, and most importantly before she met Ayla.
Those were my picks for the best YA Urban Fantasy books
Whether you're looking for a YA Urban Fantasy book with fae, witches or magic – I hope you found some books for your reading list.
Let me know what YA Urban Fantasy books you recommend in the comments below. Check out the related posts for even more YA Fantasy book recommendations
This post was all about YA Urban Fantasy books
Good Reads lists you might like…
Other posts you might like…